Top Beaches in Clinton, CT (& a few others Nearby)
For a coastline town, Clinton doesn't have many beaches. However, there are some hidden gems that often fly under the radar.
I recently visited all of the beaches in Clinton CT, to see which ones are the best. Here's what I found.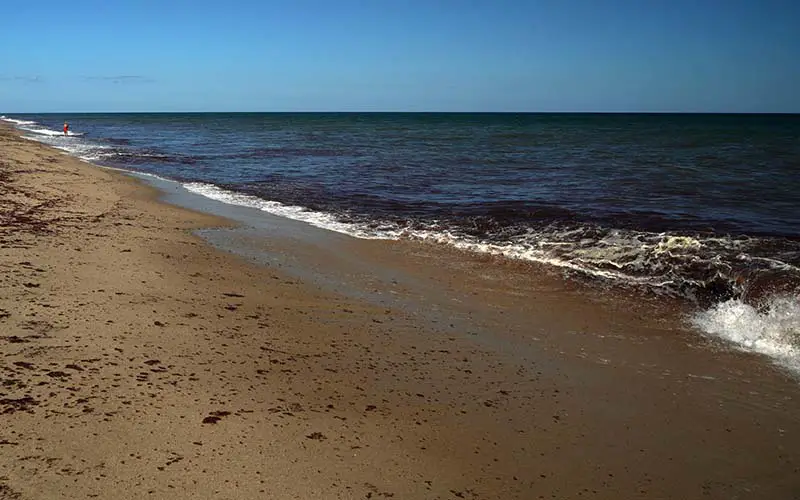 Best Beaches in Clinton, Connecticut
1. Clinton Town Beach
Clinton Town Beach is the main beach in Clinton, Connecticut. This small, family beach is very well-maintained and has a number of amenities.
Some of the activities available here include a playground, a splash pad for kids, basketball courts, bocce courts, grills for picnics, a pavilion with seating, a snack bar, volleyball courts, a walking trail, and a dog exercise area.
There's a marina located next door as well. This beach is super affordable for Killingworth and Clinton residents (a season beach pass costs $25). However, it's a bit more expensive for non-residents ($50 during the week and $75 on weekends).
Location: 96 Waterside Ln, Clinton, CT 06413
2. West Beach
West Beach is a very calm beach located in Westbrook, not too far from the Clinton town line. The beach features a pier, concession stands, a picnic area, and restrooms.
This spot doesn't have that many amenities but it's a great place to walk or take your kids for a quick swimming trip during the summer.
Location: Seaside Ave, Westbrook, CT
3. East Wharf Beach Park
East Wharf Beach Park is located one town over from Clinton. Found in Madison, this small 2-acre park offers scenic views of Long Island Sound, along with a nice sandy beach.
Plus, the beach features a fishing pier, a shaded gazebo with benches, and plenty of parking.
Location: 122 Middle Beach Rd, Madison, CT
4. Hammonasset Beach State Park
Hammonasset Beach State Park is another beach near Clinton, Connecticut. This spot is the state's largest shoreline park is it's extremely popular.
Some of the attractions available at this beach include swimming, sunbathing, boating, campsites, bike trails, and picnicking.
There's a cool boardwalk on the beach as well if you want to go for a shoreline walk. This beach is completely free for all Connecticut residents.
Location: 1288 Boston Post Rd, Madison, CT
5. Jacobs Beach
Jacobs Beach is one more beach found near Clinton. Located in Guilford, this 25-acre beach has several top-notch amenities, including a playground for kids, picnic areas with grills, bathing facilities, and outdoor showers.
This beach doesn't get very crowded, so relaxing on the sand is a ton of fun. But you can also enjoy other activities like swimming, kayaking, basketball, and beach volleyball.
As a side note, the water here does have a lot of shells, so you may want to have your kids wear water shoes.
Location: 140 Seaside Ave, Guilford, CT
Other Beaches near Clinton, CT
Clinton Town Beach is the only official Clinton beach. However, there are a number of excellent beaches in the surrounding towns. Aside from the ones already mentioned in Madison and Westbrook, here are some other beaches to check out:
Surf Club Beach in Madison
Branford Point Beach in Branford
Harveys Beach in Old Saybrook
Clinton Beaches – Final Thoughts
Those are the best Clinton beaches, along with a few other beaches to visit nearby. If you live in Clinton, I highly recommend Clinton Town Beach. It's close to home and doesn't get too crowded since the parking fees are high for non-residents.
Be sure to check out this complete list of CT beaches: