6 Excellent Beaches in Fairfield, CT
Fairfield is known for its amazing beaches. In fact, some of the best beaches in the state of Connecticut are found in Fairfield. But which ones should you visit?
We compiled a list of the top beaches in town to help you decide where to go. There are the top beaches in Fairfield, CT.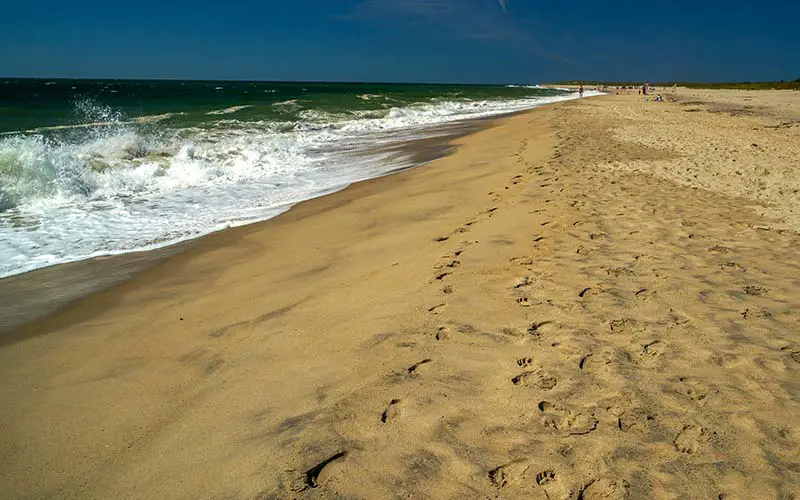 Top Beaches in Fairfield, Connecticut
1. Jennings Beach
Jennings Beach is widely regarded as the best beach in Fairfield, Connecticut. This 27-acre beach is super sandy, plus it has great views of Long Island Sound.
It's perfect for families with small kids who want to play in the sand and water without getting knocked over by large waves.
The beach has a variety of amenities like, volleyball courts, a snack bar, showers, a marina, and a skatepark.
Jennings Beach is completely free and open year-round, but once the water gets too cold for swimming, this place turns into an off-leash dog beach.
Location: 880 S Benson Rd, Fairfield, CT
2. Southport Beach
Southport Beach is another excellent Fairfield beach. It's a small beach located right on the Westport-Fairfield border, so it doesn't get too busy.
This place is great for swimming and scenic walks on the shoreline. There are seasonal lifeguards on duty at Southport Beach as well, so you don't have to worry about safety.
Other amenities include bathrooms and a snack shack on the beach. Just like Jennings Beach, Southport Beach is free and open to the public.
Location: 124-138 Beachside Ave, Westport, CT
3. Sasco Beach
Sasco Beach is one of Fairfield's quieter beaches. Since it's a bit secluded it's the perfect place to spend a relaxing afternoon sunbathing or reading a book on the beach.
Sasco Beach is a free public beach, but only residents are allowed to use it. If you're from out of state, you're going to want to visit one of the other Fairfield beach destinations.
You can find this beach near the County Club of Fairfield, which is one of the top golf courses in CT.
Location: 1401 Sasco Hill Rd, Fairfield, CT
4. South Pine Creek Beach
South Pine Creek Beach (also called Round Beach) is another tiny beach in Fairfield, Connecticut. It's free and open to the public, but the beach doesn't have many amenities aside from the bathrooms and parking lot.
This place is always clean and offers some more privacy compared to some of the other beaches in town.
Location: 1424 South Pine Creek Rd, Fairfield, CT
5. Penfield Beach
Penfield Beach is located adjacent to Jennings Beach. This is a popular spot for weddings since the beach has an awesome banquet facility.
The beach also has lockers that you can rent, bathrooms, lifeguards, a playground, picnic tables, charcoal grills, and a concession stand.
The parking lot at Penfield Beach is pretty small considering how crowded it gets, so it may be better to park at Jennings Beach and walk over.
Location: 323 Fairfield Beach Rd, Fairfield, CT
6. Lake Mohegan
Lake Mohegan is a popular place to swim in Fairfield. Although not attached to the ocean, the beach here is still plenty of fun.
This freshwater swimming lake has roped-off sections, each with different depths of water. It's a very family-friendly place to swim, with plenty of lifeguards on duty.
In addition to the beach, there's also a splash pad for kids. Just be aware that there's very little shade in the area, so you'll want to bring sunscreen and beach umbrellas.
Additionally, the park has plenty of hiking trails where you can walk your dog off-leash.
Location: 960 Morehouse Hwy, Fairfield, CT
Additional Beaches near Fairfield, CT
Fairfield has some of the best beaches in CT, but there are also a few other popular beaches in the surrounding towns. Here are some other beaches you may want to check out in Fairfield County:
Compo Beach in Westport
Sherwood Island State Park in Westport
Calf Pasture Beach in Norwalk
Fairfield Beaches – Final Thoughts
Those are the top Fairfield beaches. Jennings Beach is the most popular, but Sasco Beach and South Pine Creek Beach are also great if you want to avoid the crowds.
If you live on the edge of town, make sure you visit these other beaches in Bridgeport and Westport too.
Be sure to check out this complete list of CT beaches: