Top Beaches in Bridgeport, CT
Bridgeport Connecticut is typically known for its beaches, but there are still a couple of places to swim on the shoreline.
I recently visited all of the top Bridgeport beaches, to see if they were any good. I found these to be the best beaches in Bridgeport, CT.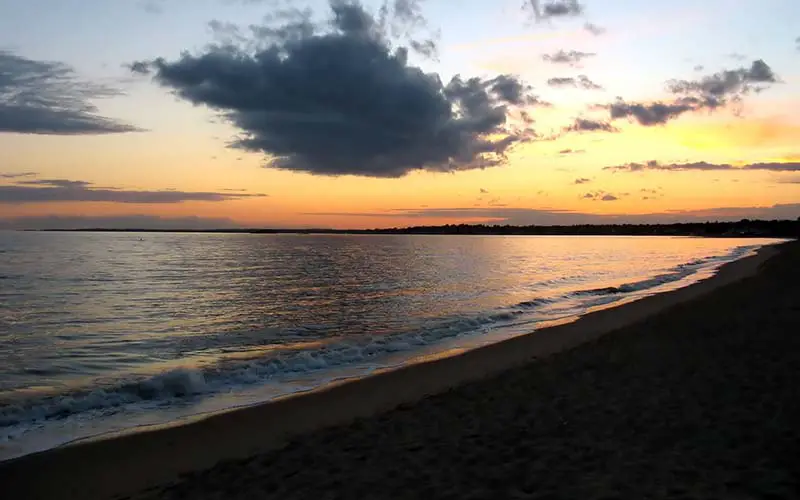 Top Beaches in Bridgeport, Connecticut
1. Seaside Beach
Seaside Beach is one of the best Bridgeport beaches. This beach spans 3 miles of coastline and encompasses a 325-acre park.
The water here is shallow, which is perfect if you have small kids that are swimming. Aside from the ocean, the park has a number of activities like outdoor playgrounds, baseball fields, soccer fields, jogging paths, biking paths, and fishing.
There are a couple of cool statues in Seaside Park as well. If you looking to have a picnic during your beach day, you'll find plenty of grills in the park.
Location: 10 Barnum Dyke, Bridgeport, CT
2. Seabright Beach
Seabright Beach is another popular beach in Bridgeport, Connecticut. It's a small beach that's very clean and usually pretty quiet.
There aren't many amenities on the beach, it's just a great spot to relax in the sand if you live in the area. There's no fee to visit the beach.
Location: 50 Seabright Ave, Bridgeport, CT
3. Pleasure Beach
Pleasure Beach is one more Bridgeport beach to check out this summer. It's not really a swimming beach but it's a great spot to enjoy nature and go for coastline walks.
The beach has a ton of shells, so this is the perfect place to come if you're a shell collector. Since this beach is located on a peninsula off the coast of Bridgeport, you must access it by water taxi.
Or, you can get to Pleasure Beach by visiting Long Beach in Stratford.
4. Long Beach
Long Beach is located on the Stratford-Bridgeport town border. As the name suggests, this 1.5-mile beach is pretty big.
It's a public beach so you can enjoy summer activities like swimming, sailboarding, and fishing. Plus, it's a fantastic place to go for walks.
Just be aware there are no restrooms at this beach and there is a parking fee.
Location: Oak Bluff Ave, Stratford, CT
5. Jennings Beach
Jennings Beach is widely considered to be the best beach in Fairfield County. It's located right over the Bridgeport town border in Fairfield.
This 27-acre beach is perfect for families with small kids who want to play in the sand and water without getting knocked over by large waves.
Plus, Jennings Beach has a ton of activities and amenities like volleyball courts, a snack bar, showers, a marina, and a skatepark.
Location: 880 S Benson Rd, Fairfield, CT
Other Beaches near Bridgeport, CT
Aside from Bridgeport's beaches, there are a variety of other beaches in the surrounding towns that offer different amenities and ocean views. You'll also want to check out these beaches in Fairfield and Stratford, Connecticut:
Southport Beach in Fairfield
Short Beach in Stratford
Jennings Beach in Fairfield
Bridgeport Beaches – Final Thoughts
Those are the top beaches in Bridgeport, Connecticut. If you're looking to swim in the water, Seaside Beach is the best. But if you want to sit back and enjoy a relaxing afternoon, Seabright Beach and Pleasure Beach are also solid options.
Be sure to check out this complete list of CT beaches: