Must-Visit Beaches in Old Lyme, CT
Old Lyme often flies under the radar when it comes to beach towns, however, that's a mistake. Some of the best beaches in Connecticut are found here.
That's why I recently decided to take a trip to all of the most popular beaches in Old Lyme, CT. Here's a roundup of my top picks.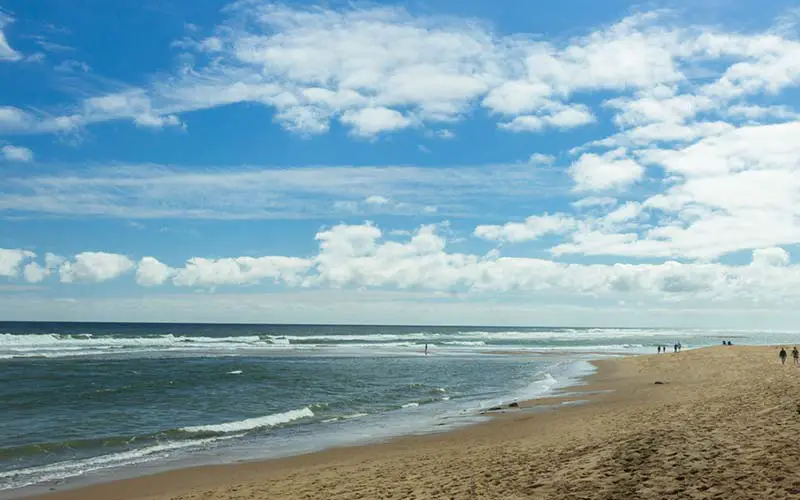 Top Beaches in Old Lyme, Connecticut
1. Rocky Neck State Park
Rocky Neck State Park is one of the best beaches in the state of Connecticut. So it's no surprise that it's the most popular beach in Old Lyme.
This gorgeous beach has soft sand and plenty of areas to swim. It also has other activities and amenities like bathrooms, hiking trails, camping sites, picnic tables, fire rings, train watching, crabbing, and fishing.
Just be aware that this beach does get crowded, so it's best to get here early. As a CT state park, the beach is free for Connecticut residents, but non-residents have to pay a $25 parking fee.
Location: 228 W Main St, Niantic, CT
2. Soundview Beach
Soundview Beach is another excellent Old Lyme beach. This beach has been known as a popular beach bar spot for adults but it's become more family-friendly in recent years.
A few of the activities available in the area include swimming, sunbathing, shopping, and picnicking. There are also plenty of restaurants nearby.
Location: Hartford Ave, Old Lyme, CT
3. White Sand Beach
White Sand Beach is one of the lesser-known Old Lyme beaches. It's a quiet beach that offers scenic views of Long Island Sound.
Just be aware that there are only parking spots available for residents during the beach season. Also, note that the beach is located between two private beaches, so you'll want to avoid those.
Location: 11 Seaside Ave, Old Lyme, CT
4. Niantic Bay Beach
Niantic Bay Beach is located one town over from Old Lyme in East Lyme. This nearly half-mile-long beach is perfect for swimming (there are lifeguards) or building sandcastles.
It also features some beach volleyball courts, along with a fishing jetty. Plus, there's a great boardwalk to explore as well.
Location: 30 Main St, Niantic, CT
5. Harvey's Beach
Harvey's Beach is another beach found near Old Lyme. Located in Old Saybrook, this beach is perfect for long walks on the coastline.
During low tide, the water gets extremely shallow so you can check out all of the cool sandbars and marshes surrounding the beach. The views here are great.
Havery's Beach has a small playground as well if you're bringing the whole family here for a beach day. There is a parking fee, which is $15 per car on weekdays and $25 per car on weekends.
Location: 29 Plum Bank Rd, Old Saybrook, CT
Other Cool Beaches near Old Lyme, CT
Aside from Old Lyme's beaches, there are plenty of other excellent beaches in south-eastern Connecticut. Here are a couple of other local beaches to visit in the surrounding towns:
Hole In The Wall Beach in East Lyme
Waterford Beach Park in Waterford
Ocean Beach Park in New London
Old Lyme Beaches – Final Thoughts
Those are the best Old Lyme CT beaches. If you want to stay local without traveling across the state, I recommend also checking out the beaches in East Lyme and Old Saybrook.
Be sure to check out this complete list of CT beaches: