Best Beaches in Greenwich, CT
Although Greenwich is known as a popular sailing destination, there aren't many beaches in town. But there are a few good spots to swim if you know where to look.
I recently visited all of the most popular Greenwich beaches to see which ones are the best. So without further ado, these are the top beaches in Greenwich, CT.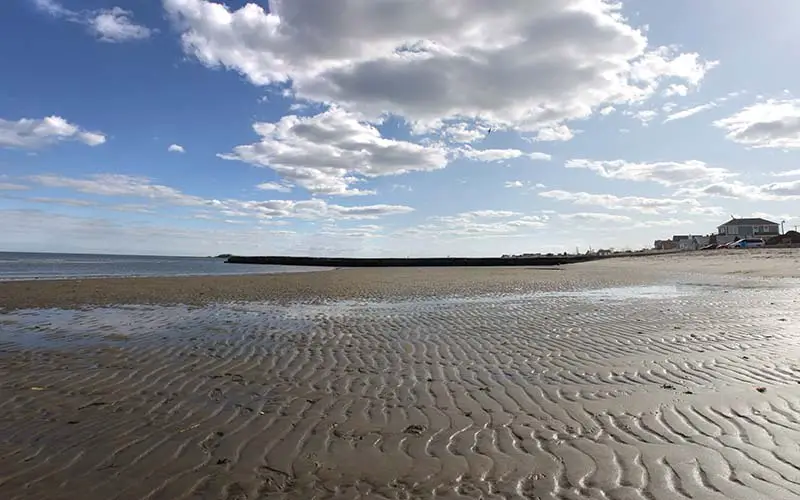 Top Beaches in Greenwich, Connecticut
1. Greenwich Point Beach
Greenwich Point Beach is the most popular beach in Greenwich, CT. It's clean and the surf is relatively shallow during low tide, which is perfect for kids swimming in the water.
Aside from the sandy beach, Greenwich Point Park also has concession stands, hiking trails, grassy picnic areas with grills, and restrooms. Plus, there's a launching site for boats and kayaks.
The beach isn't too busy, but you do have to pay for parking. But this shouldn't be an issue since there's a large parking lot.
Location: 11 Tods Driftway, Old Greenwich, CT
2. Byram Park
Byram Park is home to another popular Greenwich beach. This place has great views and is always a ton of fun.
The park also has a pool if you prefer to swim in freshwater instead of the ocean. There's also a boat club, marina, playground, pavilion, walking trails, tennis courts, and sports fields as well.
You can visit this beach right off I-95 in Greenwich, Connecticut.
Location: 4 Ritch Ave W, Greenwich, CT
3. Island Beach
Island Beach is a small island off the coast of Greenwich owned by the town. It's managed by the Parks and Recreation Department, so you can take a ferry over and enjoy the public island.
Everything on Island Beach is beautiful and worth the cost of the ferry ride over. You and your family will be able to enjoy the beach, picnic tables, grills, concession stands, and playground, along with the other amenities on the island.
Just be aware that you may have to pay for a ferry ticket, beach passes, and parking.
Location: Long Island Sound, Greenwich, CT
4. Great Captain Island
Great Captain Island is another island off the coast of Greenwich, Connecticut. Although less popular than Island Beach, this spot is actually a bit bigger.
This island has beaches, a historic lighthouse, picnic areas, camping areas, hiking trails, showers, and restrooms.
You can access Great Captain Island beach by ferry, but you may be able to dock yourself if you own a boat.
Location: Long Island Sound, Greenwich, CT
5. Lucas Point Beach
Lucas Point Beach is one of the smaller Greenwich beaches. It's located just north of Greenwich Point Beach, which is just south of Old Greenwich.
The beach is nice, but there aren't many amenities. The main reason why you would want to visit this beach over Greenwich Point Beach is to avoid crowds on the other beach.
Location: Tods Driftway, Old Greenwich, CT
Other Beaches near Greenwich, CT
There aren't a ton of beaches located directly in Greenwich, but there are a few others found just a few towns over. Check out these awesome beaches in Stamford:
Cummings Park
West Beach
Cove Island
Greenwich CT Beaches – Final Thoughts
If you live in Greenwich, you don't have to travel across the state to enjoy summertime activities. There are plenty of top-notch beaches in town. Or if you do live on the other side of Connecticut, check out this article about the top beaches in Stonington.
Be sure to check out this complete list of CT beaches: