Top 5 Beaches in West Haven, CT
There are several beaches in West Haven, CT. But which ones are the best? I recently visited all of them to find out.
After spending a day at all of the top beaches in West Haven, I've developed a pretty good idea of what each beach is like. These are our top picks for West Haven beaches.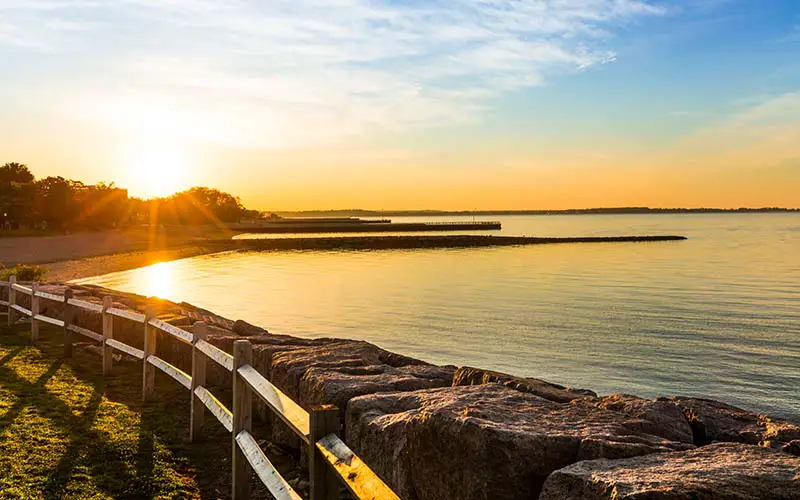 Top Beaches in West Haven, Connecticut
1. Seabluff Beach
Seabluff Beach is one of the more popular West Haven beaches. This beach has beautiful scenery, which is matched by only a handful of beaches in Connecticut.
This spot is known for its amazing walking trails, but other amenities here include a playground, beach volleyball nets, and fishing spots.
Plus, during low tide, there are a number of sand bars out in the water that you can explore.
Location: 1083 Ocean Ave #1075, West Haven, CT
2. Oak Street Beach
Oak Street Beach is another awesome beach in West Haven, Connecticut. This is a nice quiet beach with a boardwalk pier and scenic view of the ocean.
If you go out on the pier, you'll find plenty of solid fishing spots. Oak Street Beach also has a large grassy area, which is perfect for picnics.
If you didn't bring any food with you to the beach, there are a couple of great seafood restaurants in the area as well.
Location: Savin Rock Trail, West Haven, CT
3. South St Beach
South St Beach is one of the better beaches for walking in West Haven. The beach has no amenities, like grills or restrooms, so it's never very crowded.
Plus, the beach is super clean, so you don't have to worry about stepping in trash when you're walking barefoot on the sand.
Location: 523 Ocean Ave, West Haven, CT
4. Bradley Point Beach
Bradley Point Beach is located between Seabluff Beach and Oak Street Beach, so you'll get access to the amenities of both. There's a footpath that connects all of them.
Like the other beaches, this is a good place to swim, walk, or have a picnic. Just know that the water disappears quickly during low tind, so I recommend visiting during high tide if you want to swim.
Location: Captain Thomas Blvd, West Haven, CT
5. Morse Park & Sandy Point Bird Sanctuary
Sandy Point Bird Sanctuary is one more West Haven beach. This is a protected wetland habitat with a ton of interesting birds.
The area has a number of footpaths to check out and there's ample parking. It's a fantastic place to go for a shoreline walk in nature.
If you want to go swimming in this area, I recommend taking a short walk over to Morris Beach, where you can jump in the water or have some fun on the nearby baseball fields.
Location: Beach St, West Haven, CT
Other Beaches near West Haven, CT
West Haven has some nice beaches, but there are a handful of others in neighboring towns. Also, be sure to check out these beaches in New Haven and Milford:
Lighthouse Point Park in New Haven
Silver Sands State Park in Milford
Walnut Beach in Milford
West Haven Beaches – Final Thoughts
Those are West Haven's best beaches. Whether you want to go for a relaxing walk, go fishing, or take your family to splash around in the water, all of these beaches are great options.
Be sure to check out this complete list of CT beaches: