5 Scenic Beaches in Guilford, CT
If you're looking for a beach in Guilford, you need to choose wisely. There are only a handful of beaches in town, and not all of them allow swimming. So, it's important to pick the right one.
I recently visited all of the top beaches in Guilford CT, to see which ones are the best for swimming and which ones are best for walking. Here's what I found.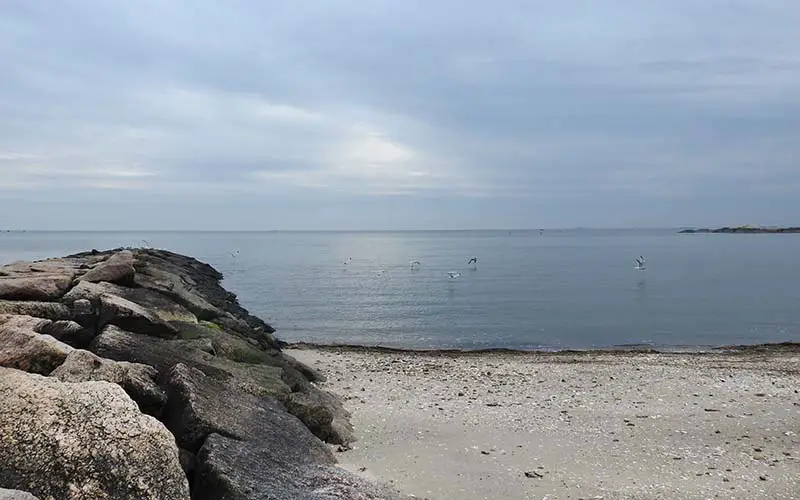 Top Beaches in Guilford, Connecticut
1. Jacobs Beach
Jacobs Beach is the most popular beach in Guilford. This 25-acre beach has a number of amenities, including a playground, picnic areas, grills, bathroom facilities, drinking fountains, and outdoor showers.
Swimming is a ton of fun at Jacob's Beach since it doesn't get overly crowded, but you can also enjoy other activities like basketball and volleyball. There's a boat rack too, so you're able to launch kayaks and paddleboards onto Long Island Sound.
The water does have a good amount of shells, so you may want to have your kids wear water shoes if they plan on swimming.
Location: 140 Seaside Ave, Guilford, CT
2. Barbara Pine Memorial Beach
Barbara Pine Memorial Beach (also called Daniel Avenue Beach) is another Guilford beach to check out. This small, somewhat secluded beach is the perfect spot to relax and read a book on the sand.
You're also able to go for a swim, launch kayaks, or build sand castles on the beach.
This shouldn't be your go-to beach in Guilford, but it's a nice option if you live in the area.
Location: 1-75 Daniel Ave, Guilford, CT
3. Grass Island
Grass Island is home to one more beach in Guilford, Connecticut. This isn't a swimming beach, but it's an excellent spot to hike around and enjoy nature.
The shoreline here is super peaceful, so you'll see tons of cool animals like ospreys, eagles, and crabs as you explore the area. Just be aware that there are no facilities, like bathrooms, around here.
There are also local cruises available that tour Grass Island in-depth.
Location: Circle Beach Rd, Guilford, CT
4. Hammonasset Beach State Park
Hammonasset Beach State Park is one of the best Connecticut beaches. Located in Madison, this is one of the beaches that is completely free for all Connecticut residents.
The beach stretches over 2 miles along Long Island Sound, making it Connecticut's largest shoreline park and one of the most visited state parks.
This spot features activities like swimming, sunbathing, saltwater fishing, camping, biking, picnicking, and building sandcastles. All of the facilities on the beach are in great condition, including the boardwalk.
Location: 1288 Boston Post Rd, Madison, CT
5. East Haven Town Beach
East Haven Town Beach is a popular beach located relatively close to Guilford. It's one of the best beaches for swimming in Connecticut.
The water along the shore is very clean and the beach doesn't get too crowded. The place also has a splash pad for kids, bocci ball courts, beach volleyball courts, and grills for barbecues.
Location: 80-4 Cosey Beach Ave, East Haven, CT
More Beaches near Guilford, CT
If you're looking to go swimming in town, these Guilford beaches are your top options. But if you're willing to travel a little further, here are some other awesome nearby beaches in New Haven, Branford, and Madison:
Branford Point Beach in Branford
Lighthouse Point Park in New Haven
East Wharf Beach Park in Madison
Guilford Beaches – Final Thoughts
Those are Guilford's best beaches. After you're done enjoying the sun, make sure you check out some of the restaurants in Guilford, CT. The town is known for its delicious seafood and lobster rolls.
Be sure to check out this complete list of CT beaches: