Best Beaches in New London, CT
New London is home to some of the most visited beaches in Connecticut. But which ones are the best? I took a trip to all of them to find out.
After spending the weekend swimming at all of the top New London beaches, I finally have an answer. These are the best beaches in New London, CT.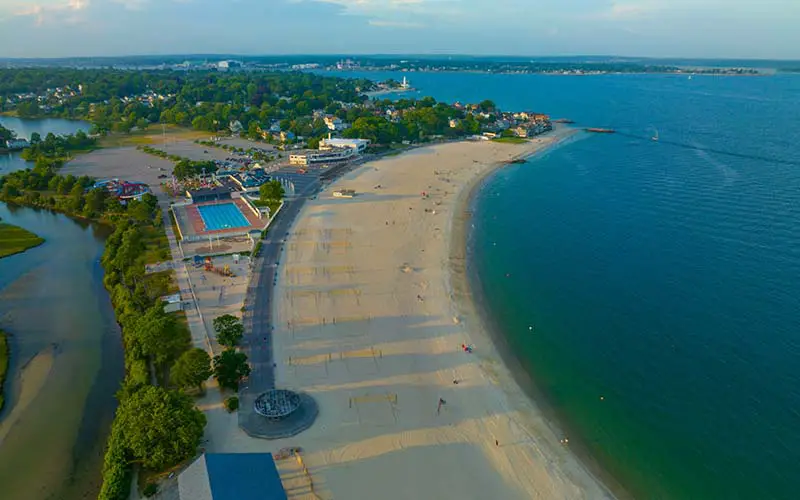 Top Beaches in New London, Connecticut
1. Ocean Beach Park
Ocean Beach Park is not only the most popular beach in New London, it's one of the most frequented beaches in Connecticut.
This half-mile-long beach has some of the softest sand in the state, along with some of the largest waves. So whether you plan on swimming or relaxing on the beach, it's a great place to visit.
Aside from the beach, Ocean Beach Park also has a massive boardwalk, an Olympic-sized swimming pool, water slides, volleyball nets, a playground for kids, mini golf, an arcade, and an amusement park.
Admission to the park is only $30 during the week and $35 on weekends. However, you can get in for $20 after 6 pm.
Location: 98 Neptune Ave, New London, CT
2. Green Harbor Beach
Green Harbor Beach is another great New London beach. This low-key spot is a quiet place to go swimming or sunbathe in peace.
Since it's located near the mouth of the Thames River instead of directly in Long Island Sound, the water is calm, making it a great place to bring smaller kids swimming.
Green Harbor Beach even has lifeguards during the summer. There's a marina next door too where you can launch boats into the water.
Location: 112 Pequot Ave, New London, CT
3. Guthrie Beach
Guthrie Beach is one of the lesser-known New London beaches. It's a private beach that offers members a relaxing spot to enjoy.
The beach is always clean and has a great view of New London Harbor Lighthouse, which is one of the more modern lighthouses in Connecticut.
This beach is mainly meant for locals who live in the area, so if you're from out of town this may not be the best option.
Location: 902 Pequot Ave, New London, CT
4. Eastern Point Beach
Eastern Point Beach is an excellent beach found one town over from New London in Groton. It's located on the exact opposite side of the bay as Guthrie Beach.
The water at this family-friendly beach isn't too deep, so it's great for younger kids. Plus, the beach offers a range of amenities including a snack bar, basketball courts, volleyball courts, restrooms, and showers.
Location: 1 Beach Pond Rd, Groton, CT
5. Waterford Beach Park
Waterford Beach Park is one more beach found near New London. Located right across the town border in Waterford, this beach stretches nearly a quarter of a mile along Long Island Sound.
The beach is clean and offers activities like swimming, fishing, sunbathing, and picnicking. Food trucks occasionally pull up on the beach as well.
Location: 317 Great Neck Rd, Waterford, CT
Other Beaches near New London, CT
New London has some magnificent beaches, but there are plenty of others in the neighboring towns. Also, be sure to check out these beaches in Groton and Waterford:
Esker Point Beach in Groton
Bluff Point Beach in Groton
Harkness Memorial State Park in Waterford
New London Beaches – Final Thoughts
Those are New London's top beaches. Ocean Beach Park is considered by many to be the best beach in the state, so that should be your first choice. However, Green Harbor Beach is a nice alternative if you want to avoid some of the crowds.
After you're finished swimming for the day, make sure you check out some of the restaurants in New London. The town is home to one of the best waterfront restaurants in CT.
Be sure to check out this complete list of CT beaches: