10 Best Public Beaches in CT
Connecticut has a lot of beaches, but only a few of them are public beaches. The advantage of public beaches is that anyone can visit, whether you're a resident or not.
We've put together a list of the best public beaches Connecticut has to offer. So without further ado, these are the best public beaches in CT.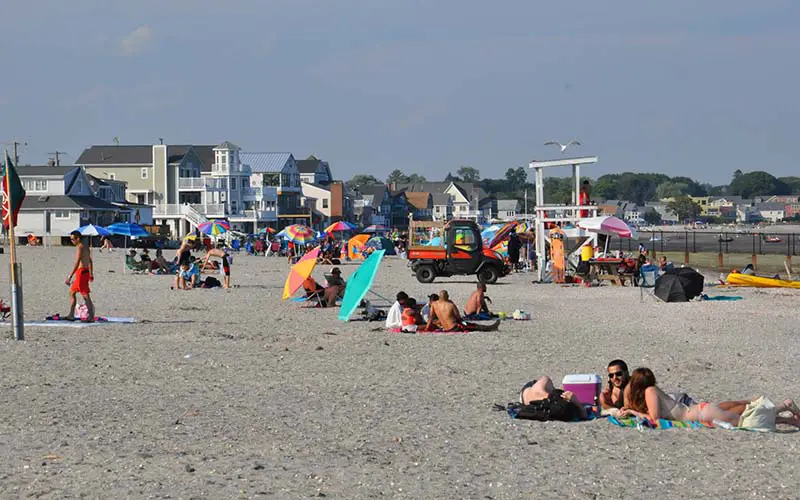 Top Best Public Beaches in Connecticut
1. Jennings Beach – Fairfield
Jennings Beach is a top public beach in Connecticut. It spans 27 acres and is super sandy.
The beach is great for families with small kids who want to play water without getting knocked over by large waves.
Plus, there are a variety of amenities like, volleyball courts, a snack bar, showers, a marina, and a skatepark. Jennings Beach is completely free year-round.
Location: 880 S Benson Rd, Fairfield, CT
2. Hammonasset Beach State Park – Madison
Hammonasset Beach State Park is one of Connecticut's most visited public beaches. The beach stretches over 2 miles, making it the state's largest shoreline park.
A few of the activities available here include swimming, sunbathing, hiking, camping, and biking. There's a nice boardwalk as well.
Hammonasset Beach State Park is free for Connecticut residents since it's a state park.
Location: 1288 Boston Post Rd, Madison, CT
3. East Haven Town Beach – East Haven
East Haven Town Beach is one of the best public beaches in the greater New Haven area. It's a small beach but offers great swimming since the water gets relatively deep.
The beach doesn't get overly busy, and it has amenities like bocci ball, beach volleyball, and large picnic areas.
Location: 80-4 Cosey Beach Ave, East Haven, CT
4. Burying Hill Beach – Westport
Burying Hill Beach is another great public beach in CT. This sandy beach offers activities like swimming, sunbathing, and hiking the long coastline.
The area around the beach has plenty of grassy spots, which is great for picnics or playing sports with your friends and family.
Location: 1 Burying Hill Rd, Westport, CT
5. Rocky Neck State Park – East Lyme
Rocky Neck State Park is located in East Lyme, Connecticut. It's home to one of the top public beaches in the state.
The park offers all sorts of other activities like hiking, camping, crabbing, and fishing. It's free to visit if you're a Connecticut resident, however, non-residents have to pay a $25 fee for parking.
Location: 228 W Main St, Niantic, CT
6. Ocean Beach Park – New London
Ocean Beach Park is another one of the public beaches in Connecticut found in the eastern part of the state. This is one of CT's most popular beaches welcoming thousands of people a day.
The beach is a half-mile long and has some of the best sand in Connecticut, along with some of the biggest waves.
The park features an Olympic-sized swimming pool, water slides, volleyball nets, a playground, and a boardwalk with an amusement park and an arcade.
Although it's a public beach, Ocean Beach Park does have a small admission fee.
Location: 98 Neptune Ave, New London, CT
7. Weed Beach – Darien
Weed Beach is one of the state's public beaches found near the New York border. The sandy beach has a ton of wildlife like crabs and birds.
Plus, there's a picnic area with grills, tennis courts, play areas for kids, a concession stand, hiking trails, and shower facilities.
Location: Nearwater Ln, Darien, CT
8. Branford Point Beach – Branford
Branford Point Beach is a great public beach to visit. It's a small, crescent-shaped beach that offers an amazing view of Long Island Sound.
Visitors can go swimming, picnicking, fishing, or walking on this beach. Plus, there's a playground for kids as well.
Location: 4 Harbor St, Branford, CT
9. Jacobs Beach – Guilford
Jacobs Beach is a highly-rated public beach found in Guilford, CT. This 25-acre beach isn't overly large, but it doesn't ever seem to get too crowded.
There are a number of activities available here, including swimming, kayaking, basketball, beach volleyball, and shell collecting.
The beach also features a playground, grills, bathrooms, and outdoor showers.
Location: 140 Seaside Ave, Guilford, CT
10. Eastern Point Beach – Groton
Eastern Point Beach is one of the public beaches in Groton. It's a sandy beach and the water isn't overly deep.
This spot also has a snack bar, volleyball courts, and a fantastic view of the Thames River and Long Island Sound.
Location: 1 Beach Pond Rd, Groton, CT
Other Public Beach Spots in Connecticut
Those aren't the only public beaches in Connecticut. Here are some other public beaches that may be closer to where you live:
Seabluff Beach in West Haven
Gulf Beach in Milford
Soundview Beach in Old Lyme
Public Beaches CT – Final Thoughts
Those are the top Connecticut public beaches. If you're looking to visit a free beach in Connecticut, check out this article. There are also a number of excellent public pools and dog beaches in CT as well.
Be sure to check out this complete list of CT beaches: