5 Fun Beaches in Westbrook, CT
Westbrook often goes overlooked when it comes to beach towns. But there are still of few worthwhile beaches to visit here.
That's why I recently took a trip to all of the most popular beaches in Westbrook, CT. After visiting them all, I found these beaches to be the best.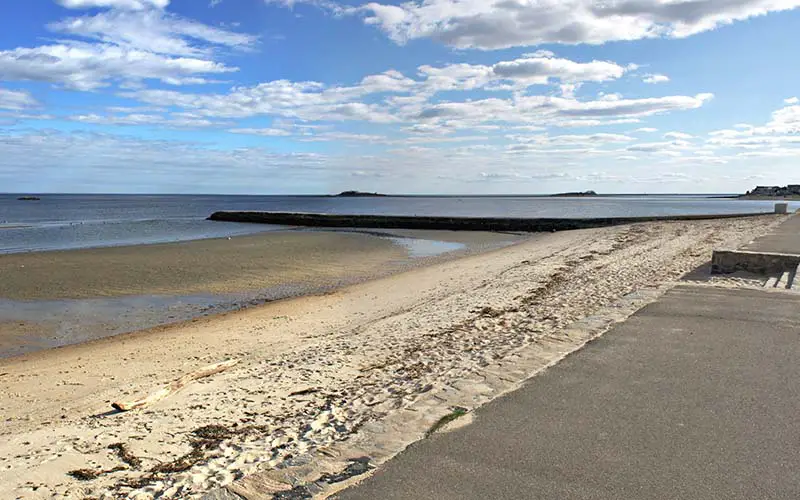 Top Beaches in Westbrook, Connecticut
1. West Beach
West Beach is one of the most popular Westbrook beaches. It's the largest beach in town and it's very well-maintained.
The beach doesn't get too busy, so it's a relaxing spot to read a book on the sand or watch your kids build sandcastles. There are usually lifeguards as well, so swimming here is safe.
West Beach also has a pier, concession stands, a picnic area, and seasonal restrooms. In the colder months, this is a great place to walk since the beach remains open year-round.
Location: Seaside Ave, Westbrook, CT
2. Middle Beach
Middle Beach is another great beach in Westbrook. This beach is extremely small, but it's one of the best-kept secrets in town.
It's the perfect place to go for a quick dip in the water or sit back and enjoy the sand with a good amount of privacy.
You can find this beach off Salt Island Road in the southern part of town. There are a few public parking spaces near the beach, but not many.
Location: Salt Island Rd, Westbrook, CT
3. Coral Sands Beach
Coral Sands Beach is one more local spot to visit. This Westbrook beach doesn't have any amenities, like restrooms or snack bars. In fact, the lot of land behind the beach is a bit overgrown.
But if you ignore the surrounding shrubbery, this beach offers a great view of Long Island Sound. However, I wouldn't recommend swimming here due to the lack of lifeguards.
Location: Seaside Ave, Westbrook, CT
4. Clinton Town Beach
Clinton Town Beach is located one town over from Westbrook. It's a clean, family-friendly beach with a fair number of amenities.
Some of the attractions available here include a playground, a splash pad, basketball courts, bocce courts, volleyball courts, grills, picnic tables, and several walking trails.
There's also a marina nearby where you can launch boats and kayaks into the water. Just be aware that parking costs $50 during the week and $75 on weekends if you're not a Clinton or Killingworth resident.
Location: 96 Waterside Ln, Clinton, CT 06413
5. Harvey's Beach
Harvey's Beach is one more beach destination near Westbrook, Connecticut. Located in Old Saybrook, this beach has amazing shoreline views.
During low tide, you can go out into the shallow water and explore the sandbars and nearby marsh. It's perfect for wading in and out of the water without worrying about it getting too deep.
If you have you're kids with you, there's also a small swing set on the shore.
Location: 29 Plum Bank Rd, Old Saybrook, CT
Other Beaches near Westbrook, CT
Aside from the Clinton and Old Saybrook beaches already mentioned, Connecticut has plenty of other beaches near Westbrook. Be sure to visit these other local beaches in the state:
Hammonasset Beach State Park in Madison
Surf Club Beach in Madison
Soundview Beach in Old Lyme
For a full list of local beaches in the surrounding towns of Clinton and Old Saybrook, check out these articles.
Westbrook Beaches – Final Thoughts
Those are all of Westbrook's best beaches. If you're just visiting Westbrook for a few days, I recommend staying at the Water's Edge Resort & Spa. It's one of the best beachfront hotels in CT.
Be sure to check out this complete list of CT beaches: