6 Best Beaches in New Haven, CT (New Haven Beach Rankings)
If you want to go to the beach, but don't want to travel across the state, you're in luck. I was recently thinking the same thing, so I went out of my way to find all the best beaches in New Haven.
After doing some research, I quickly found that there's really only one good beach actually located in New Haven. However, there are about half a dozen other awesome beaches, just a couple of minutes outside the city. So, these are the best beaches in and around New Haven, CT.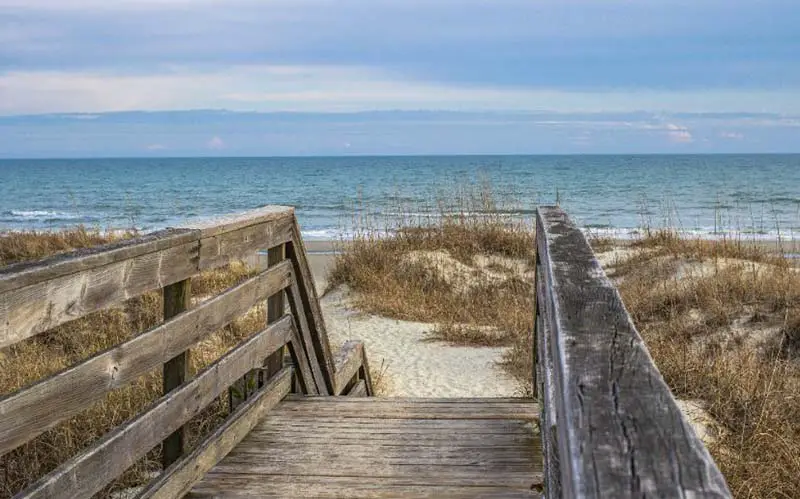 Top Beaches in and near New Haven, Connecticut
1. Lighthouse Point Park – New Haven, CT
Lighthouse Point Park is a popular New Haven Beach found on Lighthouse Road. This beach is free for New Haven residents, however, non-residents are required to pay a $20 parking fee ($30 if you live out of state).
The beach has a carousel, hiking trails, a splash playground for kids, and a lighthouse. There's even a picnic area for BBQs, so you don't have to get sand in your food (if you didn't bring your own food there's a snack bar too).
This beach is great for families, especially if you live in the Greater New Haven area. The only downside is that pets aren't allowed on the beach. But other than that, I would argue that this is one of the best beaches in New Haven.
Location: 2 Lighthouse Rd, New Haven, CT 
2. Hammonasset Beach State Park – Madison, CT
Hammonasset Beach is another top beach in the New Haven area. Although it's about a 30-minute drive from New Haven, I would argue it's the best overall beach in Greater New Haven.
This beach is completely free for Connecticut residents (must have a CT license plate) and offers activities like swimming, saltwater fishing, camping, biking, and picnicking. All of the facilities have seen new renovations, and they have a cool boardwalk as well.
Hammonasset Beach State Park is Connecticut's largest shoreline park, with over 2 miles of beach. This is perfect for long walks on the beach when you're done swimming for the day.
Parking isn't an issue, but be aware that there can be a lot of traffic on I-95 when you go to leave in the evening. The traffic creates the perfect opportunity to grab a delicious lobster roll on your way home. There are plenty of restaurants that serve lobster rolls in the area.
Location: 1288 Boston Post Rd, Madison, CT
3. Cosey Beach (East Haven Town Beach) – East Haven, CT
Cosey Beach is a small beach found a few miles from Hammonasset on Cosey Beach Avenue. This is an excellent beach for swimming since the water gets pretty deep (low tide also isn't much of an issue here). Just be aware that there are a fair amount of rocks in the area.
The beach is very family-friendly, as it has a playground for kids. There's also a good-sized picnic area which is perfect for barbecues. If you didn't bother to carry any food with you, there are some great restaurants down the street. Sandpiper Restaurant and Lobster Shack come highly recommended.
Cosey Beach is free for East Haven residents, however, non-residents have to pay a steep $35 fee. Regardless, it's still a nice beach that doesn't get too crowded.
Location: 80-4 Cosey Beach Ave, East Haven, CT
4. Silver Sands Beach, Milford, CT
The next closest beach to New Haven is Silver Sands Beach in Milford. It's only a 25-minute drive from New Haven, so it's great for a day trip with your friends or family. If you get to the beach early enough, you'll be able to see the awesome sunrise.
Silver Sands State Park is a very popular beach, so it does get a bit crowded. Although crowded, the beach is super clean. You'll see a good mix of younger crowds, along with families here bathing in the sun.
As far as activities go, there's a cool land bridge that connects Silver Sands Beach to Charles Island. Plus, there's also a really long boardwalk that connects Silver Sands Beach to Walnut Beach.
The sandy beaches here are also perfect for picking up seashells. You'll find a ton of them in the sand as you're walking along the water.
Silver Sands Beach is completely free. There are no fees for parking either. However, the bathrooms leave much to be desired.
Location: 1 Silver Sands Pkwy, Milford, CT 
West Haven Beaches
Aside from Lighthouse Point Beach (which is located directly in New Haven), the next two beaches on this list are Hew Haven's closest beaches. Both beaches are found across the town line in West Haven.
5. Sandy Point Beach & Bird Sanctuary, West Haven, CT
Sandy Point Beach & Bird Sanctuary is one of the closest beaches to New Haven, without actually being in New Haven. If you live on the western side of the city, it's actually closer than Lighthouse Point Beach.
This is a cool place to stop by if you want to enjoy some nature, but it's not a great swimming beach. It's more of a state park and public bird sanctuary, as the name suggests. Overall, it's a bit underwhelming.
However, this small sandy beach is an excellent spot to go fishing. If you read some reviews online, you see that some people have caught some massive fish in Long Island Sound from this beach.
Location: Beach St, West Haven, CT
6. Oak Street Beach, West Haven, CT
Oak Street Beach is another one of the beaches found in the Greater New Haven area. It's located just down the street from the Sandy Point Bird Sanctuary. You can actually walk there since the beaches are connected.
This is a nice quiet beach with a boardwalk and scenic view of the ocean. If you go out on the pier, you'll find some good fishing spots as well. Oak Street Beach has a large nearby park for picnicking too. It's easy to head over to Bradley Point Park if you want to have a picnic.
Besides Oak Street Beach, there are a number of other small beaches in the area. Bradley Point Beach, Sea Bluff Beach, and Prospect Beach are all within walking distance. There's a walkway on the shoreline that connects them all.
These aren't the best beaches during low tide, as the water seems to disappear quickly. So, I recommend visiting during high tide if you want to swim.
Location: Savin Rock Trail, West Haven, CT
Best New Haven Beach – Final Thoughts
That about covers all of the New Haven beaches. To recap, Lighthouse Point Park is the only New Haven beach actually found in the city of New Haven. The rest of the beaches on this list can be found within a 25-minute drive of New Haven.
If you had to pick one, I would say that Hammonasset Beach is the best. But all of the beaches in the Greater New Haven area are solid options. Now go out and enjoy the beach weather, before summer is over!
For a full list of local beaches surrounding New Haven, check out these articles about the top beaches in West Haven and East Haven.
Be sure to check out this complete list of CT beaches: