Best Beaches for Families in Connecticut in 2023 (Kid-Friendly)
Bringing your kids to the beach is fun, but you still want to make sure they are safe. So, it's important to visit a beach that doesn't have large waves are strong tides.
That's why I rounded up a list of the best beaches for families in CT. These beaches are family-friendly and offer a ton of amenities aside from just the water and sand.
So without further ado, these are the best family beaches in CT.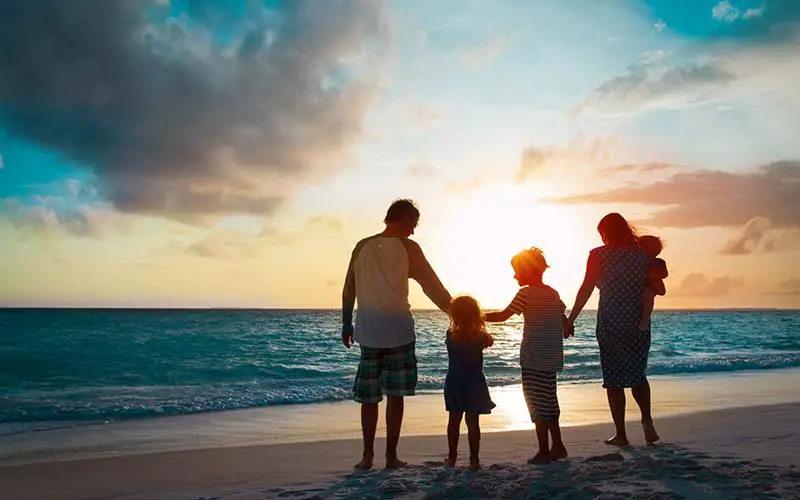 Top Family Beaches in CT
1. Sherwood Island State Park – Westport
Sherwood Island State Park is one of the top beaches in Connecticut for families. This family-friendly beach has plenty of open sand, a pavilion for picnics, a jetty for saltwater fishing, a bathhouse, and a concession stand.
The waves at the beach are small, so it's perfect for smaller children. However, you may want to have them wear water shoes since the beach does have a fair amount of sea shells and rocks under the water.
There's also a permanent alcohol ban at Sherwood Island State Park, which is ideal if you're bringing your kids swimming.
Location: Sherwood Island Connector, Westport, CT
2. Ocean Beach Park – New London
Ocean Beach Park is one of the most popular family beaches in Connecticut. This is one of Connecticut's most visited beaches so there's plenty to do.
Some of the amenities at the park include a boardwalk, an Olympic-sized swimming pool, water slides, beach volleyball courts, a playground for kids, mini golf, an arcade, and an amusement park.
Just be aware that there is a nominal admission fee to enter the park.
Location: 98 Neptune Ave, New London, CT
3. Hammonasset Beach State Park – Madison
Hammonasset Beach State Park is another highly touted family beach in CT. This 2-mile-long beach has a number of attractions, including swimming, sunbathing, hiking, camping, and biking.
Best of all, the beach is free for Connecticut residents since it's a state park. Non-residents have to pay a small parking fee.
Location: 1288 Boston Post Rd, Madison, CT
4. Silver Sands State Park – Milford
Silver Sands State Park is one more state park with a family-friendly beach. This beach spot can be a bit crowded at times, but the sand and water a very clean.
Aside from swimming and sunbathing, you can also go for scenic walks on the water while collecting sea shells.
There's a nice boardwalk here as well. The beach at Silver Sands State Park is free for all residents of Connecticut.
Location: 1 Silver Sands Pkwy, Milford, CT 
5. Calf Pasture Beach – Norwalk
Calf Pasture Beach is a popular beach found in Norwalk. It's a calm beach, with an amazing view of Long Island Sound.
In addition to the sandy beach, you're kids can also enjoy the baseball fields, basketball courts, splash pad, volleyball courts, and playground.
There's plenty to do here for the whole family. Just be aware that there is a $42 parking fee for non-residents ($72 on weekends and holidays).
Location: Calf Pasture Beach Rd, Norwalk, CT
6. Eastern Point Beach – Groton
Eastern Point Beach is another one of the top beaches in CT for families. This small, public beach is great for families since the water isn't too deep.
Once your kids get tired of swimming for the day, the beach also has basketball courts, volleyball courts, and a snack bar.
If you live in the eastern part of Connecticut, this beach is an excellent option.
Location: 1 Beach Pond Rd, Groton, CT
7. Lighthouse Point Park – New Haven
Lighthouse Point Park is one of Connecticut's family beaches found in the greater New Haven area. There is no shortage of attractions for children here.
Some of the activities at the beach include a carousel, hiking, a splash pad, and a lighthouse. There's also a nice picnic area and a snack bar too.
If you live in New Haven, you can get into the park for free, while non-residents are required to pay a $20 parking fee ($30 if you live out of state).
Location: 2 Lighthouse Rd, New Haven, CT 
8. Harveys Beach – Old Saybrook
Harveys Beach is one more excellent family beach in Connecticut. This beach has very shallow water, so you can go out and explore the sandbars.
It's great because you can let your kids go out into the water without worrying about it getting too deep.
Plus, there's also a small swing set on the shore as well.
Location: 29 Plum Bank Rd, Old Saybrook, CT
Family Beaches in Connecticut – Final Thoughts
Those are the best beaches for families in Connecticut. If you're just visiting Connecticut for a few days on vacation, I recommend checking out these articles about the top family-friendly hotels in CT and the best beach hotels in CT.
Be sure to check out this complete list of CT beaches: