Best Skateparks in CT [2023 Update]
If you're looking for a skatepark in Connecticut, you're in luck. Many towns have gone out of their way to build skateparks in recent years. So chances are, there's one near you.
I recently went out of my way to find all of the most popular places to skate in Connecticut. After compiling a list and testing them out, I've determined these are the best skateparks in CT.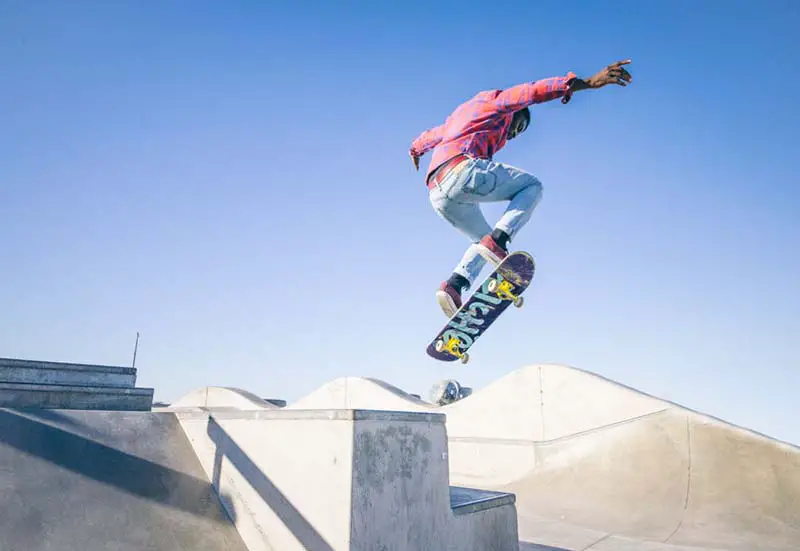 Top Skateparks in Connecticut
1. Groton Skatepark
Groton Skatepark is a top skatepark in CT, found out in Groton. The park was built to give skateboarders and in-line skaters a place to go year-round, so they don't have to resort to street skating.
The park has plenty of transitions, verticle walls, bumps, and quarter pipes, so it's best suited for experienced skaters. Groton Skate Park is officially located in Sutton Park, and it's a favorite among skaters in southern Connecticut.
Address: 10 Ring Dr, Groton, CT 
2. Rockwell Skate Park
Rockwell Skate Park is one of the best skateparks in Connecticut. This spot was built by the famous company California Skateparks, so you know it's a high-quality facility.
The park was designed to cater to skaters of all levels, so it features rails, stairs, ledges, and a bowl. Bikes are also allowed onto the skatepark without issue.
Address: 238 Jacobs St, Bristol, CT
3. Peckham Park Skatepark
Peckham Park, which is located in Middlefield, has an awesome skateboard park. The park features a quarter pipe, rails, and plenty of ramps.
There are also some curbs and ledges so you can do slide or grind tricks on your skateboard. If you live or go to school in Middletown, this is will be the closest park to you.
Address: 161 Strickland Rd, Middlefield, CT
4. Plainfield Skatepark (and Norton Skate Park)
Plainfield Skatepark is another niche skatepark in Connecticut. This park can be found in Plainfield and features a quarterpipe, banks, ledges, and a path resembling a race track.
Plainfield Skatepark can easily be confused with Norton Skatepark in Plainville which is also very good. Norton is a bit smaller but is open to rollerblades, skateboards, and bikes. However, they do require you to wear a helmet, knee pads, wrist pads, and elbow pads (although I have yet to see them enforce it).
Plainfield Address: 1-15 Norton Park Rd, Plainville, CT
Plainville Address: 197 South Washington Street, Plainville, CT
5. Alexander Jordan Jamieson Memorial Skate Park
Alexander Jordan Jamieson Memorial Skate Park (formerly Milford Skate Park) is a popular CT skatepark on the Connecticut shoreline.
The park has a massive bowl, a rainbow ledge, a manual pad, a hubba, and some rails. There's also a great section for flow riding. Milford has a solid skateboarding community as well.
Address: Washington St, Milford, CT
6. Willimantic Skatepark
Willimantic Skatepark is one of the CT skateparks near Uconn. It's a large skate park located in the wilderness of Willimantic.
This park has many different lines and terrain types. Some of the obstacles include a quarter pipe, rails, benches, manual pads, and a small ramp. You'll have a difficult time finding a better skatepark in this part of Connecticut.
Address: 625 Jackson St, Willimantic, CT
7. Edgewood Skate Park
Edgewood Skate Park is a great Connecticut skatepark found in New Haven. The park features ramps, quarter pipes, and ledges, along with a couple of other obstacles for tricks.
If you go to the City of New Haven website, they set some rules that are loosely enforced involving helmets, wrist, knee, and elbow pads. They also say no bikes, but I've seen plenty of bikers at the park.
Address: Edgewood Skate Park, Edgewood Ave, New Haven, CT
8. Scalzi Skatepark
Scalzi Skatepark is one of the Connecticut skateparks located in Stamford. This is a high-quality skate park, although it's starting to get a bit old (it was built in 2007 by Grindline Skateparks).
The street obstacles include rails, ledges, banks, hubbas, and stairs. You can also find a quarter pipe and bowls, along with plenty of transitions at this 10,000-square-foot park. They are open 24-hour a day.
Address: 1902-2190 Washington Blvd, Stamford, CT
9. Moodus Skatepark
Moodus Skatepark is one more skate park in CT, this time located in Moodus (Moodus is part of East Haddam). This park features a solid bowl, ledges, and a quarter pipe.
There are also a couple of other obstacles, including hips, pole jams, and a manual pad. This park is known by locals as the Hunter Daniels / Dan Dombroski Memorial.
Address: 1-17 Wigwam Rd, Moodus, CT
10. South Windsor Skate Park
The South Windsor Skate Park can be found in Nevers Park, across the street from South Windsor High School.
This is one of the simpler skate parks in CT, making it easy for beginners to learn how to skate and do new tricks. Some of the obstacles include quarter pipes, rails, stairs, ledges, manual pads, and pole jams.
Address: Nevers Park, Chief Ryan Way, South Windsor, CT
11. Fairfield Skatepark
Fairfield Skatepark (aka Jennings Beach Skate Park) is another popular skate park in Connecticut. This skate park is located right on the beach, so you get an awesome view of the ocean while you're skating.
The concrete park has a large bowl and a nice mix of transition and street obstacles, like rails and benches. This is one of the best skates in the summer, just because there are so many activities on the beach. You can ride your bike here too.
Address: 850 S Benson Rd, Fairfield, CT
12. Newtown Skatepark
Newtown Skatepark is a small CT skate park found near Danbury. It has a bowl, handrails, ledges, flat bars, stairs, and a bubba.
This isn't the largest skatepark in the state, but it's built well and has plenty of obstacles to practice new skills. Aside from skating, there are some other recreational activities as well at Dickinson Memorial Park.
Address: 50 Elm Dr, Newtown, CT
13. Canton Skatepark
Canton Skatepark is one of the skate parks in Connecticut, found near Litchfield County. The park is officially located in Mills Pond Park, right next to Canton High School.
Canton Skatepark has quarter pipes, rails, ledges, banks, and ramps. Overall, it's small, but there is plenty of space to practice flat ground tricks.
Address: 14 E Hill Rd, Canton, CT
14. Moosup Skate Park
Moosup Skate Park is one of the few CT skate parks in Windham County. This small park has a couple of nice features, like euro gaps, banks, quarter pipes, ledges, and stairs.
This park is meant for beginnners but there aren't many other skate parks in this part of Connecticut. Either way, it's located in a nice recreation area.
Address: Lions Dr, Moosup, CT
15. Enfield Skatepark
Enfield Skatepark (aka Green Manor Skatepark) is one of the Connecticut skate parks in the northern part of the state.
The park features quarter pipes, ledges, vertical walls, and banks. It's a small skatepark, but a fun time if you leave in the area.
Address: 198 Taylor Rd, Enfield, CT
Map of Skateparks CT
If you're looking for a skatepark CT, check out the map below. All the top skakeparks in Connecticut can be found on the map.
Best Skatepark CT – Final Thoughts
I hope you enjoyed this guide to the best skateparks CT. Skateboarding is a ton of fun, so it's great that we have plenty of skateboard parks here in Connecticut. Best of all, most of these skateparks are free.