Free Beaches in CT [Update 2023]
Although Connecticut has a number of public beaches, not all of them are free. There are only a handful of free beaches in CT.
So, I thought it would be useful to make a list of all the beaches that are currently free in Connecticut. So without further ado, these best free beaches in Connecticut.
If you want a full list of CT beaches, check out this article.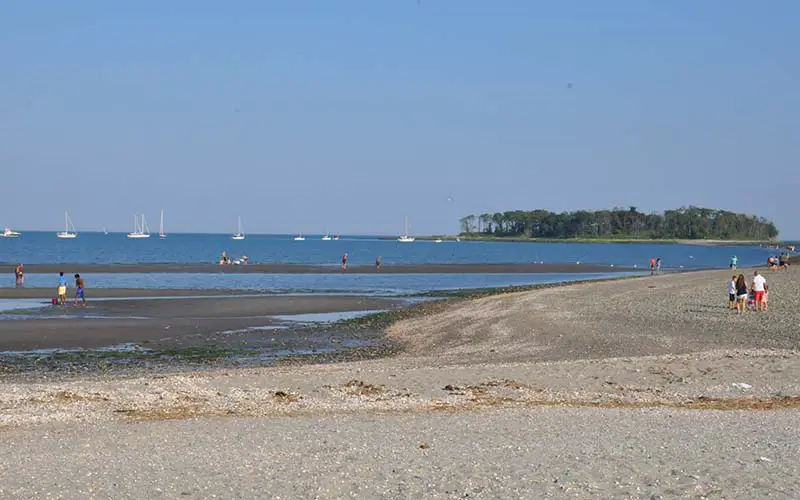 Free Beaches in Connecticut
1. Hammonasset Beach State Park – Madison
Hammonasset Beach State Park is one of the most popular free beaches in Connecticut. It's also one of the largest beaches in CT, stretching out over 2 miles
There are a ton of activities available here including swimming, hiking, camping, and biking. Plus, there are other amenities, like the boardwalk for example.
As a state park, Hammonasset Beach State Park is free for all Connecticut residents.
Location: 1288 Boston Post Rd, Madison, CT
2. Silver Sands State Park – Milford
Silver Sands State Park is another state park that has a free beach in Connecticut. The beach here is clean, although it can get a bit crowded at times.
Whether you want to swim, relax in the sand, or walk along the water, this is a fantastic beach to visit.
Since it's a Connecticut state park, Silver Sands Beach is free to visit. There are no parking fees either.
Location: 1 Silver Sands Pkwy, Milford, CT 
3. Esker Point Beach – Groton
Esker Point Beach is one more great free beach in CT. It's a small, man-made beach but it's a great place to go swimming for the day if you're in the area.
The park features fun amenities like beach volleyball courts, a boat launching area, picnic areas, and bathrooms.
Parking at the beach is free for both residents and non-residents. Just be aware that there are no lifeguards.
Location: 900 Groton Long Point Rd, Groton, CT 
4. Jennings Beach – Fairfield
Jennings Beach is a popular public beach in Fairfield, Connecticut. It spans 27 acres and is great for families.
The beach has a range of amenities like volleyball courts, a snack bar, a marina, and a skatepark. Jennings Beach is one of the more dog-friendly beaches in CT during the winter as well.
Public access to the beach is free year-round, however, you may have to pay for parking.
Location: 880 S Benson Rd, Fairfield, CT
5. Rocky Neck State Park – East Lyme
Rocky Neck State Park is another free public beach in CT. This state park features all kinds of activities like hiking, camping, crabbing, and fishing.
The park and beach are free to visit if you're a Connecticut resident. On the other hand, non-residents have to pay a $25 parking fee.
Location: 228 W Main St, Niantic, CT
6. Sherwood Island State Park – Westport
Sherwood Island State Park can be found in Westport, Connecticut. The park has a free, family-friendly beach with a pavilion, a jetty for fishing, and a food concession stand.
The waves here are very big, so it's great for smaller children. Just make sure that your kids wear water shoes since there are a lot of rocks and sharp sea shells under the water.
Location: Sherwood Island Connector, Westport, CT
7. Lighthouse Point Park – New Haven
Lighthouse Point Park is an excellent beach found in New Haven. The beach offers a ton to do, including a carousel, hiking trails, a splash pad, picnic areas, a snack bar, and a lighthouse.
This beach is only free for residents of New Haven. Non-residents are required to pay a $20 parking fee ($30 if you live out of state).
Location: 2 Lighthouse Rd, New Haven, CT 
8. East Haven Town Beach – East Haven
East Haven Town Beach is free for town residents (non-residents do have to pay for parking). This small beach is for great swimming, but you can also play bocci ball and beach volleyball.
The beach doesn't get too busy, so it's an excellent place to relax as well.
Location: 80-4 Cosey Beach Ave, East Haven, CT
9. Walnut Beach – Milford
Walnut Beach is a great beach in Milford, Connecticut. It's actually located right next to Silver Sands State Park.
This sandy beach occasionally hosts sculpture competitions and concerts, so it's a cool place to visit.
Milford residents with a resident parking sticker can park at this beach for free, while, non-residents have to pay a $40 fee. However, you can avoid the fee by parking at Silver Sands State Park and walking over to Walnut Beach.
Location: 119-199 E Broadway, Milford, CT
10. Calf Pasture & Shady Beach – Norwalk
Calf Pasture Beach and Shady Beach Park are two of the most visited beaches in southern Connecticut. Located in Norwalk, the two beaches feature a calm atmosphere and a beautiful coastline view.
Norwalk residents can get free parking at these beaches if they verify their license plate numbers. But non-resident vehicles will have to pay a fee, which is $42 per car on weekdays and $72 per car on weekends.
Location: Calf Pasture Beach Rd, Norwalk, CT
11. Seabluff Beach – West Haven
Seabluff Beach is one more free beach in the greater New Haven area. This beach is known for its amazing walking trails and sand bars that you can explore during low tide.
The beach also has a playground, beach volleyball nets, and fishing spots. Parking here is free for West Haven residents who verify their vehicle with the town. Non-residents have to pay $12.
Location: 1083 Ocean Ave #1075, West Haven, CT
Free Beach CT – Final Thoughts
Those are the top free beaches in CT. Many are free for all Connecticut residents while some are only free for specific town residents. But regardless of which beach you visit, you're bound to have an amazing time.
Be sure to check out this complete list of CT beaches: