5 Must-Visit Beaches in Stratford, CT
If you're looking for a spot to swim in Stratford, you're in luck. I recently visited all of the most popular beaches in town to see which ones are the best.
Not all beaches are created equal, so it's important that you choose the right one. So without further ado, here's our roundup of the top beaches in Stratford, CT.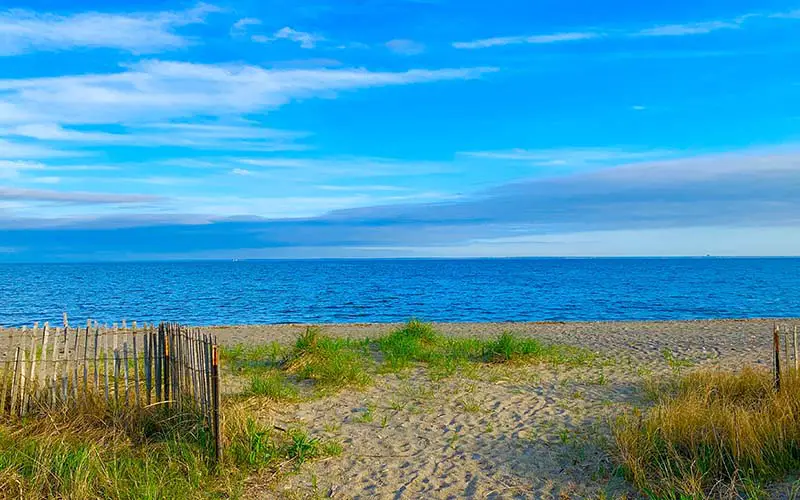 Top Beaches in Stratford, Connecticut
1. Short Beach
Short Beach is among the top Stratford beaches. It's great for both swimming and playing in the sand, but there are also a ton of other things to do as well.
The park adjacent to the beach has a golf course, a playground, baseball fields, soccer fields, basketball courts, tennis courts, volleyball courts, picnic areas, and a calisthenics course.
Plus, you're able to launch kayaks and paddleboards into Long Island Sound from Short Beach.
Location: Short Beach Park, CT-113, Stratford, CT
2. Long Beach
Long Beach is another very popular beach in Stratford, Connecticut. This 1.5-mile beach can be found on the peninsula between Long Island Sound and Lewis Gut in southern Stratford.
Part of the area is a public beach so it's open for swimming, sailboarding, and fishing. This is also an excellent place to go for long walks on the beach since there's so much wildlife and tons of sea shells.
Just know that there are no restrooms at this beach. You can easily reach this beach by car, but there is a parking fee.
Location: Oak Bluff Ave, Stratford, CT
3. Stratford Sea Wall & Lordship Beach
Located a bit east of Long Beach is the Stratford Sea Wall and Lordship Beach. This isn't necessarily the best place to swim since it's super rocky and there are no lifeguards, but the views are amazing.
This Stratford beach offers the perfect spot to walk along the water and enjoy the scenery.
The only downside to this place is that parking is pretty limited when the beach is busy. Plus, there is a 2-hour parking limit so you can't stay very long.
Location: 53 Beach Dr, Stratford, CT 
4. Silver Sands State Park
Silver Sands State Park is just a short drive from Stratford. Located in Milford this is a very popular beach with plenty to do.
You can swim, go for long hikes (there's a lot to see), and take a stroll on the boardwalk.
The beach is one of Connecticut's state parks, so it's open year-round and it's free to visit. There are no parking fees at this beach either.
Location: 1 Silver Sands Pkwy, Milford, CT 
5. Seaside Beach
If you're looking for a cool place to swim and hang out for the day near Stratford, you should check out Seaside Beach in Bridgeport.
This sandy beach stretches 3 miles of shoreline, so it's great for making sand castles and swimming.
The beach also has fun activities and amenities like playgrounds, baseball fields, soccer fields, walking paths, and picnic areas.
Location: 10 Barnum Dyke, Bridgeport, CT
Additional Beaches near Stratford, CT
Stratford only has 3 main beaches, but there are plenty of other places to go swimming nearby. If you live in the Stratford area, you should go check out these beaches in Milford and Bridgeport as well:
Walnut Beach in Milford
Seaside Beach in Stratford
Gulf Beach in Milford
Stratford Beaches – Final Thoughts
Those are Stratford's best beaches. Short Beach has the overall best amenities, but Long Beach is great too if you want to visit a more private beach. The Stratford Sea Wall is also a solid beach option but is better for walks than swimming.
Be sure to check out this complete list of CT beaches: