Best Beaches in East Lyme, CT (Niantic)
Niantic (which is a village in East Lyme) is one of the most notable beach towns in Connecticut. The entire coastline is littered with amazing beaches.
That's why I took a trip out to East Lyme to see which local beaches are the best. Here are my picks for the best beaches in East Lyme, CT.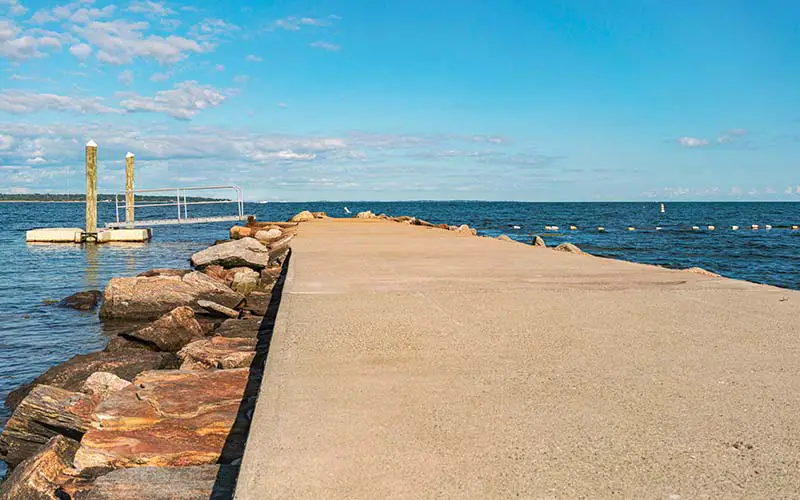 Top Beaches in East Lyme, Connecticut
1. Niantic Bay Beach
Niantic Bay Beach is probably the most iconic beach in East Lyme. It features a long coastline boardwalk that runs across the water.
The beach here is roughly a half-mile long, so there's plenty of space for swimming, relaxing in the sand, or hosting a picnic.
There are also some beach volleyball courts and a fishing jetty at the far end of the beach. Swimming is very safe at Niantic Beach, just make sure you visit while the lifeguards are on duty since there can be waves on occasion.
Location: 30 Main St, Niantic, CT
2. Hole In The Wall Beach
Hole In The Wall Beach is one of the more frequented East Lyme beaches. You can find this beach at the end of the Niantic Bay Boardwalk, which connects it to Niantic Bay Beach.
This spot doesn't have many amenities but is great for swimming and hiking. There are usually lifeguards on duty here, but you must swim at your own risk when they aren't working.
Location: 4 Baptist Ln, Niantic, CT
3. McCook Point Park Beach
McCook Point Park Beach is one more beach in to check out. This East Lyme beach actually connects to both Hole in the Wall Beach and Niantic Bay Beach with footpaths.
The beach is attached to a park that has a grassy lawn area, picnic tables, a playground, bocce ball courts, restrooms, and free Wi-Fi.
You do have to pay for parking. Visitors can either purchase a day pass or a season pass.
Location: Atlantic St, Niantic, CT
4. East Beach At Rocky Neck
Rocky Neck State Park is located right on the Old Lyme-East Lyme town border. It's home to one of the top beaches in Connecticut.
The beach here is relatively large compared to other beaches in the area. Plus, you're able to do all sorts of other activities like hiking, camping, picnicking, crabbing, and fishing.
East Beach does get crowded, but it's worth the trip. This spot is free for Connecticut residents, however, non-residents have to pay a $25 parking fee.
Location: 228 W Main St, Niantic, CT
5. Waterford Beach Park
Waterford Beach Park is another beach found near East Lyme. This beach is accessible and well-maintained. It's one of the most scenic natural beaches in the entire state.
There are plenty of activities here including fishing, swimming, sunbathing, and picnicking. Sometimes the beach hosts live music performances and food trucks too.
Location: 317 Great Neck Rd, Waterford, CT
Addition Beaches near East Lyme, CT
There are only a handful of East Lyme beaches. However, there are dozens of other places to swim within a short drive of East Lyme. If you're looking for some new beaches to check out, try these spots:
Ocean Beach Park in New London
Harvey's Beach in Old Saybrook
Hammonasset Beach State Park in Madison
If you live in Old Lyme or Waterford, you'll want to check out the beaches in those towns as well.
East Lyme Beaches – Final Thoughts
Those are East Lyme's best beaches. All of these spots are great choices so whichever beach you decide to visit, you'll have plenty of fun in the sun.
Be sure to check out this complete list of CT beaches: