Best Beaches in Stamford, CT
If you're looking for a beach in Stamford, you came to the right place. There are only a handful of beaches in town, and not all of them allow swimming. So, it's important to pick the right one.
I recently visited all of the top beaches in the area to see which ones are the best for swimming and which ones are best for walking. Here's what I found.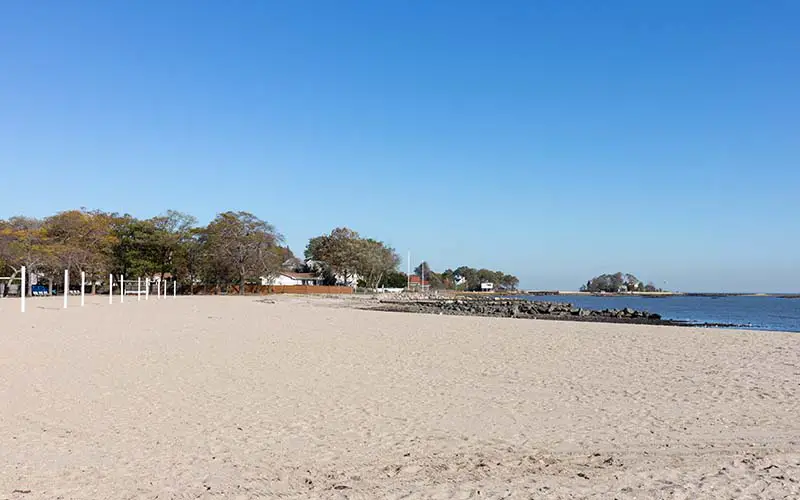 Top Beaches in Stamford, Connecticut
1. Cummings Park Beach
Cummings Park Beach is one of Stamford's top beaches. The park is quite large, spanning 79 acres on the coast of Long Island Sound.
Beachgoers can enjoy the soft sand and splash around in the waves, but there's also a large field with tennis courts, a basketball court, baseball fields, volleyball courts, and soccer fields.
Plus, Cummings Park also features a marina, pavillions, a snack bar, and a boardwalk. If you want to bring your pets to the beach, this is considered one of the more dog-friendly beaches in Connecticut.
Location: Cummings Park Beach, Stamford, CT
2. West Beach
West Beach is one of the more popular beaches in Stamford. It's located right next to Cummings Beach but is separated by a channel of water.
Since the two beaches are located right next to each other, you'll be able to enjoy the amenities of both.
The main difference between the two is that West Beach is slightly less busy, so you may find it easier to relax in the sun.
Location: Shippan Ave, Stamford, CT
3. Cove Island
Cove Island is another great beach in Stamford, Connecticut. The park has a ton of recreational facilities including hiking trails, biking paths, softball fields, BBQ grills, an open lawn area, a tennis court, a basketball court, a picnic area, and two beaches.
This beach can get crowded with swimmers and sunbathers on weekends during the summer, but it's not too busy if you visit during the week.
The sandy beaches of Cove Island are also home to over 300 species of birds and 50 species of butterflies. This is one of the best overall beaches in CT.
Location: 1125 Cove Rd, Stamford, CT
4. John J. Boccuzzi Park
John J. Boccuzzi Park is one of the Stamford beaches that's great for walking but doesn't allow swimming.
The 12-acre coastal park features a playground, sports fields, tennis courts, a sandy beach, and a marina that offers kayak and paddleboard rentals.
If you're looking to go for a walk in Stamford or do some kayaking, this is the beach to visit.
Location: 200 Southfield Ave, Stamford, CT
5. Kosciuszko Park
Kosciuszko Park is home to one more Stamford beach. Similar to John J. Boccuzzi Park, this park isn't a swimming beach but still offers plenty of shoreline views.
Many people love to walk the waterfront peninsula during the day while on break from work. It's also a popular spot for dog walkers, picnics, and barbecues.
You can find Kosciuszko Park just south of Harbor Point in Stamford, Connecticut.
Location: 200 Elmcroft Rd, Stamford, CT
6. Weed Beach
Weed Beach is actually located in Darien, but it's only a few hundred feet from the Stamford town line. You can actually walk to it from Cove Island.
This beach has a ton of wildlife like crabs and birds, along with a picnic area with grills. Plus, the adjacent park has tennis courts, a playground for kids, a concession stand, and shower facilities.
If you enjoy kayaking, you can also launch kayaks into the sea from the beach's marina.
Location: Nearwater Ln, Darien, CT
Other Beaches near Stamford, CT
Aside from Stamford's beaches, there are plenty of other excellent beaches in southern Connecticut. Here are a couple of other local beaches found in the surrounding towns:
Pear Tree Point Beach in Darien
Greenwich Point Beach in Greenwich
Island Beach in Greenwich
For a full list of beaches in Greenwich and Darien, check out the linked articles.
Stamford Beaches – Final Thoughts
Those are the best beaches in Stamford, CT. Whether you're looking to go swimming or take a relaxing walk in the city, you'll enjoy all of these parks and beaches.
Be sure to check out this complete list of CT beaches: