Beaches in East Haven, CT & Nearby
If you're looking for a place to go swimming in East Haven, you're probably considering going to the beach. However, your options are limited.
East Haven doesn't have many beaches, but there are several beaches a short drive from town. These are our top picks for beaches in East Haven CT, along with a few beach options located nearby.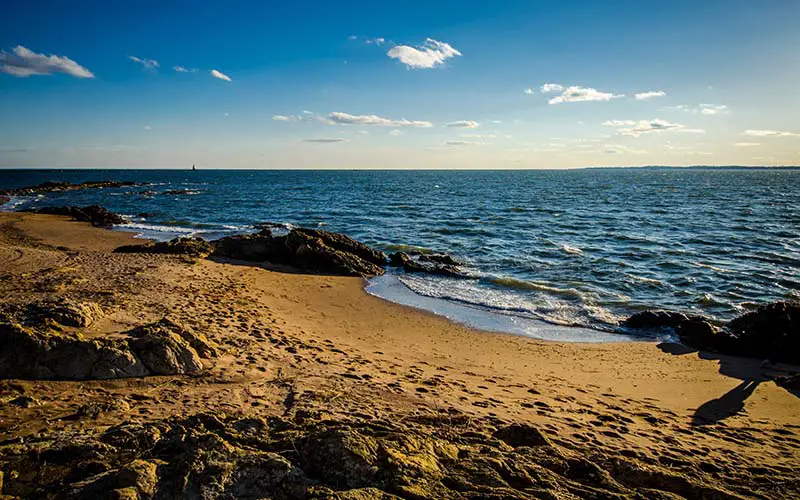 Top Beaches in East Haven, Connecticut
1. East Haven Town Beach
East Haven Town Beach is the main beach in East Haven. It's a small beach but is great for swimming since the water gets pretty deep.
The water here is super clean and the beach doesn't get overly busy. Plus, it's family-friendly, as the beach even has a splash pad for kids. Other activities include bocci ball and beach volleyball.
There's also a good-sized picnic area as well which is perfect for barbecues. This is the best beach to visit if you live in East Haven.
Location: 80-4 Cosey Beach Ave, East Haven, CT
2. Lighthouse Point Park
Lighthouse Point Park is technically not an East Haven beach, but it's located right on the New Haven-East Haven border.
The beach has plenty of amenities including a carousel, hiking paths, a water playground for kids, open fields, picnic areas, a snack bar, and a lighthouse.
Just be aware that this beach is free for New Haven residents, but non-residents are required to pay a $20 parking fee ($30 if you live out of state).
Location: 2 Lighthouse Rd, New Haven, CT 
3. Seabluff Beach
Seabluff Beach is a popular beach near East Haven. Located in West Haven, this beach is a great place to swim and offers amazing views of Long Island Sound.
The beach is known for its long walking trails, but it also has a playground, beach volleyball courts, and fishing piers.
I recommend checking out the cool sandbars that appear during low tide as well.
Location: 1083 Ocean Ave #1075, West Haven, CT
4. Oak Street Beach
Oak Street Beach is another great beach found near West Haven, Connecticut. This is a peaceful beach with a boardwalk and scenic view of the water.
Like many of the other beaches in the area, the fishing is really good here. You can host picnics on the grassy lawn too.
There are several excellent seafood restaurants within walking distance of the beach as well. You're able to visit Oak Street Beach a few towns over from East Haven in West Haven.
Location: Savin Rock Trail, West Haven, CT
5. Branford Point Beach
Branford Point Beach is one more beach that's close to East Haven. This small, sandy beach offers summertime activities like swimming, picnicking, fishing, and building sandcastles.
The beach also has a playground for kids, along with restrooms. It's a great spot to come with your family to cool off.
Just be aware that you may need to pay for parking if you're not a Branford resident.
Location: 4 Harbor St, Branford, CT
Other Great Beaches near East Haven, CT
East Haven Connecticut doesn't have a large number of beaches, but there are plenty of other places to swim nearby. Aside from the ones already mentioned, here are a few other beaches to check out near East Haven:
Hammonasset Beach State Park in Madison
Silver Sands State Park in Milford
Jacobs Beach in Guilford
For more beach options, check out these articles about beaches in New Haven and Branford, CT.
East Haven Beaches – Final Thoughts
Those are the top East Haven beaches. I highly recommend visiting East Haven Town Beach, but Lighthouse Point Park is a close second. Both are excellent options for swimming in Connecticut.
Be sure to check out this complete list of CT beaches: