Top 5 Beaches in Old Saybrook, CT
Old Saybrook isn't known for its beaches, but that doesn't mean there aren't a few good spots to go swimming in town.
I recently visited all of the most popular beaches in Old Saybrook, CT to see which ones are the best. Here's what I found.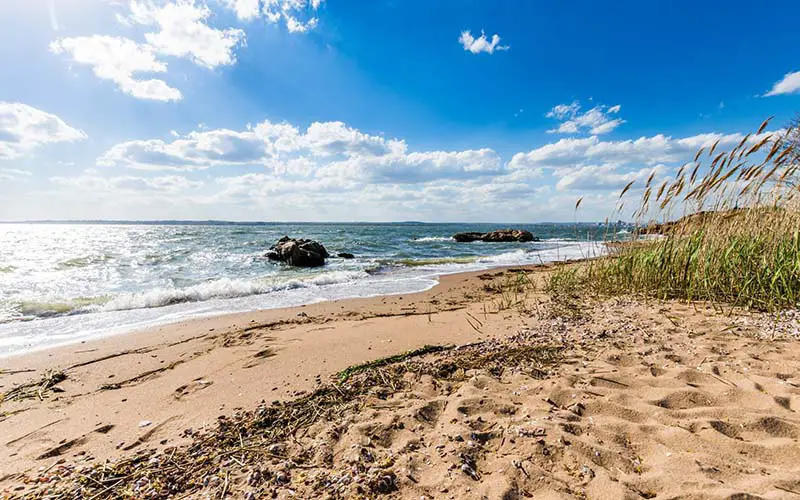 Top Beaches in Old Saybrook, Connecticut
1. Old Saybrook Town Beach
Old Saybrook Town Beach is the highest-rated beach in Old Saybrook. This small beach is well-maintained and doesn't get too crowded.
It has lifeguards, restrooms, and a snack bar. Plus, it's one of the best beaches in the state to walk on during low tide, since the sandbars really open up.
During the off-season, this spot turns into a dog-friendly beach. Just be aware that this beach is only open to Old Saybrook residents with a recreation parking pass.
If you're a non-resident, you'll want to check out the next beach on this list.
Location: Great Hammock Rd, Old Saybrook, CT
2. Harvey's Beach
Harvey's Beach is another popular Old Saybrook beach. It's located right up the road from Old Saybrook Town Beach, so it's very easy to get to.
Similar to the other beach, you can go out into the shallow water and explore the sandbars and nearby marsh. It's perfect for wading in and out of the water without worrying about it getting too deep.
The shoreline views here are unbeatable. There's also a small swing set on the shore if you have small kids.
Harvey's Beach does charge a parking fee, which is $15 per car on weekdays and $25 per car on weekends.
Location: 29 Plum Bank Rd, Old Saybrook, CT
3. Knollwood Beach
Knollwood Beach is a beautiful beach found a bit south of Harvey's Beach. This long beach is great for both walking and swimming.
If you enjoy fishing, there's a nice pier here as well. You'll see plenty of people jet skiing and kayaking in the water.
Just be aware that there is no parking lot a Knollwood Beach.
Location: 435-439 Maple Ave, Old Saybrook, CT
4. Indian Town Beach
Indian Town Beach is one of the lesser-known Old Saybrook beaches. This sandy beach doesn't have many amenities but it's a good spot to go for a swim.
There are park benches and tables available as well, making Indian Town Beach a good place for a picnic. If you have kids, there is a small playground too.
Location: Red Bird Trail, Old Saybrook, CT
5. Cove Beach
Cove Beach is one more spot to go swimming in Old Saybrook. It's a private beach, but if you live in the area this is always a good option.
Whether you want to relax and read a book on the sand or take a dip in the water, you'll enjoy your time at this quiet little beach.
Location: 8 Bay Side Ave, Old Saybrook, CT
Additional Beaches near Old Saybrook, CT
Old Saybrook has a few good beaches, but there are a few more popular options in the surrounding towns. Make sure to check out these beaches in Old Lyme and Westbrook:
West Beach in Westbrook
Rocky Neck State Park in Old Lyme
Soundview Beach in Old Lyme
Old Saybrook Beaches – Final Thoughts
Those are Old Saybrook's top beaches. Most of the beaches in this town are meant for locals, but non-residents can still have a ton of fun at Harvey's Beach.
Be sure to check out this complete list of CT beaches: