Top 5 Beaches in Waterford, CT
If you're looking for a spot to swim in Waterford, you're in the right place. I recently took a trip to all of the most popular beaches in town to see which ones are the best.
Not all beaches are created equal, so it's important that you choose the right one. So without further ado, here's my roundup of the top beaches in Waterford, CT.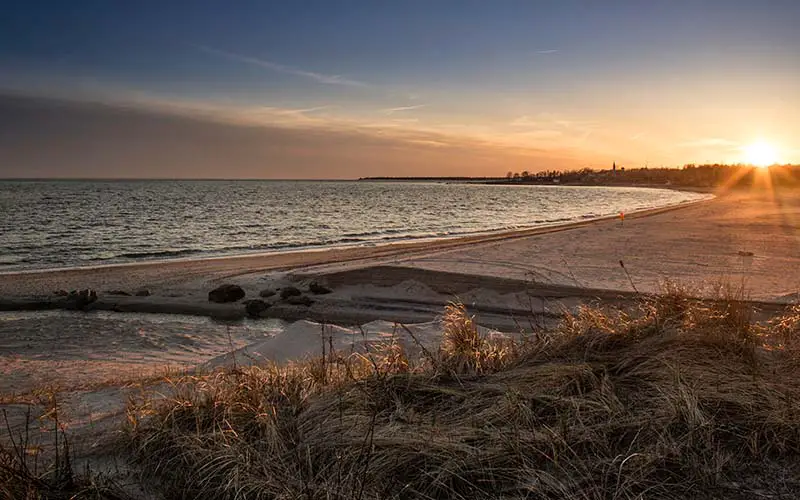 Top Beaches in Waterford, Connecticut
1. Waterford Beach Park
Waterford Beach Park is the most popular beach in town. It's a quarter-mile-long beach that is accessible and well-maintained. It's one of the most beautiful natural beaches in Connecticut.
There are plenty of things to do here including swimming, fishing, sunbathing, building sandcastles, and picnicking. Sometimes the beach has live music performances and food trucks as well.
The beach has plenty of lifeguards. Plus, it's a great spot to watch sunsets for collect shells that wash up on shore.
Location: 317 Great Neck Rd, Waterford, CT
2. Harkness Memorial State Park
Harkness Memorial State Park is home to another Waterford beach. Although you can't swim here, this is a great spot to go for long walks along the shoreline.
This state park offers some of the best ocean views in all of Connecticut. The park also offers tours of its botanical garden and a 42-room Renaissance Revival mansion.
This is a popular place for weddings and photoshoots, but you can also go fishing and picnicking.
Location: 275 Great Neck Rd, Waterford, CT
3. Seaside State Park
Seaside State Park is one more beach in Waterford, Connecticut. The park is the site of an abandoned psychiatric hospital, but don't worry it's not haunted.
The park offers amazing views of the water and you don't have to worry about dealing with a crowd of people.
The shoreline is a bit rough here so it's not ideal for swimming. But if you want to take some pictures of Long Island Sound or go for a hike, this is a great place to visit.
Location: Seaside Dr, Waterford, CT
4. Ocean Beach Park
Ocean Beach Park is one of the most visited beaches in the state. It's located right on the Waterford-New London town border.
This half-mile-long beach has super soft sand and some of the largest waves in Connecticut. In addition to that, this place has a boardwalk, an Olympic-sized swimming pool, water slides, mini golf, a playground, an arcade, and an amusement park.
Admission to the beach is $30 during the week and $35 on weekends.
Location: 98 Neptune Ave, New London, CT
5. Niantic Bay Beach
Niantic Bay Beach is another beach found near Waterford. Located one town over in East Lyme, this sandy beach offers a nice boardwalk, beach volleyball courts, and a fishing jetty.
It's a nice spot to go for a swim or simply relax in the sand. Lifeguards are usually on duty here as well.
Location: 30 Main St, Niantic, CT
More Beaches near Waterford, CT
Along with those beaches, there are several other popular beaches found within a few towns of Waterford. If you're looking for a new beach to check out, try visiting these nearby spots:
Hole in the Wall Beach in East Lyme
Rocky Neck State Park in East Lyme
Eastern Point Beach in Groton
Waterford Beaches – Final Thoughts
Those are Waterford's best beaches. If you don't want to travel too far to go swimming, Waterford Beach Park and Ocean Beach Park are two of the top beaches in Connecticut.
But if you want a less crowded beach experience be sure to check out these other beaches in New London and East Lyme.
Be sure to check out this complete list of CT beaches: