Top 5 Filipino Restaurants in CT
If you enjoy Filipino food, you'll be happy to know that there are a couple of solid Filipino restaurants in Connecticut. However, they are few and far between.
The entire state has less than 10 Filipino restaurants, so I recently visited all of them to see which ones are the best.
After a week of eating nonstop lumpia, I've found that these are the top places to get Filipino food in CT.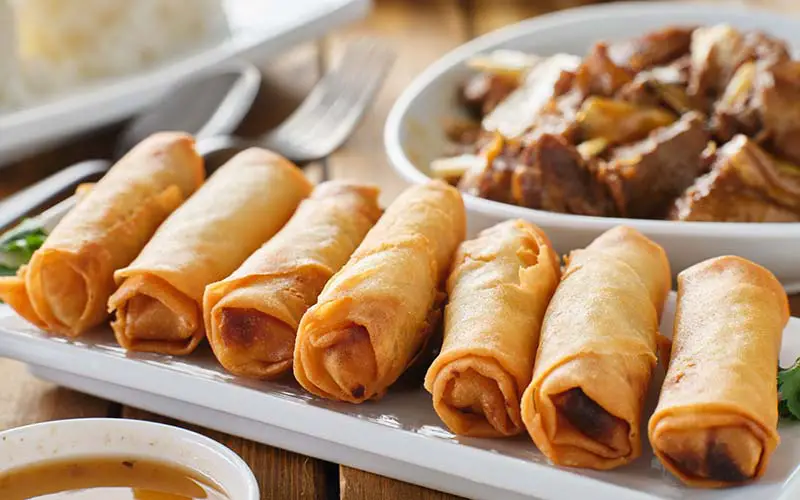 Best Filipino Restaurants in Connecticut
1. Zul Cafe and Grill – Norwalk
Zul Cafe and Grill is one of the top Filipino restaurants in CT. This spot offers classic Filipino comfort foods at a reasonable price.
The menu features a mix of flavorful dishes and Pinoy staples like chicken inasal, lechon kawali, fried bangus, rice noodles, BBQ pork, short ribs, and grilled shrimp.
The restaurant is open every day of the week (except Monday) from 10:30 am to 8 pm, serving breakfast, lunch, and dinner. The cafe allows you to order your food for takeout and delivery as well.
Location: 268 Main Ave, Norwalk, CT 
2. Yoko Loko Eatery – Gales Ferry
Yoko Loko Eatery is another popular spot to grab Filipino food in Connecticut. The restaurant is known for its excellent lumpia and tacos.
You can order dishes like grilled chicken tacos, hibachi plates, hand-rolled Filipino beef lumpia, and fish tacos. They also offer chicken curry on Fridays.
The business doesn't currently have a website but according to Yelp, they are only open Thursdays, Fridays, and Saturdays. So, this is one of the Connecticut restaurants that you should visit on the weekends.
Location: 1598 CT-12, Gales Ferry, CT
3. Kayumangi – Wallingford
Kayumangi is a great place to eat Filipino cuisine if you live in Wallingford. This Connecticut Filipino restaurant has been serving authentic Filipino cuisine for over 10 years, so you know the food is good.
Some of the standout dishes on the menu include fresh lumpia, spring rolls, chicken wings, steak tagalog, longsilog, and sweet & sour tilapia.
The restaurant offers quite of few traditional Filipino desserts as well. Kayumangi is open every day except for Sunday.
Location: 69 N Turnpike Rd, Wallingford, CT 
4. The Asian Invasion Restaurant – Meriden
Asian Invasion Restaurant offers authentic food from a variety of countries, including Thailand, China, Japan, Korea, Vietnam, Laos, and the Philippines.
There isn't a ton of Filipino food on the menu, but what they do offer is delicious, especially the Filipino chicken adobo. Some of the other dishes that are worth a try here include the bibimbap and spicy lo mein.
Like most Asian restaurants in Connecticut, you can reserve a table or order your meal for takeout or delivery. They are open every day except Sunday.
Location: 1371 E Main St, Meriden, CT 
5. Tindahan City – Berlin, CT
Tindahan City is a great place to buy unique ingredients and food from the Philippines. This grocery store and restaurant offers both affordable and tasty Filipino cuisine.
The restaurant's menu features dishes like pork BBQ, lumpia, chicken siopao, pork skewers, and halo-halo.
The Filipino grocery store is located a few doors down from the restaurant and is one of the top places to shop for Filipino foods in Connecticut.
Location: 544 Deming Rd, Berlin, CT
Filipino Food CT – Final Thoughts
Those are the top CT Filipino restaurants. Most of those restaurants offer a wide range of Filipino cuisines and groceries, so you can be confident you'll find exactly what you're looking for.
If you enjoy Asian cuisine and want to venture beyond the Filipino restaurants in CT, you'll want to check out these articles about Chinese restaurants, pho & ramen restaurants, Indian restaurants, Korean restaurants, sushi restaurants, and Thai restaurants in Connecticut.