8 Best Places to Eat Hot Pot in CT
There are nearly a dozen hot pot restaurants in Connecticut. However, I've neglected to try them for the longest time. So, I recently went out of my way to eat at all of the best hot pots in the state.
After getting some restaurant recommendations, I ate nonstop hot pot for a week to find out which spots have the best food. So without further ado, these are the best places to eat hot pot in CT.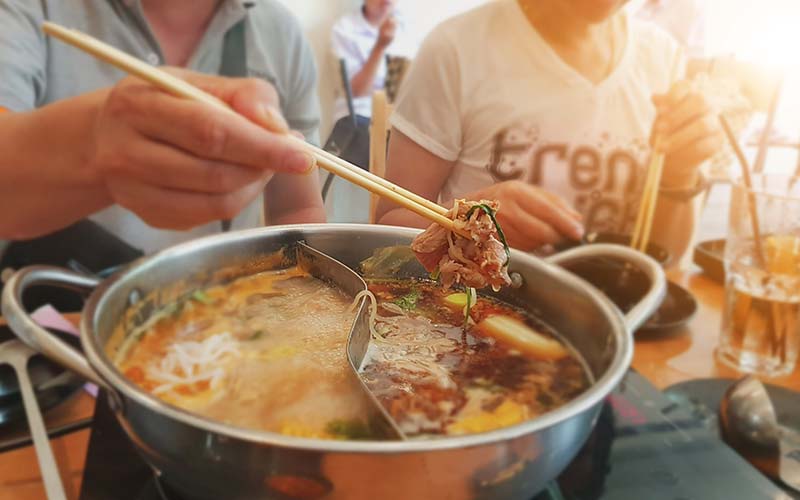 Top Hot Pot Restaurants in Connecticut
1. Han Hot Pot House – Hartford
Han Hot Pot House is among the best hot pots in Connecticut. This modern Chinese restaurant is known for its unique hot pot flavors and excellent service.
Some of the base hot pot broths here include Chengdu hot & spicy, white & creamy, tomato base sour, mushroom, mala pickled vegetable, and two-flavor hot pot.
Once you pick your base soup, you're then able to choose from a wide range of sides to add to your pot. Some of the most popular ingredients include beef, lamb, pork, chicken breast, quail eggs, and tripe.
Address:310 Prospect Ave, Hartford, CT
2. Hot Pot – Wallingford
Hot Pot (yes, a very generic name for a restaurant) is a great hot pot restaurant found in Wallingford. The restaurant is very beginner friendly if it's your first time eating hot pot.
The hot pot's menu features stock soups like Szechuan hot & spicy, creamy pork bone, Korean kimchi, beef bone, oxtail, chicken & mushroom, and vegetable stock.
You can add a variety of meats and seafood to your hot pot like sliced beef, pork, chicken, crab meat, shrimp, squid, tofu, octopus, and mussel.
Address: 970 N Colony Rd, Wallingford, CT
3. Dumpling House – Milford
Dumpling House is another restaurant that offers hot pot in Connecticut. This place is known more for its Chinese food, but it's one of the few restaurants that offer hot pot in the southern part of the state.
There are only a handful of hot pot options on the menu, but the house special hot pot is extremely good. You can order it with beef, fish fillets, shrimp, and mixed vegetables.
Address: 868 Boston Post Rd, Milford, CT
4. Angry Tofu – Wethersfield
Angry Tofu is a highly-rated Korean restaurant found in Wethersfield. They offer a solid selection of hotpots, which they call hot stone pots on their menu.
The flavors available include beef, seafood, pork, shrimp, vegetable, tofu, chicken, and kimchi. Each hotpot comes with rice, cooked vegetables, and fried eggs as well.
The food here is delicious, and the restaurant has a very relaxed ambiance. I highly recommend eating a meal here if you live in central Connecticut.
Address: 1030 Silas Deane Hwy, Wethersfield, CT
5. Seoul BBQ – New Britain
Seoul BBQ is another popular Korean restaurant that serves hot pot dishes. Located in New Britain, this place offers a handful of delicious Korean soups and stews.
Some of the hot pot combinations on the menu include spicy soft tofu, kimchi, pork & tofu, spicy beef brisket with scallions & egg, and kimchi, pork, and tofu.
Address: 593 Hartford Rd, New Britain, CT
6. Ichiban Japanese & Korean – Hartford
Ichiban Japanese & Korean is one more place in Hartford that serves hot pot. The restaurant serves a variety of different foods, but the hot pots are my favorite items on the menu.
You're able to order hot-pot dinners with ingredients like kimchi, spam, sausage, noodles, tofu, vegetables, pork, clam, cabbage, beef, cod, spicy whiting fish, and a variety of other seafood items.
This restaurant opens around 11:45 am every day and serves lunch until 3 pm. They then close until 4:30 before reopening for dinner, which is served until 10 pm. The Japanese food here is also top-notch.
Address: 593 Hartford Rd, New Britain, CT
7. Lao Sze Chuan Chinese Restaurant – Milford
Lao Sze Chuan Chinese Restaurant is a solid restaurant in Milford that offers a few hot pot options. The menu isn't extensive, but that makes it easy to order.
Some of the more popular hot pots include the beef, vegetable Szechuan hot pot and the beef, tofu, mustard root, and peanut hot pot.
Address: 1585 Boston Post Rd, Milford, CT
8. Niuda Noodle & Sushi – Middletown
Niuda Noodle & Sushi is a great place to order hot pot in Middletown. They only have one hot pot option on the menu, but it's very good.
It includes spicy noodle soup with bok choy, beef brisket, fried tofu, a boiled egg, cilantro, and scallions. Although small, the spicy noodle hot pot here is worth the trip to Middletown.
I recommend ordering other food, then finishing off your meal with the hot pot. Or ordering it as an appetizer.
Address: 102 Court St, Middletown, CT 
Hot Pots CT – Final Thoughts
Those are the best hot pots in CT. Hot-pot is a type of dish that you need to eat at the restaurant, so you're unable to order online. You must dine in since takeout and delivery are not an option.
If you enjoy Asian cuisine or the atmosphere of Asian restaurants, check out these articles about the best places to get Thai curry, Indian cuisine, Filipino food, Ramen, and Chinese food in CT.