Best Chinese Restaurants in CT [2023 Update]
If you enjoy Chinese food, you'll be happy to know that there are plenty of Chinese restaurants in Connecticut. In fact, pretty much every town has at least one spot that serves Chinese cuisine.
But which Chinese restaurants in the state are the best? I recently did some taste-testing to get a definitive answer.
After a few weeks of eating out every day, I've come to the conclusion that these are the top places to get Chinese food in CT.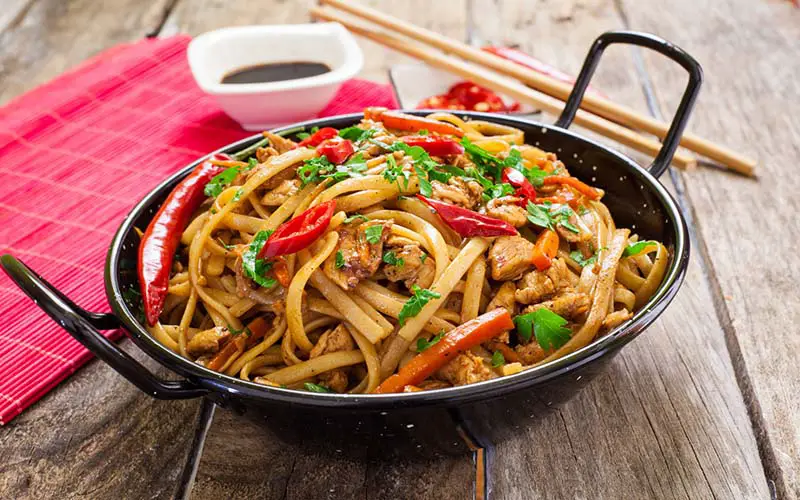 Top Chinese Restaurants in Connecticut
1. New Haven's Taste of China – New Haven
New Haven's Taste of China is one of the best Chinese restaurants in CT. This casual restaurant has been serving authentic Szechuan and Chengdu-style food in New Haven for over 20 years.
You can order a variety of Chinese dishes like shredded duck, pork, steamed vegetables with dumplings, tofu soup, stir-fried lobster, spicy crab, and Mongolian beef.
The best part about this place is that you can order your food for both takeout and delivery. However, you can dine in as well if you prefer.
Location: 954 Chapel St, New Haven, CT
2. Great Taste Chinese Restaurant – New Britain
Great Taste Chinese Restaurant is a great spot to eat Chinese food in central Connecticut. This place is known for its tasty dishes, large portion sizes, and excellent service.
The menu features a number of dishes like egg rolls, spring rolls, chicken fried rice, wonton soup, and chow mien. But I highly recommend the Peking duck. It's one of the best items available here.
You can find Great Taste Chinese Restaurant in New Britain. Just be aware that they are closed on Mondays.
Location: 597 W Main St, New Britain, CT
3. Shu Restaurant – West Hartford
Shu Restaurant is another popular Chinese restaurant in Connecticut. The Chinese cuisine here is top-notch, making for a memorable culinary experience.
You'll find unique and flavorful Chinese dishes, like pork fried rice, lo mein, steamed dumplings, cuttlefish, kung pao chicken, shrimp, and beef brisket. There are just so many options to choose from.
The restaurant is open every day of the week (except Tuesdays) for lunch and dinner. You can visit them in West Hartford.
Location: 156 Shield St, West Hartford, CT
4. Enchanted Szechuan – Norwalk
Enchanted Szechuan is a highly-rated Chinese restaurant in Norwalk. The chefs here create flavorful dishes using fresh ingredients and exotic sauces.
The menu offers a wide range of plates, like General Tso chicken, sweet & sour fish fillets, pork fried rice, lo mein, shrimp noodles, spring rolls, and tofu.
The dining experience and service here are always great. Enchanted Szechuan is open for business every day except Tuesday.
Location: 120 Washington St, Norwalk, CT 
5. Sun Sun Chinese Restaurant – South Windsor
Sun Sun Chinese Restaurant is an excellent place to grab Chinese food in Connecticut if you live in the northern part of the state. This spot uses all-natural ingredients, like fresh meats and vegetables.
You can order meals like sesame beef, lemon chicken, pad thai, chicken with broccoli, and shrimp with eggplant.
There are a ton of beef, chicken, seafood, and pork options on the menu served with different sauces, spices, and sides. There are even a few vegetarian dishes as well.
Location: 291 Oakland Rd #3824, South Windsor, CT
6. TAO Asian Bistro & Lounge – Monteville
If you're visiting one of Connecticut's casinos, you'll want to check out TAO Asian Bistro & Lounge. Found at Mohegan Sun, this restaurant serves Asian-inspired specialties, mainly focusing on Chinese, Japanese, and Thai food.
Some of the signature dishes at Tao include lobster wontons, Peking duck, tuna sashimi, Chilean sea bass, and crispy snapper. The BBQ lamb yakitori is really good as well.
Not only is the food delicious here, but the drinks are really good too. Tao is part restaurant, part lounge, so they have excellent wines, beers, and cocktails.
Location: 1 Mohegan Sun Blvd, Montville, CT 
7. Mei Tzu Sushi Bar & Kitchen – East Windsor
Mei Tzu Sushi Bar & Kitchen is another one of the restaurants that serve Asian food in the northern part of Connecticut. This casual eatery offers a menu of Chinese, Japanese, and Thai classics.
Some of the authentic Chinese cuisines that come out of the kitchen here include chicken with orange sauce, garlic & ginger tofu, spicy pork, drunk noodles, lo mein, and chow fun.
You can find this hidden gem in East Windsor, right off I-95. They serve food every day except Mondays.
Location: 4 Prospect Hill Rd #6, East Windsor, CT
8. Ginkgo Sichuan Cuisine – Fairfield
Ginkgo Sichuan Cuisine is one of CT's top Chinese restaurants found in the southern part of the state. Located in Fairfield, this modern Chinese restaurant specializes in authentic Sichuan cuisine.
All of the food here is cooked in-house and prepared with local ingredients and made from scratch by the in-house chef.
The menu is quite extensive and includes favorites like Peking duck, pan-fired dumplings, tender pork in spicy sauce, spare ribs, beef brisket, lo mein, and fried rice.
Location: 923 Post Rd, Fairfield, CT 
9. Black Bamboo Chinese Restaurant – West Hartford
Black Bamboo Chinese Restaurant is a fantastic place to order Chinese food in West Hartford. This little-known spot has some of the best food in the state.
You can order a range of appetizers and entrees like General Tso's, boneless ribs, Mongolian beef, sweet & sour chicken, kung pao chicken, egg foo young, and shrimp.
This is also another one of the restaurants that offer a fair amount of vegan and vegetarian options. I highly recommend dining here if you live in the area.
Location: 844 Farmington Ave, West Hartford, CT
10. Han Asian Cuisine – Granby
Han Asian Cuisine is one more Chinese restaurant in CT. Located in Granby, this place offers a delicious Asian dining experience for both lunch and dinner.
You're able to order foods like chicken skewers, ginger shrimp, crispy duck, seafood, baby bok choy, or kung pao served with chicken, beef, pork, tofu, or calamari.
In addition to Chinese food, Han Asian Cuisine also serves Japanese and Thai food as well.
Location: 10 Hartford Ave, Granby, CT 
Other Excellent Places to Get Chinese Food in CT
If you're looking for authentic food from China and don't live near any of these restaurants, here are a few other places to check out:
Song Restaurant in West Hartford
Highland Garden in Waterbury
Peter Chang in Stamford
New China in Willimantic
China Rainbow in Litchfield
Shanghai Garden in New London
Chinese Restaurants CT – Final Thoughts
There you have it, those are the top Chinese restaurants in the state of Connecticut. Whichever restaurant you decide to eat at, I'm confident that you'll be happy with your choice.
Also check out these articles about where to eat sushi, Korean BBQ, Thai curry, Indian cuisine, Filipino food, and Pho in Connecticut.