Best Places to Eat Korean BBQ in CT [2023 Update]
There are a couple of places that serve Korean food in CT, but there aren't too many authentic Korean BBQ joints. However, I have been able to find a few hidden gems over the years. So, I decided to put together a list of top places to get Korean BBQ in Connecticut.
Not all Korean restaurants have grills, so I divided this list into two sections: Korean BBQ restaurants (with grills) and Korean restaurants (without grills). So, without further ado, these are the best places to eat Korean BBQ in CT.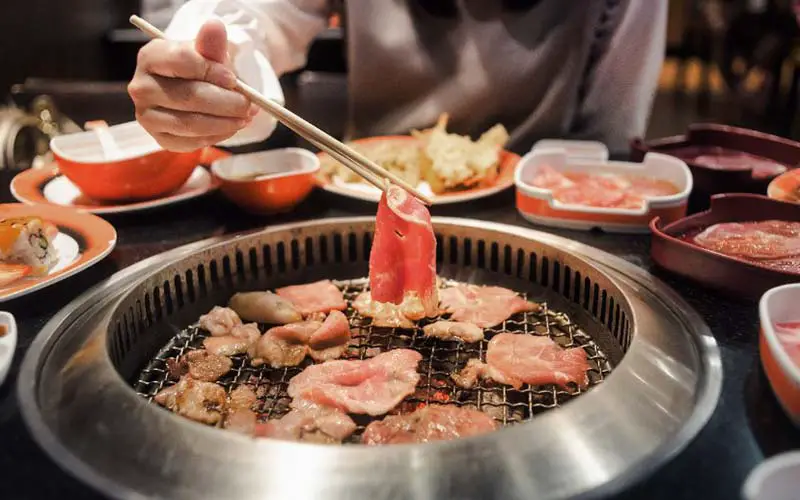 Best Korean BBQ in CT
There are only two restaurants that offer traditional Connecticut Korean BBQ with grills. One is in New Britain while the other is located in West Haven.
Seoul BBQ
Seoul BBQ is a traditional Korean BBQ restaurant where you're able to cook your own meats on the grill in the center of your table. It's the only Korean restaurant in Hartford County with in-table grills.
You can order a ton of different items off the menu here, including galbi (marinated pork), bulgogi (beef), bibimbap, and tofu. Seoul also has some delicious appetizers, like kimchi, Korean fried chicken, and dumplings. The food here is always really good, plus they have a to-go menu for pickup orders.
Location: 593 Hartford Rd, New Britain, CT
DAWA Korean Restaurant
DAWA Korean Restaurant is the only other Korean BBQ restaurant in CT where you can cook your own meal. This place serves authentic Korean BBQ, sushi, and tofu, all made from scratch. The menu at DAWA is quite extensive, so there's definitely something for everyone here.
You're able to order dishes like kimchi, ramen, fried pork, beef tenderloin, fried chicken, and fried shrimp to name a few. There are just so many choices for meat. If you plan on eating BBQ here, I recommend that you call ahead to make sure that they have a table available. Also, note that the restaurant is closed on Tuesdays, so don't make a reservation for that day.
Location: 473 Saw Mill Rd, West Haven, CT
Other Notable Korean Restaurants in Connecticut
Now that we've covered the Korean BBQ restaurants that allow you to cook your own food, let's take a look at some of the other spots that serve Korean food. These restaurants make all of the food for you in the kitchen. Although the experience may not be as thrilling as Korean BBQ, the food is still just as good.
Angry Tofu
Angry Tofu is a popular Korean restaurant found in Wethersfield. This full-service Korean spot is known for its modern take on Korean BBQ, along with top-notch service.
The chefs strive to give every dish the perfect balance of sweetness, spice, and salt. I would argue that they were successful. The food here is delicious, and the restaurant has a very relaxed ambiance. You can order all the Korean classics here, from galbi and bulgogi to kimchi.
Location: 1030 Silas Deane Hwy, Wethersfield, CT
Pick & Mix Korean Restaurant
Pick & Mix Korean Restaurant is a top place to grab Korean cuisine in Glastonbury. They serve a combination of Korean and other Asian dishes but mainly focus on Korean food.
The restaurant features plates like bulgogi, bibimbap, kimchi fried rice, spicy pork, and dumplings on the menu. Plus, they have gluten-free options as well, if you have food allergies. Pick & Mix Korean Restaurant offers dine-in, takeout, and delivery, but they are closed on Sundays.
Location: 355 New London Turnpike, Glastonbury, CT
Ichiban Japanese & Korean
As its name suggests, Ichiban Japanese & Korean serves a combination of Korean and Japanese food. While you can't order traditional Korean barbecue, there are still plenty of Korean dishes on the menu, like bulgogi, kalbi, and edamame.
With that being said, the majority of the menu here seems to feature Japanese foods, like sushi, sashimi, seafood bento, and hot pot dishes. Ichiban Japanese & Korean opens around 11:45 am every day and serves lunch until 3 pm. They then close until 4:30 before reopening for dinner, which is served until 10 pm.
Location: 593 Hartford Rd, New Britain, CT
Edo Korean Japanese Restaurant
Edo Korean Japanese Restaurant is one of the top Korean restaurants in Norwalk. It's on the expensive side compared to some other Korean BBQ restaurants, but the food is always tasty.
You can order a number of Korean entrees, including japchae, kalbi, and bulgogi, along with some Japanese favorites, like tempura, katsu, and teriyaki. The service is usually pretty quick and the people have always been very friendly in my experience. Just note that Edo Korean Japanese Restaurant is closed on Tuesdays.
Location: 666 Main Ave, Norwalk, CT
Bonchon
Bonchon is a fast-casual food chain that specializes made-to-order Korean fried chicken. They have multiple locations throughout Connecticut, most notably in New Haven, West Hartford, and Fairfield.
Aside from the fried chicken (which is really good), the menu also features potstickers, shrimp shumai, takoyaki, Korean tacos, pork buns, and bulgogi sliders. If that doesn't fill up your plate, there are a ton of side dishes as well. There's a lot of variety on the menu at Bonchon, and it's very reasonably priced for the amount of food you're getting.
Location: 170 College St, New Haven, CT
Best Korean BBQ in Hardford CT
Although there are some Korean BBQ spots in the southern part of the state, most of the top Korean restaurants are in the Hartford area. After trying all of the most popular places, I would argue the Seoul BBQ is the best Korean BBQ spot in Hartford County, and probably the entire state.
Customer reviews on sites like Yelp and Tripadvisor also seem to agree with that sentiment. If you want to cook your own barbecue on a Korean grill, that's going to be your best bet. However, DAWA Korean Restaurant is a close second if you live in Fairfield or New Haven county.
If you enjoy food from Asia, be sure to check out these articles about the best places to order sushi, Thai food, Indian food, Filipino cuisine, Chinese food, and Pho & Ramen in Connecticut.