12 Best Indian Restaurants in CT
If you love Indian food, you'll be happy to know that there are a ton of Indian restaurants in Connecticut. In fact, there are dozens of restaurants that serve Indian cuisine throughout the state.
But with that many options, it can be difficult to decide where to eat. So I decided to try all of the most popular Indian restaurants in CT to see which ones are the best. After a few weeks of eating nonstop tandoori chicken and naan bread, here's what I found.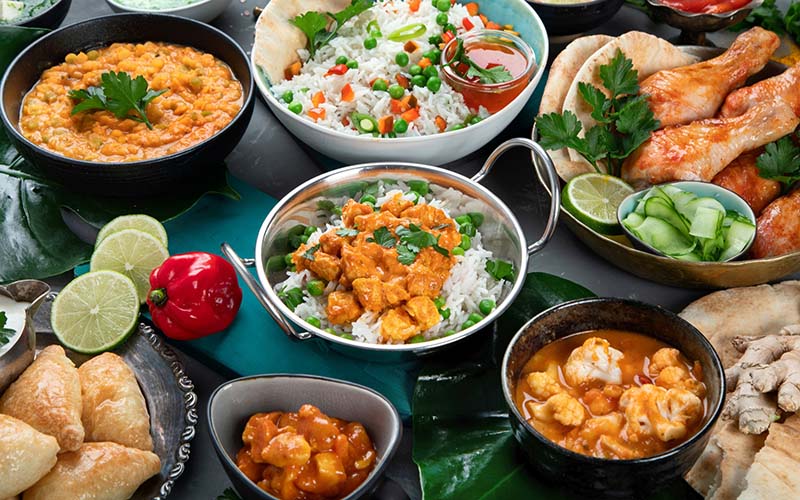 Top Indian Restaurants in Connecticut
1. Coromandel Cuisine Of India – Orange
Coromandel Cuisine Of India is one of the best Indian restaurants in Connecticut. This spot serves traditional Indian dishes in a very relaxed setting.
The Indian food is very authentic. Some of my favorite dishes include tandoori shrimp, kebabs, beef coconut fry, and goat curry.
The menu highlights local ingredients and changes based on the season. You can find this restaurant in Orange Connecticut, right off I-95.
Address: 185 Boston Post Rd, Orange, CT
2. House of Naan Indian Kitchen and Bar – New Haven
House of Naan Indian Kitchen and Bar is another great Indian restaurant in CT. This bistro serves modern Indian food which is inspired by more traditional dishes.
You can order dishes like tandoori chicken, tandoori salmon, spiced lamb burgers, and vegetable samosas. The desserts are really good as well.
The restaurant has different menus for lunch and dinner, but you can also enjoy cocktails here during happy hour.
Address: 65 Howe St, New Haven, CT
3. Utsav Indian Cuisine – Wethersfield & Vernon
Utsav Indian Cuisine is one of the top places to get Indian food in the Hartford area. With locations in Wethersfield and Vernon, you'll love dining here.
This spot has a great atmosphere with a friendly staff, plus the food is always on point. I always enjoy ordering the murgh tikka chicken.
Like many Indian restaurants, they serve lunch from 12 pm to about 2 pm, before closing for a few hours. The restaurant then reopens from 5 pm until 9 pm for dinner.
Address: 1115 Silas Deane Hwy, Wethersfield, CT
4. Baingan Indian Cuisine – Shelton
Baingan Indian Cuisine is a popular Indian restaurant in Shelton. They are best known for their vegetarian dishes, but they serve a wide range of meat dishes as well.
The menu features items like chana masala, chicken seekh kabab, goat curry, and lamb korma. There are a ton of different appetizers, soups, and entrees to choose from.
I recommend reserving a table so you can dine in, but Baingan Indian Cuisine also allows you to place an order online for pickup or delivery.
Address: 94 River Rd, Shelton, CT
5. Indigo Indian Bistro – Manchester
Indigo Indian Bistro is a great place to chow down on some Indian eats in Manchester, Connecticut. This casual restaurant serves high-quality Indian food at an affordable price.
Some of the featured dishes include tandoori chicken, fish tikka kebabs, shrimp vindaloo, and garlic naan.
Like Baingan Indian Cuisine, this spot also has plenty of vegan and vegetarian dishes. Plus, the menu features some gluten-free and dairy-free items.
Address: 232 Spencer St, Manchester, CT
6. Naatiya Indian Restaurant – Bloomfield
Naatiya Indian Restaurant is a great place to eat lunch or dinner in Bloomfield. This eatery is known for its South Indian food influenced by the culinary traditions of the region.
The food is prepared with a combination of traditional and modern cooking techniques. Plus, the chefs are always cooking with fresh Indian spices and ingredients.
There are so many options on the menu that I can't list them all here. But I highly recommend ordering the chicken lollipops.
Address: 8 Mountain Ave, Bloomfield, CT
7. Haveli India – Middletown
Haveli India is a popular spot to grab Indian cuisine in Middletown. The service here is always amazing and the menu is quite extensive.
You're able to order foods like vegetarian pakora, Kashmiri kebabs, lamb samosa, chili paneer, chicken curry, shrimp tikka marsala, and basmati rice.
The best time to visit Haveli India is on the weekend, so you can take advantage of their all-you-can-eat Sunday buffet.
Address: 1300 S Main St, Middletown, CT
8. Mirch Masala Cuisine of India – Groton
Mirch Masala Cuisine of India is one of Connecticut's Indian restaurants found in New London County. The food served here is cooked with a wide range of Indian herbs and spices like turmeric, mustard seeds, and cumin.
The menu features dishes like lamb chops, seekh kababs, salmon tikkas, and grilled shrimp. The naan flatbreads are delicious here too.
I recommend eating here during their weekend buffet, but the restaurant is open during the week too (except for Mondays).
Address: 156 Kings Hwy, Groton, CT 
9. Vedas Indian Cuisine – Norwalk & Westport
Vedas Indian Cuisine is another one of CT's Indian eateries with multiple locations. This place has great takeout and an extensive menu.
You can eat dishes like coconut shrimp, chicken tikka marsala, lamb balti, goat curry, and fish tikka kebabs. There are also some vegan items on the menu like onion bhajia.
This Indian restaurant is open from about 11 am to 10 pm but closes for about 2 hours for a lunch break around 3 pm.
Address: 388 Westport Ave, Norwalk, CT
10. Sherkaan Indian Street Food – New Haven
Sherkaan Indian Street Food is one of the top Indian restaurants in New Haven. You can find it right next to the Yale University campus.
This spot serves comfort food from Central and South India, along with a variety of exotic cocktails. The menu is easily digestible, so you can understand what you're ordering, even if you're not familiar with Indian food.
In addition to sit-down dining, Sherkaan Indian Street Food also has family-style takeout meals.
Address: 65 Broadway, New Haven, CT
11. Cumin India Restaurant – Hamden
Cumin India Restaurant is an excellent spot to get Indian food in Hamden. They prepare traditional Indian dishes from family recipes, so you know the food is good.
A few of the notable items on the menu include shrimp poori, chicken saag, lamb madras, and seafood curry.
Cumin India Restaurant offers takeout and delivery, plus they do catering as well. There's a reason why people give this place rave reviews online.
Address: 262 Skiff St, Hamden, CT, USA
12. Flavors of Nawab – Ellington
Flavors of Nawab is one more Indian restaurant in Connecticut. This place serves fresh and healthy Indian cuisine at a reasonable price.
The menu offers all of the classics, like kebabs, curry, tandoori chicken, lamb masala, biryanis, and naan bread. There are a number of vegetarian options as well.
You can find this Indian restaurant in Ellington. Just be aware that they close down for a break between lunch and dinner.
Address: 4 West Rd, Ellington, CT 
Other Great Places to Eat Indian Food in Connecticut
Aside from the restaurants already listed, there are many other great places to experience the flavors of India in the state. Here are a few other Connecticut Indian restaurants to try:
Taste of India in West Hartford
The Mumbai Times Indian Cuisine in Cos Cob
Godavari Restaurant in East Hartford
Jewel of Himalaya in Newtown
Kamana in Guilford
Indian Restaurants CT – Final Thoughts
Those are some of the top CT Indian restaurants. All of these restaurants serve delicious food, so it's difficult to choose one over another. I recommend finding the Indian restaurant closest to you.
If you enjoy Asian cuisine, you'll want to check out these articles about Chinese restaurants, pho & ramen restaurants, Korean restaurants, Thai restaurants, Filipino restaurants, and sushi places in Connecticut.