10 Best Restaurants that Serve Pho & Ramen in CT [2023]
Connecticut is home to many different types of Asian restaurants serving cuisines from around the world. But with so many dining options, it's often the case that pho and ramen restaurants go overlooked.
That's why I recently decided to carve out some time to try some of the more popular noodle restaurants in Connecticut. After eating a ton of pho, I've come to the conclusion that these are the best places to eat pho and ramen in CT.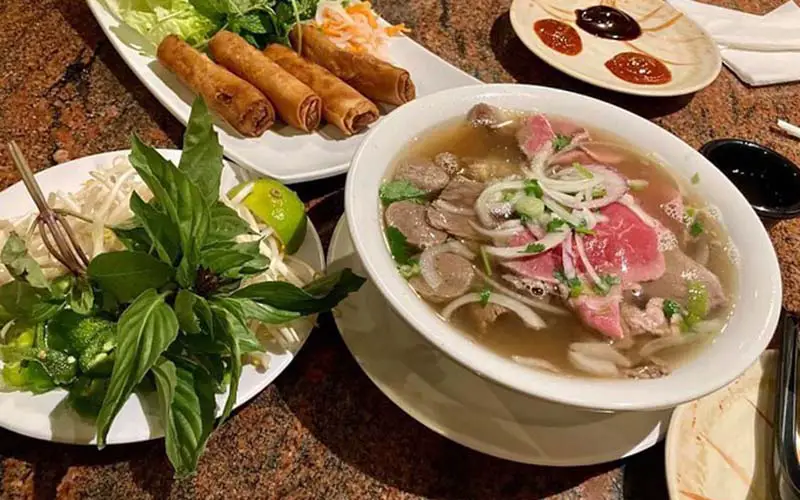 Top Places to Eat Pho & Ramen in Connecticut
1. Mecha Noodle Bar – Multiple Locations
Mecha Noodle Bar is one of the most popular restaurants to order ramen and pho in Connecticut. This place is known for its delicious cuisine from Southeast Asia, alongside its superb drink selection.
The menu features dishes like steamed baos, pho Thai, and spicy beef ramen. You're able to add a ton of different ingredients to your pho as well, including meatballs, brisket, and shrimp.
The restaurant has multiple locations throughout the state in New Haven, Fairfield, Norwalk, West Hartford, and Stamford. Every location gets rave reviews from customers online.
Address: 201 Crown St, New Haven, CT
2. Tiger Belly Noodle Bar – Granby
Tiger Belly Noodle Bar is a highly-rated ramen restaurant and sushi bar in Granby. This spot is best known for its sushi, but the ramen and pho dishes are really good too.
They have a pretty extensive menu, featuring specialty sushi rolls, poke bowls, sashimi, bao buns, pho with brisket, and fresh rice noodles.
Tiger Belly Noodle Bar offers very generous portion sizes and the prices are really affordable. Just know that the restaurant is closed on Mondays.
Address: 9 Mill Pond Dr, Granby, CT
3. PHO VIET – Newington
PHO VIET is a highly-rated Vietnamese restaurant found in Newington. This low-key eatery has an excellent pho menu.
Dishes like rice vermicelli, Vietnamese beef stew, and a variety of pho varieties are available on the menu. You choose between adding beef, chicken, pork, or seafood to your meal.
Some vegetarian options are available at PHO VIET as well. Just be aware that this is another one of the restaurants that aren't open on Mondays.
Address: 36 Fenn Rd, Newington, CT
4. EAT Noodle & Rice – Bridgeport
EAT Noodle & Rice is another popular noodle shop in Connecticut. Located in Bridgeport, this ramen spot has some of the best broth in the state.
You're able to order dishes like pho, ramen, and curry soup, with toppings like wonton, crab, chicken, boiled eggs, fried tofu, tripe, shrimp, and meatballs.
If you plan on ordering dessert as well, I highly recommend the fried ice cream. You can order your meal for dine-in, but the restaurant also offers options for takeout and delivery.
Address: 269 Fairfield Ave, Bridgeport, CT
5. Funju Noodle Bar – Wallingford
Funju Noodle Bar is a fantastic ramen restaurant in Wallingford, CT. They serve pho, ramen, and other noodle & rice dishes in a variety of flavors.
A few of the options on the menu include spicy miso ramen, chicken or vegan pho, fried rice, lo mien, and drunk noodles.
Other dishes like egg rolls, dim sum, and pork buns are also available on the menu. For drinks, Funju Noodle Bar offers really good bubble tea, sake, and cocktails.
Address: 20 Ives Rd #2484, Wallingford, CT
6. Kaliubon Ramen & Poke – Wethersfield & West Hartford
Kaliubon Ramen & Poke is a highly reviewed ramen spot with locations in Wethersfield and West Hartford. This place is known for its fresh homemade ramen with authentic flavors.
They have a wide selection of ramen featuring traditional broths like soy sauce, pork, and chicken, served with a ton of different toppings.
Plus, Kaliubon offers tasty appetizers like dumplings, chicken wings, and pork buns. You can order your food online for both takeout and delivery.
Address: 1323 Silas Deane Hwy, Wethersfield, CT
7. Fujiya Ramen – Middletown
Fujiya Ramen offers some of the best ramen dishes in central Connecticut. The chef has over 40 years of experience in the industry, and you can taste it in the food.
Fujiya Ramen specializes in authentic ramen, donburi, and yakitori. Each dish has a ton of flavor, and they're very affordable. They also have more than 70 types of liquor, beer, and Japanese sake at their bar.
You can order online for delivery or make a reservation in-house. This is one of the top restaurants in Middletown, CT.
Address: 425 Main St, Middletown, CT
8. Pho Saigon Vietnamese Restaurant & Hot Pot – West Hartford
Pho Saigon is an authentic Vietnamese restaurant. This family-owned business has been serving delicious Vietnamese cuisine in the state since 2004.
They serve naturally flavored dishes like hot pot soups, curry, pho, grilled meats, seafood, and rice dishes. Each plate of food is garnished with fresh spices and house sauces.
This is another one of Connecticut's ramen restaurants located in West Hartford. There is also a Pho Saigon in Bridgeport, but the two restaurants aren't related.
Address: 989 New Britain Ave, West Hartford, CT 
9. Daddy's Noodle Bar – East Lyme & Storrs
Daddy's Noodle Bar is a great spot to order ramen or pho in CT. The restaurant has locations in East Lyme and in Storrs on the Uconn campus.
The menu features favorites like vermicelli, ramen, pho, noodle soup, and rice dishes, served with a range of sides. My favorite dishes include the seafood ramen and the spicy ramen.
The offerings here are very basic, but that makes it easy to order if you don't normally eat ramen or pho. I highly recommend dining here if you live in the area.
Address: 295 Flanders Rd, East Lyme, CT
10. Pho Boston – West Hartford, CT
Pho Boston is one more place to grab authentic Vietnamese cuisine in Connecticut. The restaurant is known for its flavorful soups and expansive menu of foods from Vietnam.
You're able to order a variety of pho and vermicelli noodle plates, along with rice entrees, served with seafood, beef, pork, and chicken. There are a good number of vegetarian dishes on the menu as well.
The prices here are very reasonable and the staff is always very friendly. The restaurant is open every day of the week except for Tuesdays.
Address: 144 Shield St, West Hartford, CT 
Other Places That Serve Ramen & Pho in Connecticut
If you don't see a restaurant near you on this list, there are a few other spots that serve quality ramen in CT. Here are some other popular ramen and pho restaurants in Connecticut that you may want to check out:
Roishi Ramen Restaurant in Hamden
R&B Ramen N Bao in Oxford
Menya-Gumi in New Haven
Ramen CT – Final Thoughts
Those are some of the best restaurants to eat pho and ramen in Connecticut. If you're looking for other restaurants that offer Asian cuisine in CT, check out these articles about where to get sushi, Korean BBQ, Indian food, pad Thai, Chinese food, hot pot, and Filipino food.