Best Sushi in CT – Top 11 Japanese Restaurants in Connecticut
There are plenty of great sushi restaurants in CT, however, I've never had a chance to try all of them. So, I recently decided to taste-test all of the top sushi spots in the area to see which ones are the best.
After a few weeks of driving around the state and trying all of the most popular sushi places, I've determined that these are the best places to eat sushi in Connecticut. (I've included restaurants from all the major towns on this list so you can find the one closest to you).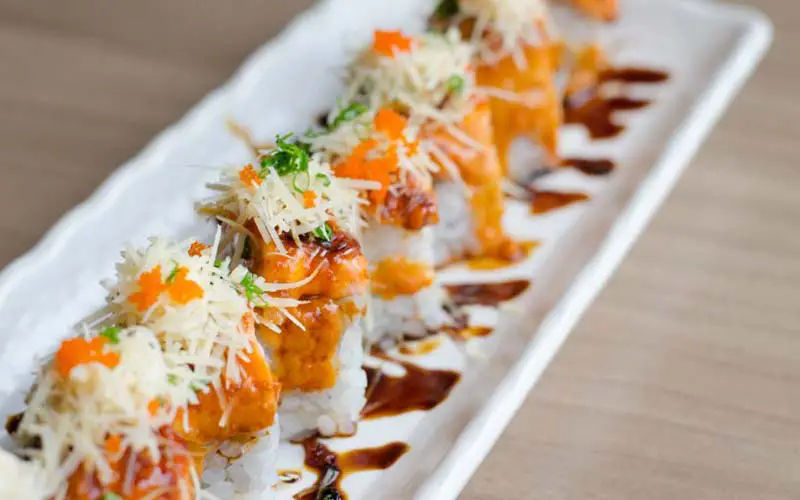 Best Connecticut Sushi Restaurants
1. Sushi House – Southington & Rocky Hill
Sushi House is one of the most popular places to get sushi in CT. The restaurant has two locations, one in Rocky Hill and one in Southington. Both spots get excellent reviews.
They offer an extensive sushi menu, which includes traditional sashimi (sushi without rice), sushi rolls, and udon noodles in a wide variety of flavors. Sushi House serves its food on both an all-you-can-eat and a la carte menus. I highly recommend the AYCE menu which costs $25.95 during the week and $26.95 on the weekend.
Location 1: 397 Cromwell Ave # 13, Rocky Hill, CT
Location 2: 975 Meriden-Waterbury Turnpike, Plantsville, CT
2. House of Yoshida – Bethel
House of Yoshida is an excellent Japanese restaurant found in Bethel. This spot offers a top-notch dining experience and relatively affordable prices.
They serve an array of sushi dishes and Japanese steaks, along with traditional seafood. House of Yoshida also serves sake, which is differently worth ordering for your drink. This is the best sushi restaurant in the Danbury area.
Location: 25 Grassy Plain St, Bethel, CT
3. Hana Sushi – Manchester
Hana Sushi is a great spot to grab some sushi if you live in northern Connecticut. You'll find this small sushi restaurant in Manchester near Stop & Shop.
The menu features plenty of appetizers from the sushi bar, plus Japanese entrees like curry katsu and beef teriyaki. I always enjoy their California rolls, but the spicy tuna rolls are really good as well.
Location: 248 Broad St, Manchester, CT
4. Red Lantern – Foxwoods
There aren't a whole lot of sushi restaurants in the southeastern part of the state, but Red Lantern is definitely worth a try. This trendy restaurant serves both excellent food and cocktails since they have a full sushi counter and lounge area.
This truly is a cool venue that very closely resembles its sister restaurant in Boston. It isn't the cheapest sushi place in CT, but you won't regret the experience. Just remember to make a reservation ahead of time.
Location: 240 Fox Tower Dr, Mashantucket, CT
5. MIKU Sushi Bar and Restaurant – Greenwich
If you're looking for sushi in Greenwich CT, you'll want to check out MIKU Sushi Bar and Restaurant. The chefs here are known for their use of high-quality ingredients, ordering fish directly from Tokyo, Japan.
This is an excellent place to order omakase, where the chef prepares your sushi right in front of you. Very few sushi restaurants in Connecticut offer this, and it's an experience you won't forget.
Location: 68 Greenwich Ave, Greenwich, CT 
6. Ichiro Hibachi & Sushi – West Hartford
Ichiro Hibachi & Sushi is a top Japanese restaurant in the West Hartford area. They offer Hibachi, which means they cook your food tableside. Similar to omakase, it's a very entertaining experience.
The restaurant offers a solid menu of both sushi and sashimi. Plus, you can order online for takeout or delivery if you don't have time to dine-in.
Location: 962 Farmington Ave, West Hartford, CT
7. Kawa Ni – Westport
Kawa Ni is a Connecticut sushi restaurant located in Westport. This place is known for its Pan-Asian foods and Japanese pub.
You can order a range of Japanese dishes, from sashimi and sushi rolls to donburi (rice bowls). It's an easy restaurant to get to if you live in the Norwalk area. Just know that they are closed on Mondays.
Location: 19A Bridge Square, Westport, CT
8. Tiger Belly Noodle Bar – Gramby
Tiger Belly Noodle Bar is a highly-rated ramen restaurant and sushi bar in Gramby. They have a pretty expansive menu, featuring specialty sushi rolls, poke bowls, maki, sashimi, and nigiri sushi.
This spot offers very generous portion sizes and the prices are really affordable too. There's a reason why Tiger Belly gets such good reviews online.
Location: 9 Mill Pond Dr, Granby, CT
9. Yokohama Japanese Restaurant – New Milford
Yokohama Japanese Restaurant is one of the best sushi places in the New Milford area. You can find them across the street from Royal Buffet Sushi and Grill, which is also pretty good but doesn't have the same variety of sushi.
You're able to order all kinds of sushi dishes, like sashimi, combination plates, poke, and hand rolls. They offer a good amount of vegetarian options as well. Yokohama serves sushi in both a dine-in and takeout format.
Location: 3428, 131 Danbury Rd, New Milford, CT
10. Miso Restaurant – New Haven
Miso Restaurant is one of the top places to get sushi in New Haven, CT. They specialize in preparing traditional Japanese food with fresh ingredients. In fact, they get in new fish deliveries on a daily basis to ensure freshness.
The menu here features a number of dishes including sushi, katsu, and sashimi, along with other Japanese entrees. Miso Restaurant serves both lunch and dinner (however, no lunch on Friday and Saturday), plus their service is always amazing.
Location: 15 Orange St, New Haven, CT
11. Koi Sushi Steak & Asian Fusion – Ansonia
Also in the New Haven area, you'll find Koi Sushi Steak & Asian Fusion. The restaurant serves a combination of Asian dishes, like sushi, Thai curry, tempura, and Spicy Tso's Chicken.
The menu here is really extensive, so there's no shortage of options. They even have a sushi pizza, which was actually pretty good. The service at Koi Sushi Steak is always fast and the staff is very friendly.
Location: 375 Main St, Ansonia, CT
All-You-Can-Eat Sushi in CT
All-you-can-eat sushi is great, but many restaurants sacrifice quality for quantity. There aren't too many places to grab all-you-can-eat sushi in Connecticut, but Sushi House is the best option for dining. It's clear that they are one of the few Japanese restaurants in Connecticut that can retain their food quality in an AYCE format. Plus, they have multiple locations.
If you're simply looking for a normal-sized meal, any of the restaurants mentioned above are great places to get sushi in CT.
If you enjoy Asian cuisine, be sure to check out these articles about the best places to get Korean BBQ, Thai curry, Indian cuisine, Filipino food, Ramen, and Chinese food in Connecticut.