Romantic Restaurants in CT – Fancy Places to Eat in Connecticut
Whether you're celebrating an anniversary or planning a first date, there is no shortage of romantic restaurants in Connecticut. From fresh seafood to steakhouses to Italian spots, the options are endless in CT.
After eating at all of the most popular fancy restaurants in Connecticut, I've put together a list of the best ones. So without further ado, these are the romantic restaurants in CT.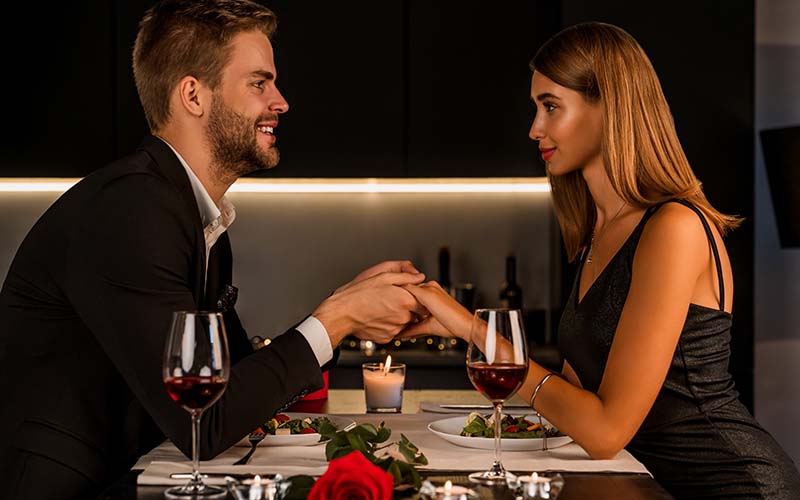 Romantic Restaurants in Connecticut
1. Ruth's Chris Steak House – Newington
Ruth's Chris Steak House is one of the top romantic restaurants in Connecticut. This place is known for its sizzling, butter-topped steaks, along with its award-winning wine list.
The menu features a range of different beef cuts that are well-marbled and hand-selected for tenderness. Plus, this upscale steakhouse offers dishes like chicken and fish as well as a few vegetarian options.
Address: 2513 Berlin Turnpike, Newington, CT
2. Paci Restaurant – Southport
Paci Restaurant is a highly-rated Italian restaurant found in Southport, Connecticut. This eatery is known for its fine dining experience and romantic atmosphere. The ambiance is perfect for special occasions.
Some of the notable dishes on the menu include lobster bisque, rack of lamb, prime sirloin steak, veal Milanese, and linguine & shrimp. The selection of wines is very good as well.
Address: 96 Station St, Southport, CT
3. The Shipwright's Daughter – Mystic
The Shipwright's Daughter is another popular romantic restaurant in CT. This hidden gem in Mystic has beautiful modern decor and amazing food.
The menu features foods like roasted organic chicken, roasted oysters, pork chops, and seared local lingcod. This restaurant has a really good selection of cocktails and wines during happy hour.
Address: 20 E Main St, Mystic, CT 
4. Fleming's Prime Steakhouse & Wine Bar – West Hartford
Fleming's Prime Steakhouse & Wine Bar is a fancy, fine-dining restaurant in West Hartford. This spot offers a variety of menus for appetizers, sides, entrees, and desserts, but also has an excellent 3-course menu.
Aside from its exceptional steaks, the restaurant also serves dishes like calamari, seared pork belly, truffle-poached lobster, and chicken breasts. The desserts here are amazing too. This place does get busy, so make sure you make a reservation well in advance.
Address: 44 S Main St, West Hartford, CT
5. The Mill on the River – South Windsor
The Mill on the River is one of the fancier restaurants found north of Hartford. It's a popular spot for special occasions like anniversaries or small celebrations.
The restaurant's menu features an assortment of lunch, dinner, and brunch items, along with a fancy 3-course dinner menu. I highly recommend ordering the pork chops, the ahi tuna, or the chicken parmesan. Both the food and service here are always top-notch.
Address: 989 Ellington Rd, South Windsor, CT
6. Bar Bouchee – Madison
Bar Bouchee is another excellent restaurant in CT for a romantic date night. This authentic bistro serves delectable French cuisine in an intimate yet energetic atmosphere.
This is a family-owned restaurant where the owners work in the kitchen, so you know the food is well-prepared. You're able to order dishes like butter-poached cod, steamed mussels, and beef cheek bourguignon. For dessert, I highly recommend the caramelized apple or the vanilla creme brulee.
Address: 8 Scotland Ave, Madison, CT
7. Max's Oyster Bar – West Hartford
Max's Oyster Bar is one of the top seafood restaurants in the state. They offer both indoor and outdoor fine dining, along with a solid menu of seafood classics.
The dinner menu offers delicious dishes like lobster, grilled octopus, salmon, and Ahi tuna, while the lunch menu features foods like New England clam chowder and calamari. This romantic Connecticut restaurant can be found in West Hartford.
Address: 964 Farmington Ave, West Hartford, CT
8. Washington Prime – South Norwalk
Washington Prime is one of Connecticut's top romantic restaurants found in the southern part of the state. The chefs at this chic restaurant did a fantastic job at putting together a diverse menu of American favorites.
The menu features dishes like beef short rib, duck cappelletti, beef wellington, and potstickers, along with a raw bar. Washington Prime has a great bar as well. Just be aware that this is one of the restaurants with a dress code. They recommend relaxed yet classy attire.
Address: 141 Washington St, South Norwalk, CT
9. On The Waterfront Restaurant – New London
Making a dinner reservation at On The Waterfront Restaurant is one of the most romantic things you can do in Connecticut. This restaurant has an unmatched dockside view overlooking the Thames River.
This place serves seafood, steaks, and Italian dishes. You can order a number of entrees and appetizers, including stuffed pork tenderloin, rigatoni vodka, pasta & meatballs, yellowfin tuna, lobster bisque, and chicken parmigiano. Everything about the restaurant from the ambiance to the food is top-notch.
Address: 250 Pequot Ave, New London, CT
10. Artisan Restaurant – Southport, CT
Artisan Restaurant is one more romantic restaurant in Connecticut. This fancy restaurant is located in the Delamar Hotel and offers a casual, yet elegant dining experience.
The restaurant makes a variety of American cuisines and puts an emphasis on farm-to-table freshness. You're able to order dishes like grilled calamari, crispy duck breast, chilled oysters, cod, and beef short ribs.
Address: 275 Old Post Rd, Southport, CT
Other Romantic Dining Sports in Connecticut
Besides the romantic Connecticut restaurants already mentioned, there are plenty of other fancy restaurants in the state. Here are a few other fancy restaurants in CT to check out:
Ichiro Hibachi & Sushi in West Hartford
Goodfellas Restaurant in New Haven
L'escale Restaurant in Greenwich
Fancy Restaurants CT – Final Thoughts
Those are CT's top romantic restaurants. If you don't see a restaurant close to you on this list I recommend checking out these articles about the top fine-dining restaurants in Connecticut and the best overall restaurants in CT.