11 Best French Restaurants in CT [Updated 2023]
Connecticut's French restaurants represent some of the state's best food. Whether you're planning a romantic dinner or simply want some delicious French cuisine, you'll have plenty of options.
Over the past month, I ate at all of the most popular French restaurants in CT to see which ones are the best.
Now looking back on the experience, I can confidently say that these are the best places to eat French food in Connecticut.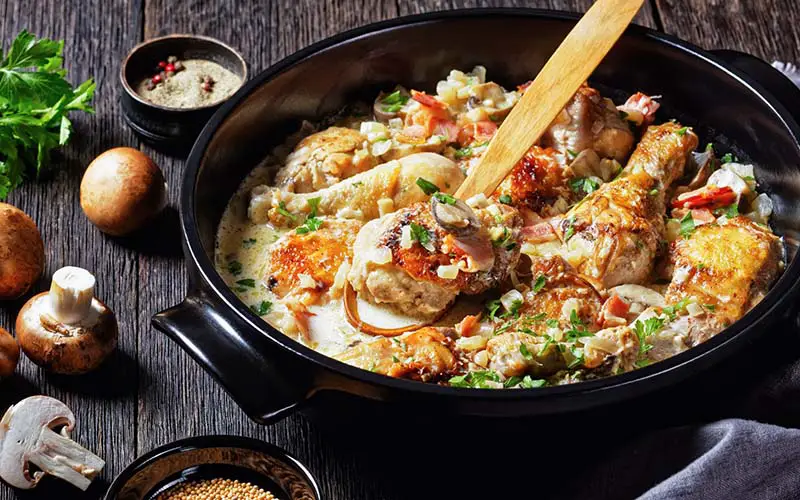 Top French Restaurants in Connecticut
1. Union League Cafe – New Haven
Union League Cafe is among the top French restaurants in Connecticut. This high-end French brasserie offers everything from simple luncheons to elaborate dinners.
Some of the French cuisines available include venison pate, grilled octopus, butter-poached Maine lobster, and beef filet. There's no doubt that Chef Jean-Pierre has built a stellar menu.
When making a reservation, you have the option of selecting seating in the dining room or outdoor patio. There's a reason why this is considered one of the best fine-dining restaurants in Connecticut.
Location: 1032 Chapel St, New Haven, CT
2. Avert Brasserie – West Hartford
Avert Brasserie is a top-tier French restaurant found in West Hartford. This relaxed French kitchen serves classic dishes made from high-quality, locally-sourced ingredients.
The restaurant offers different foods for brunch, lunch, and dinner. Some of the featured dishes on the menu include smoked trout, steak tartare, venison, soft shell crab, duck, and chicken.
The champagne and cocktail menus have a really good selection of drinks as well. You can make reservations to dine in person, or Avert Brasserie also has the option of ordering your meal for takeout or delivery.
Location: 35a LaSalle Rd, West Hartford, CT
3. Rive Bistro – Westport
Rive Bistro is another popular French restaurant in CT. This riverfront eatery has won many awards over the years for its excellent French cuisine.
Entrees like beef bourguignon, chicken breast, rigatoni lamb bolognese, sauteed shrimp casserole, and burgers are available on the menu. The restaurant even has a few gluten-free and vegetarian options as well.
Rive Bistro is open from 12 pm to 3 pm on most days. They close for a few hours before reopening for dinner from 5 pm to 9 pm.
Location: 299 Riverside Ave, Westport, CT
4. L'Escale Restaurant – Greenwich
L'escale Restaurant is a highly-rated French dining establishment located inside the Delamar Hotel in Greenwich, CT. This place serves mouthwatering French cuisine for breakfast, lunch, brunch, and dinner every day of the week.
The dinner menu features delectable appetizers and entrees like caviar, Maine lobster, prime steak, Scottish salmon, beef sliders, and crispy duck breast. For dessert, I highly recommend ordering the chocolate pudding.
The restaurant is very high-end, but has a relaxed atmosphere, especially if you opt for the outdoor waterfront seating.
Location: 500 Steamboat Rd, Greenwich, CT
5. Le Fat Poodle – Old Greenwich
Le Fat Poodle is another one of CT's French bistros found in Greenwich. This modern French spot serves classic French dishes alongside top-notch cocktails and wines.
Some of the standout items on the menu include steak frites, honey-glazed duck, wild mushroom ravioli, red snapper, tuna melt sandwiches, and truffled lobster sliders.
The same group that runs Le Fat Poodle also has another French bistro in Greenwich called Le Penguin. Both are worth visiting.
Location: 20 Arcadia Rd, Old Greenwich, CT
6. Chamard Vineyards Bistro – Clinton
Chamard Vineyards Bistro is one of Connecticut's top wineries that also doubles as a restaurant. It serves small plates of farm-to-table French fare, which never disappoints.
You can order dishes like creamy New England clam chowder, smoked salmon, grass-fed beef, grilled ribeye steak, roasted duck, and artisanal cheeses.
The wines at the restaurant are award-winning, so you're in for a treat when dining here. Plus, you're able to enjoy the amazing views from your table with both indoor and outdoor seating available.
Location: 115 Cow Hill Rd, Clinton, CT
7. The Essex – Old Saybrook
The Essex is a small, yet memorable French restaurant in Old Saybrook. The food, drinks, and service here are always on point when I eat here.
A few of my favorite dishes on the menu include butter-poached lobster, aged bluefin tuna, short rib Wellington, and crispy pork belly. There's also a 5-course chef's tasting menu with a wine pairing that's worth a try.
Dining here is always a great experience. There's a reason why people have been giving this French eatery rave reviews online.
Location: 247 Main St, Old Saybrook, CT
8. Luc's Cafe – Ridgefield
Luc's Cafe is another great place to eat if you're looking for authentic food from France. Located in Ridgefield, this French bistro is a little difficult to find, but worth the effort.
The menu features dishes like croque monsieur, crispy duck, pork, steak, and delicious baguettes. I highly recommend the free-range chicken as well.
Just know that Luc's Cafe is closed for business on Sundays.
Location: 3 Big Shop Ln, Ridgefield, CT
9. Bar Bouchee – Madison
Bar Bouchee is a popular French restaurant in Madison known for its traditional, home-style French comfort food. It's also a family-owned restaurant where the owners work in the kitchen, so service is always fantastic.
The menu features dishes like butter-poached lobster, cod, braised lamb, steamed mussels, and beef cheek bourguignon. For dessert, I highly recommend the caramelized apple or the vanilla creme brulee.
This authentic bistro has an intimate yet energetic atmosphere, which makes it the perfect romantic restaurant for date night.
Location: 8 Scotland Ave, Madison, CT
10. Choupette Creperie & Cafe – New Haven
As the name suggests, Choupette Creperie & Cafe is known for its savory French crepes. The crepes here are some of the best in the state, plus they're affordable and very filling.
There's a decent crepe selection on the menu, which includes flavors like butter & sugar, Nutella, cheese, blueberry, and banana to name a few.
Since the restaurant focuses on crepes, it's best to visit for breakfast or lunch (although it's usually open from 8 am to 8:30 pm). This is one of the best places to grab breakfast in New Haven.
Location: 24 Whitney Ave, New Haven, CT 
11. Restaurant L'Ostal – Darien, CT
Restaurant L'Ostal is one more French restaurant in Connecticut. It focuses on serving traditional foods from southern France.
Some of the French dishes here include different fish, steak, chicken, pasta, duck, and pastas. Every dish is prepared perfectly with the exact right amount of spices.
You can find Restaurant L'Ostal in Darien, right off I-95.
Location: 22 Center St, Darien, CT
Other Places to Eat French Food in Connecticut
There aren't a ton of places to get French food in Connecticut, but there are a few other lesser-known spots. Here are some other excellent Connecticut French restaurants:
Bistro V in Greenwich
Isabelle et Vincent in Fairfield
RSVP French Restaurant in Cornwall
French Restaurants CT – Final Thoughts
Those are the top CT French restaurants. You'll find delicious and authentic French food at all of them.
If you're in the mood for something different next time you go out to eat, I recommend checking out one of the many Italian restaurants in CT.