12 Best Restaurants for Fine Dining in CT [2023 Update]
Fine dining enthusiasts have an abundance of fantastic restaurants to choose from in Connecticut. But with so many options, it can be difficult to decide where to eat.
That's why I decided to make a reservation at all of the most popular upscale restaurants in the state to see which ones actually live up to the hype. These are the best restaurants for fine dining in CT.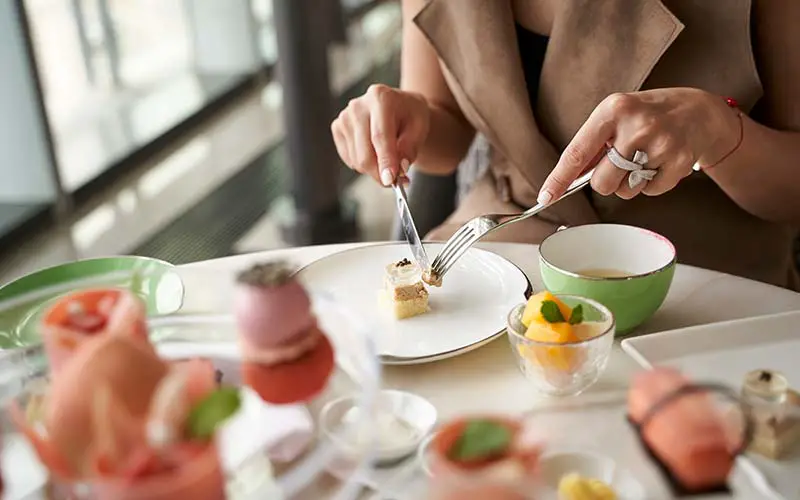 Top Restaurants for Fine Dining in CT
1. The Capital Grille – Hartford & Stamford
The Capital Grille is one of the best fine dining restaurants in CT. This steakhouse has a reputation for using only the finest and freshest ingredients. They meticulously dry-aging their steaks on-site for up to 3 weeks in order to bring out the best flavor.
I highly recommend trying the seared tenderloin with butter-poached lobster tails. But you can also order other entrees for lunch and dinner, like New England clam chowder, seared salmon, and tomahawk veal chops. The cocktail and wine selections are exquisite as well.
Address: 44 Front St, Hartford, CT
Address 2: 230 Tresser Blvd, Stamford, CT
2. Union League Cafe – New Haven
Union League Cafe is one of the top gourmet restaurants in the state of Connecticut. This high-end French brasserie offers everything from simple luncheons to elaborate dinners. Hats off to Chef Jean-Pierre, who built a superb menu.
Some of the French cuisines on the dinner menu include favorites like venison pate, grilled octopus, butter-poached Maine lobster, and beef filet. When making a reservation, you have the option of selecting seating in the dining room or outdoor patio.
Address: 1032 Chapel St, New Haven, CT
3. Arethusa al tavolo – Bantom
If you live in Litchfield County, Arethusa al tavolo should be your go-to spot for fine dining in Connecticut. This restaurant uses locally sourced ingredients, to put together a perfectly curated menu.
Some of the featured dishes offered here include Pekin duck, pork tenderloin, North Atlantic halibut, Maine lobster, and braised beef short ribs. They offer a handful of vegetarian and vegan options too. This is one of the fine dining establishments in Connecticut that often flies under the radar.
Address: 828 Bantam Rd, Bantam, CT
4. Fleming's Prime Steakhouse & Wine Bar – West Hartford
Fleming's Prime Steakhouse & Wine Bar is one of the most popular fine dining restaurants in Connecticut. This place offers individual menus for appetizers, sides, entrees, and desserts, but also has an excellent 3-course menu.
Aside from their delicious steaks, Flemming's also serves dishes like calamari, seared pork belly, truffle-poached lobster, and chicken breasts. The desserts here are exceptional too. Just make sure you make a reservation in advance as the restaurant does get busy.
Address: 44 S Main St, West Hartford, CT
5. L'escale Restaurant – Greenwich
L'escale Restaurant is an elegant dining establishment located inside the Delamar Hotel in Greenwich, Connecticut. This restaurant serves mouthwatering French cuisine for breakfast, lunch, brunch, and dinner.
The dinner menu features dishes like caviar, Maine lobster, Scottish salmon, prime steak, and crispy duck breast. This place has a relaxed fine-dining atmosphere, especially if you opt for the outdoor waterside seating.
Address: 500 Steamboat Rd, Greenwich, CT
6. S&P Oyster Restaurant and Bar – Mystic
S&P Oyster Restaurant and Bar is one of the top fine-dining seafood restaurants in CT. This high-end restaurant sources all of its fish from local vendors, so the food travels directly from the boat to your plate.
Some of the dishes on the menu include fresh fish like oysters, mussels, lobster, colossal shrimp, yellowfin tuna, and crab cakes. Plus, the waterfront views from your table really amplify the whole fine dining experience. Outdoor seating is available as well if you like open-air dining.
Address: 1 Holmes St, Mystic, CT
7. Max Downtown – Hartford
Max Downtown is another fine dining restaurant in CT located in Hartford. This upscale dining spot is known for its award-winning food, along with its superb drink and cocktail menu.
Some of my favorite dishes on the menu include the Tuscan chicken salad, filet mignon, colossal shrimp scampi, and lamb merguez. This is one of the few deluxe restaurants in Connecticut that allows you to order your food for pickup without dining in.
Address: 185 Asylum St, Hartford, CT
8. Prime Stamford – Stamford
Prime Stamford is another fine dining restaurant in Connecticut. The eatery offers waterfront views in Stamford's Harbor Point district, along with a highly-rated 2-course lunch and 3-course dinner menu.
Some of my favorite foods here include the beef wellington, tuna tartare, veal chop parmesan, and crab & yellowtail sushi roll. This upscale dining restaurant is mostly known for its steak, seafood, and sushi entrees, but the appetizers are really good as well.
Address: 78 Southfield Ave, Stamford, CT
9. Ristorante Luce – Hamden
Ristorante Luce is a popular fine-dining restaurant that serves Italian food in southern Connecticut. Located in Hamden, this family-owned restaurant offers large portion sizes and top-notch service.
The dinner menu features dishes like parmigiana, pork chops, veal, Atlantic salmon filet, and seafood risotto. If you're dining here for lunch, you can get their three-course Prix Fixe menu for only $22, which is an excellent deal for formal dining. Just be aware that this is one of the restaurants that's closed on Sundays and Mondays.
Address: 2987 Whitney Ave, Hamden, CT
10. Joseph's Steakhouse – Bridgeport
Joseph's Steakhouse is a Connecticut fine dining restaurant located in Bridgeport. The menu at this old-school steakhouse is very basic, but the food is outstanding. You're able to order dishes like filet mignon, veal chops, sirloin steak, broiled salmon, and cheesesteak sandwiches.
The restaurant offers a pretty expansive cocktail and wine menu as well. The atmosphere at Joseph's Steakhouse is very relaxed for a fine dining establishment and the staff is always super friendly.
Address: 360 Fairfield Ave # 2, Bridgeport, CT
11. The Essex – Old Saybrook
The Essex is one of the CT restaurants that offer a fine dining experience in Middlesex County. Found in Old Saybrook, the restaurant's ambiance is a mix between New England charm and upscale elegance.
Some of the dishes available here include oysters, NY strip steak, crab, lobster, and fried chicken & caviar. I highly recommend trying the chef's 5-course tasting menu as well. Just know that all of the people at your table must participate to get access to the tasting menu.
Address: 247 Main St, Old Saybrook, CT
12. Max Fish – Glastonbury, CT
Max Fish is one of the finest restaurants in Glastonbury, Connecticut. This place serves a variety of award-winning cooked seafood dishes, along with a raw bar.
Some of the items you can order here include shrimp cocktails, chicken parmesan, New England lobster rolls, fish tacos, and north Atlantic Haddock. Dining here is always a great experience. The food never disappoints and the service is on point.
Address: 110 Glastonbury Blvd, Glastonbury, CT
Other Notable Fine Dining Restaurants in Connecticut
Aside from the high-end dining restaurants already mentioned, there are plenty of other fancy restaurants in CT. Here are some other elegant dining establishments to check out:
Viron Rondo Osteria in Chestire
Oyster Club in Mystic
J. Gilbert's Wood-Fired Steaks & Seafood in Glastonbury
To discover more fine dining restaurants in Connecticut, I recommend checking out this article I wrote about CT's best restaurants. A meal at any of those restaurants is well worth the high price tag.
Fine Dining in Connecticut – Final Thoughts
Those are a few of the top places to enjoy fine dining in CT. There are a lot of excellent restaurants to try on Connecticut's culinary scene, so I recommend starting with the restaurants closest to you first.
If you're planning a special occasion like an anniversary or date night, check out this article about the best romantic restaurants in Connecticut.