12 Best Steakhouses in CT [2023 Update]
For the past few months, I've been on a mission to try all of the top steakhouses in Connecticut. It wasn't easy, considering how many excellent steakhouses there are in the state.
But now, after eating at all of the most popular steakhouses in CT, I've put together a list of the best ones. So without further ado, these are the best places to eat a steak in Connecticut.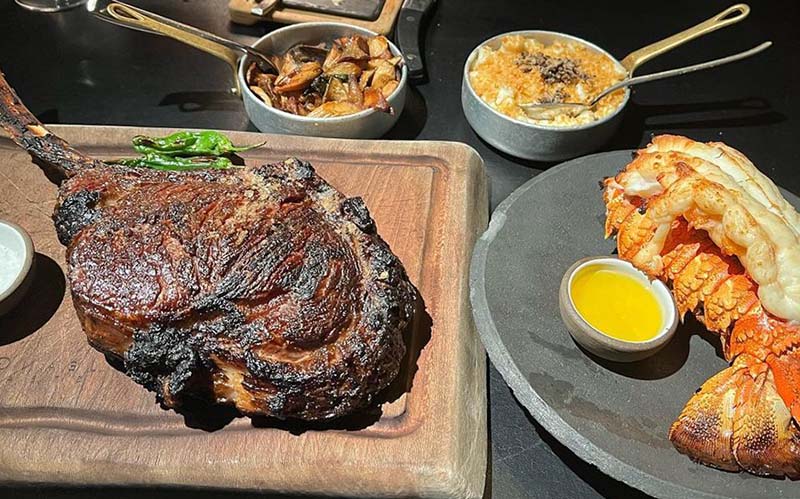 Top Steakhouses in Connecticut
1. J. Gilbert's Wood-Fired Steaks & Seafood – Glastonbury, CT
J. Gilbert's Wood-Fired Steaks & Seafood is one of the most popular spots to order steak in CT. This fine-dining establishment offers an excellent selection of wood-grilled USDA Prime and Aged Black Angus Beef.
However, the menu at J. Gilbert's isn't solely restricted to steak. It also features a number of seafood options, like lobster, crab cakes, and salmon. The restaurant makes some great cocktails and sides as well. Some of my favorite sides include the lobster mac & cheese and the salted baked potato.
Location: 185 Glastonbury Blvd, Glastonbury, CT 
2. Ruth's Chris Steak House – Newington, CT
Ruth's Chris Steak House is one of the top steakhouses in the southern Hartford area. This spot is known for its sizzling, butter-topped steaks, along with its award-winning wine list.
The menu features a range of cuts, including filet, ribeye, New York Strip, porterhouse, T-bone, and Tomahawk ribeye. Every cut of beef is well-marbled and hand-selected for thickness and tenderness.
Although they're known for steak, Ruth's Chris Steak House offers plates of chicken and fish as well, along with a few vegetarian options.
Location: 2513 Berlin Turnpike, Newington, CT
3. American Steakhouse – Norwalk, CT
American Steakhouse is a lesser-known, yet more affordable steakhouse in CT. With locations in Norwalk, Bridgeport, and Meriden, this restaurant offers mouth-watering steaks and ribs hot off the grill, along with a selection of burgers, chicken dishes, and seafood.
Both the food and service at the restaurant are top-notch, but they offer delivery as well if you're short on time. For the price, it's hard to beat the steaks served here.
Location: 595 Connecticut Ave, Norwalk, CT
4. Fleming's Prime Steakhouse & Wine Bar – West Hartford, CT
Fleming's Prime Steakhouse & Wine Bar is another high-end steakhouse in Connecticut. You can order appetizers, sides, entrees, and desserts off the menu individually or get their 3-course menu. Both are great ways to enjoy your steak.
If you have members of your party who don't eat meat, Fleming's also has separate plant-based and gluten-free menus as well. I highly recommend you make a reservation in advance if you plan on having a meal here.
Location: 44 S Main St, West Hartford, CT
5. Blackstones Steakhouse – Multiple Locations
Blackstones Steakhouse is one of the Connecticut steakhouses with multiple locations. You can find them in Stamford, Greenwich, Southport, and Norwalk serving an array of surf and turf entrees.
You can order dishes like filet mignon, rib eye steak, braised beef short ribs, grilled veal chops, fresh Maine lobster, lamb chops, and chicken parmigiano. I really enjoyed the 48 oz tomahawk bone-in ribeye steak for two.
Location: 101 Broad St, Stamford, CT 
6. Barbarie's Black Angus Grill – Danbury, CT
Barbarie's Black Angus Grill is a family-owned Connecticut steakhouse found in Danbury. The restaurant offers guests an enjoyable dining experience for brunch, lunch, and dinner. Plus, they have superb happy hour specials.
The menu has a wide variety of dry-aged steaks that are cut in-house to maximize freshness. Some of the cuts include porterhouse, rib eye, tomahawk, and filet mignon. If you like dining outside, know that this is one of the restaurants that has a modern dining room along with an outdoor patio.
Location: 5 Eagle Rd, Danbury, CT 
7. Joseph's Steakhouse – Bridgeport, CT
Joseph's Steakhouse is an old-school steakhouse located in Bridgeport. The menu here is very basic, but the food is delicious. You can order dishes like filet mignon, veal chops, sirloin steak, broiled salmon, and lobster tails.
They have a pretty extensive cocktail and wine menu as well. The atmosphere at Joseph's Steakhouse is very relaxed and the staff is always super friendly.
Location: 360 Fairfield Ave # 2, Bridgeport, CT
8. The Capital Grille – Stamford & Hartford, CT
The Capital Grille is another steak house in Connecticut with multiple locations. This eatery has a reputation for using only the finest and freshest ingredients, meticulously dry-aging its steaks on-site for up to 3 weeks in order to bring out the best flavor and texture.
On top of that, The Capital Grille has its in-house butchers hand-carve each cut of meat. You can be certain that you're getting the most out of your steak. You can order cuts like boneless prime rib, filet mignon, and bone-in NY strip. I highly recommend you try their seared tenderloin with butter-poached lobster tails.
Location 1: 44 Front St, Hartford, CT
Location 2: 230 Tresser Blvd, Stamford, CT
9. Prime One Eleven – Trumbull, CT
Prime One Eleven is one more seafood and steak place in southern Connecticut. You're able to order dishes like Wagyu filet mignon, NY strip steak, wood-grilled ribeyes, baby back ribs, Chilean sea bass, and ahi tuna street tacos.
For sides, the steak fries are really good as well. The prices at Prime One Eleven are very reasonable, plus they're open until 1 or 2 am on most days. If you visit on the weekend, I recommend you check out their excellent Sunday brunch from 11 am to 3 pm.
Location: 51 Monroe Turnpike, Trumbull, CT
10. Edo Ichi Sushi & Hibachi Steakhouse – Wethersfield, CT
Edo Ichi Sushi & Hibachi Steakhouse is one of CT's best steakhouses, but it's also a great sushi restaurant. The chefs serve an amazing filet mignon hibachi, which pairs very well with the delicious sashimi and sushi rolls.
The food preparation here is nothing short of superb. If you live in the Wethersfield area, you definitely need to check this place out to see why people have been raving about the restaurant online.
Location: 580 Silas Deane Hwy, Wethersfield, CT
11. Michael Jordan's Steakhouse – Uncasville, CT
Michael Jordan's Steakhouse is another highly-reviewed steak house in CT. Located at Mohegan Sun, this steakhouse prepares every dish with seasonal, high-quality ingredients in order to treat guests to a sensational culinary experience.
This is one of the restaurants in the state that serve dry-aged steaks in hand-picked cuts like tomahawk ribeye, USDA Prime New York strip, prime sirloin, and Australian Wagyu. The menu features fresh seafood dishes as well.
Location: 1 Mohegan Sun Blvd, Uncasville, CT
12. Olio Restaurant & Bar – Groton, CT
Olio Restaurant & Bar is one of Connecticut's steakhouses found in New London County. The menu changes here regularly, but they often serve a top-notch prime filet mignon with a side of crispy onions rings and mashed potatoes.
Some of the other dishes on the menu include fettuccine alfredo with chicken, grilled swordfish, pulled pork tacos, pizza, and grass-fed burgers. Aside from the food, the restaurant has a high-energy atmosphere with great servers.
Location: 33 Kings Hwy, Groton, CT
Best Steakhouse CT – Final Thoughts
That's our list of the top steakhouses in Connecticut. If you're looking to eat at a steakhouse CT, you won't be disappointed with any of the restaurants on this list.
Just know that not every steakhouse in CT comes at the same price point. I did my best to provide a nice mix of expensive and affordable dining options.
If you're looking for a more casual spot to feast on some delicious meats, I recommend checking out one of the BBQ joints in CT.