Luxury Hotels in CT: Top 5-Star Hotels in Connecticut
If you're looking to stay at a luxury hotel in Connecticut, you came to the right place. We recently reviewed some of the top high-end resorts in the state, to see which ones are the best.
There are a number of luxury hotels in CT, at a variety of different price points. Here are our top picks.
(Keep in mind that not all of these hotels are 5-star hotels. We added some 4-star properties to the list as well.)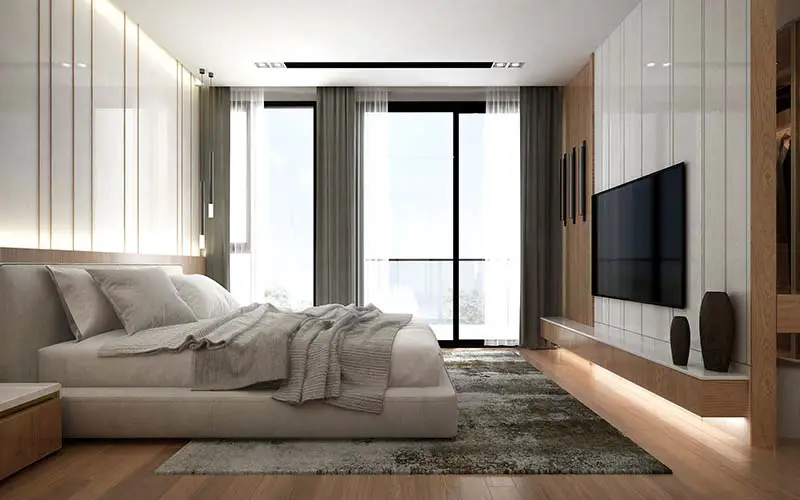 Luxury Hotels in Connecticut
1. Mayflower Inn & Spa, Auberge Resorts Collection – Washington
The Mayflower Inn & Spa is one of the best luxury hotels in Connecticut. This exquisite New England retreat is a boutique hotel that offers a full-service spa complete with an outdoor sauna and meditation classes.
A few of the amenities at the resort include an indoor pool, a fitness center, a hot tub, and an on-site restaurant.
The hotel is located in the rolling hills of Litchfield County, so it's a great place to stay if you're looking to get out of the city. This is one of the few true five-star hotels in Connecticut.
Address: 118 Woodbury Rd, CT-47, Washington, CT
2. Madison Beach Hotel, Curio Collection by Hilton – Madison
Madison Beach Hotel is another popular luxury hotel in CT. It's also considered to be one of the best beachfront hotels in Connecticut.
The resort is just a few steps from the shore, so you really can't get much closer to the water. The hotel has great amenities as well, including a spa, fitness center, on-site dining, and room service.
Plus, during the summer, the beach often puts on open-air concerts and film festivals, so they're plenty to do aside from just swimming and relaxing.
Address: 94 W Wharf Rd, Madison, CT
3. Delamar Hotel – Multiple Locations
Delamar is a luxury hotel chain in Connecticut with several locations, including Greenwich, West Hartford, and Southport.
The main draw of the Delamar is the excellent amenities and proximity to other attractions in the area, specifically in Greenwich.
Some of the amenities at the hotel include a spa, a fitness center, free breakfast, an on-site restaurant, a bar, and a complimentary glass of bubbly upon your arrival. Plus, this is one of the hotels in Connecticut that's kid-friendly and pet-friendly.
Address: 500 Steamboat Rd, Greenwich, CT
4. Winvian Farm: Luxury Resort Cottages – Morris
Winvian Farm is one of the Connecticut luxury hotels set up as cottages. This Connecticut bed and breakfast has 18 distinctive cottages spread across 113 acres of beautiful natural scenery.
The property has a ton of luxurious features, including a relaxing all-inclusive spa. Plus, every room has its own unique 5-star amenities, making for an unforgettable experience.
This hotel is perfect for a long and relaxing weekend getaway in the foothills of the Berkshires. It's not cheap, but I highly recommend this destination.
Address: 155 Alain White Rd, Morris, CT
5. The J House – Greenwich
The J House is a luxury hotel located in Greenwich, right on the Connecticut-New York border. This luxury resort features high-tech rooms for guests, top-notch dining, and amazing service.
The hotel has a small spa, a 24-hour fitness center, an outdoor pool, a 24-business center, and an on-site restaurant.
If you decide to check out the hotel, I highly recommend you visit The J House on the weekend so you can enjoy its Sunday brunch and relaxing spa treatments.
Address: 1114 E Putnam Ave, Riverside, CT 
6. The Study at Yale – New Haven
The Study at Yale is a bespoke hotel located on the Yale University Campus in New Haven, CT. It's right next to the campus' museums, libraries, theatres, and other cultural centers.
Some of the amenities offered in the deluxe guestrooms and suites include workspaces, 300-thread count Egyptian cotton bed linens, free Wi-Fi, and morning coffee.
The theme of this Connecticut luxury hotel is literature, art, and music, so this is a great place to book a stay if you want to immerse yourself in the regional culture.
Address: 1157 Chapel St, New Haven, CT
7. Mohegan Sun – Montville
If you're looking to have some fun while in Connecticut, you may want to consider booking a room at Mohegan Sun. The resort has multiple tower suits, making for awesome accommodation.
The casino has plenty of attractions, including fine dining, live entertainment, shopping, spas, and a nightclub. Plus, the hotel has 3 major entertainment venues, where they host live concerts, comedy shows, and sporting events.
If you have your kids with you, the resort also has a fantastic arcade daycare that will watch your kids while you're out having fun.
Address: 1 Mohegan Sun Blvd, Montville, CT 
8. The Fox Tower at Foxwoods – Ledyard
Foxwoods Resort Casino is another popular casino hotel in Connecticut. The casino features plenty of luxury amenities, including gourmet restaurants, amazing spas, a golf course, live shows, a zipline, and some of the best outlet shopping in CT.
Additionally, the hotel offers a number of bars, along with a nightclub. If you're looking to relax at a luxurious spa, Foxwoods has you covered on that front too. The resort has multiple spas for guests.
The rooms at the Fox Tower and Grand Pequot Tower a very posh and feature incredible views on every floor.
Address: 350 Trolley Line Blvd, Ledyard, CT
9. Hartford Marriott Downtown – Hartford
If you need to stay near Hartford, the Hartford Marriot is a great option. This luxury hotel has an indoor swimming pool, a gym, a spa, a meeting space, an upscale dining area, and a bar.
The hotel has an ideal location, with plenty to do and see within walking distance. You can spend the day exploring some of the attractions of the area.
Since it's in Hartford, the hotel is centrally located in the state. This gives you easy access to other cities like New Haven and Waterbury.
Address: 200 Columbus Blvd, Hartford, CT
10. Mystic Marriott Hotel & Spa – Mystic
The Mystic Marriott Hotel & Spa is a highly-rated hotel in Mystic, Connecticut. This is a great place to stay if you want to be near attractions like the Mystic Seaport Museum and the Mystic Aquarium. 
The hotel has a number of amenities, including an indoor pool, room service, a fitness center, a restaurant, and free Wi-Fi. They also offer you a welcome glass of bubbly, along with chocolate truffles when you visit the spa.
This is also one of the hotels with an on-site restaurant and room service, so you don't have to go very far to eat while staying here. I highly recommend this resort if you're looking for family accommodations in CT.
Address: 625 N Rd, Groton, CT
11. Hyatt Regency – Greenwich
The Hyatt Regency in Greenwich is another great place to stay in CT. It's only a short drive from New York City, and it's close to all the historic mansions and beaches in the area.
The hotel has solid amenities for guests to enjoy like an indoor pool, a hot tub, a fitness center, free Wi-Fi, and a business center. The rooms have beautiful decor, deluxe linens, spacious living areas, and plush beds.
If you're traveling with pets you'll be happy to know that this is one of the many pet-friendly hotels in Connecticut.
Address: 1800 E Putnam Ave, Old Greenwich, CT
12. Hotel Zero Degrees – Danbury
Hotel Zero Degrees is one of the luxury hotels in the southern part of the state. This chain of hotels combines modern design and personalized service to create unforgettable experiences for guests.
A few of the hotel's amenities include a fitness center, an award-winning restaurant, a business center, and high-speed Wi-Fi.
This is one of the top places to stay in the Danbury area, especially if you're on a business trip. There's a second location in Norwalk as well.
Address: 15 Milestone Rd, Danbury, CT
13. Graduate – New Haven
The Graduate is one more luxury resort in CT. This hotel is a local landmark in downtown New Haven, located across the street from Yale University.
The property is decorated with countless icons and memorabilia from the historic school. Plus, the hotel is just steps away from all the shops, restaurants, art galleries, and theaters of Yale.
If you want to explore New Haven and other parts of southern Connecticut, the Graduate is a great place to book a stay. The rooms are relatively affordable compared to other boutique hotels in Connecticut.
Address: 1151 Chapel St, New Haven, CT
14. Roger Sherman Inn – New Canaan
The Roger Sherman Inn is a unique bed and breakfast found in New Cannan, CT. The hotel has 15 individually decorated guest rooms and suites, which are stocked with modern amenities and luxury products.
The hotel features onsite dining rooms, a wine cellar, live music three nights a week, and friendly staff.
If you're looking for a relaxing New England getaway, this is one of the destinations you should check out in Connecticut. There's a reason why this place gets such great reviews online.
Address: 195 Oenoke Ridge, New Canaan, CT, United States
Other Luxury Resorts in CT
Those are some of the top luxury hotels in the state. However, there are a few other luxury resorts in Connecticut that you may want to check out depending on where you're staying. These hotels are worth a visit:
The Spa at Norwich Inn in Norwich
The Study at Yale in New Haven
Water's Edge Resort & Spa in Westbrook
The Litchfield Inn in Litchfield
Luxury Hotels CT – Final Thoughts
Those are our picks for the best 5-star and 4-star hotels in Connecticut. Prices for these hotels vary greatly depending on the time of year you book, so I recommend making your reservation a few months in advance if possible.