Best Restaurants in Mystic, CT [Updated 2023]
Mystic Seaport and Mystic Aquarium are generally the first things that come to mind when you think of Mystic, Connecticut. However, this coastline town is also known for its excellent restaurants.
In fact, Mystic has so many restaurants that it can be difficult to decide where to eat at times. That's why I decided to try all of the most popular restaurants in Mystic, CT to see which ones of the best. Here's what I found.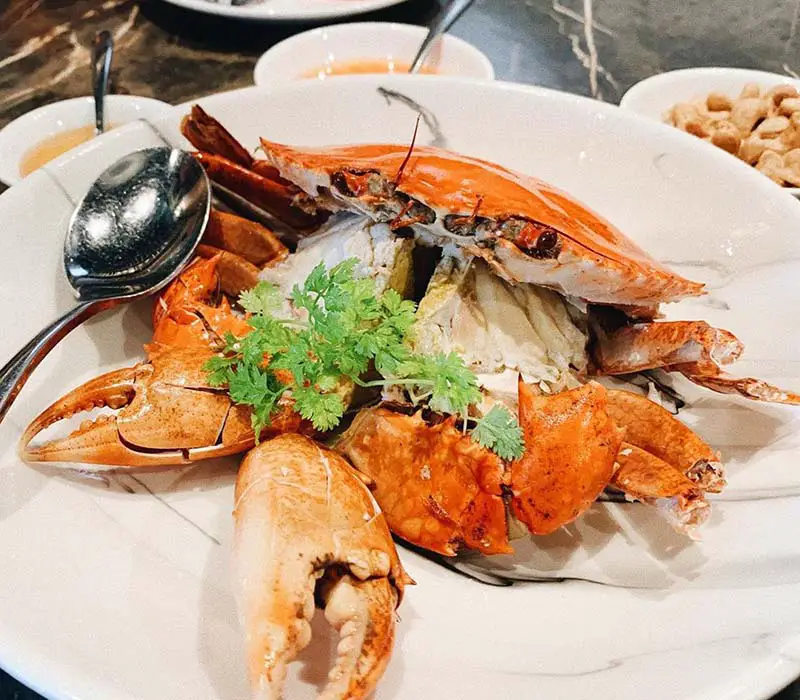 Top Restaurants in Mystic, Connecticut
1. S&P Oyster Restaurant and Bar
S&P Oyster Restaurant and Bar is a popular restaurant in Mystic, CT. This seafood spot sources all of its fish from local vendors to ensure that the food travels directly from the boat to your dinner plate.
The menu is extensive and features fresh fish like oysters, mussels, lobster, colossal shrimp, yellowfin tuna, crab cakes, New England clam chowder, pan-seared sea scallops, and salmon.
There are separate gluten-free and vegan menus as well if you have dietary restrictions. I highly recommend checking this place out, especially since you're able to enjoy beautiful waterfront views while eating.
Address: 1 Holmes St, Mystic, CT
2. Mystic Pizza
No list of Mystic restaurants would be complete without mentioning the infamous Mystic Pizza. This pizza shop inspired the 1988 film "Mystic Pizza," so there's a nostalgic atmosphere when dining here.
Some of the specialty pizza pies here include seafood delight, Texas chicken, meatza (meat lovers), Hawaiian, vegetarian delight, Margherita, and the house special. You can also build your own pizza.
The food here is super affordable, with small pies costing about $11 and large pies costing $18. Mystic Pizza is the go-to spot to order pizza in Mystic, Connecticut.
Address: 56 W Main St, Mystic, CT
3. Red 36
Red 36 is a waterfront restaurant & bar in Mystic that features open-air dining and a large menu of seafood and American dishes.
Some of the foods you can order include fried oysters, lobster carbonara, crab cakes, grilled salmon, burgers, flat-bread pizzas, and Ahi tuna poke bowls. There's an extensive raw bar as well.
Eating on the waterfront deck is a great time in the summer. But in the winter, Red 36 also offers an intimate indoor dining experience with a fireplace.
Address: 2 Washington St, Mystic, CT
4. The Mariner
The Mariner is another highly-rated seafood restaurant in Mystic. This nautical-themed eatery serves lunch and dinner 7 days a week, plus they offer happy hour specials.
The menu is very straightforward, featuring dishes like baked clams, crab cakes, steamed mussels, lobster rolls, shrimp, chicken pot pie, and filet mignon.
They also offer a local catch special, which is prepared by the chef daily. If you don't have time to dine in, The Mariner offers takeout as well when you order online.
Address: 21 W Main St, Mystic, CT
5. Captain Daniel Packer Inne
Built on the Mystic River over 250 years ago, Captain Daniel Packer Inne is one of the top restaurants in town. This place is known for its fresh food made with quality ingredients.
Some of the items on the menu here include chicken marsala, strip steak, pan-seared salmon, and baked stuffed shrimp.
This is one of the restaurants that also offer a ton of vegan, vegetarian, and gluten-free options on their menu. Also, be sure to check out the restaurant's massive wine list while you're dining.
Address: 32 Water St, Mystic, CT
6. Oyster Club
Mystic is a seafaring town, so it's no surprise there are so many excellent seafood restaurants. Oyster Club is no exception.
This fine-dining seafood restaurant serves fresh, boat-to-table fish with unmatched quality and taste. The menu is very simple, which makes it easy to decide what to order.
Some of the featured dishes at Oyster Club include littleneck clams, roasted oysters, swordfish, smoked whitefish, mussels, pork roast, and deviled eggs. There's a solid weekend brunch menu too.
Address: 13 Water St, Mystic, CT
7. Engine Room
The Engine Room is one of my favorite Mystic Connecticut restaurants. It's the sister restaurant of the aforementioned Oyster Club, so you know the food quality is top-notch.
This eatery is known for serving locally-sourced, American comfort food, like burgers, chicken sandwiches, pulled pork sandwiches, house-made spaghetti bolognese, hush puppies, and NY strip steak.
The Engine Room also offers 16 craft beers on tap, along with the area's largest selection of bourbons, craft cocktails, and wines.
Address: 14 Holmes St, Mystic, CT
8. The Mystic Diner & Restaurant
The Mystic Diner & Restaurant is the go-to place for breakfast in Mystic. But aside from the all-day breakfast menu, this spot also offers an exceptional lunch and dinner menu.
Some of my favorite dishes include the Philly steak & eggs, bacon & cheese omelet, avocado toast, eggs benedict, Greek gyro, buffalo chicken wrap, and fettuccine alfredo.
You have the option of indoor or outdoor seating at The Mystic Diner. Regardless of where you're table is located, the service provided by the staff here is amazing.
Address: 253 Greenmanville Ave, Mystic, CT
9. Johnny's Peking Tokyo
Johnny's Peking Tokyo is a chic Asian-fusion restaurant. This spot serves a combination of Chinese and Japanese cuisines, alongside a sushi bar.
A few of the entrees on the menu include shrimp dumplings, lobster & crab spring rolls, Japanese wagyu, sushi pizza, salmon fried rice, chicken pad Thai, sashimi, and a variety of specialty sushi rolls.
For the quality of food you receive, the prices at this place are very affordable. I highly recommend checking out Johnny's Peking Tokyo if you're looking for sushi in Mystic.
Address: 12 Coogan Blvd, Mystic, CT
10. The Shipwright's Daughter
The Shipwright's Daughter is a small Mystic Connecticut restaurant found at The Whaler's Inn. This hidden gem features beautiful modern decor and amazing food.
Some of the dishes on the menu include roasted organic chicken, roasted oysters, pork chops, burgers, and seared local lingcod.
The restaurant also has a really good selection of cocktails and wines during happy hour. Plus, they serve brunch on Saturdays and Sundays from 11 am to 3 pm
Address: 20 E Main St, Mystic, CT 
11. Jealous Monk
Jealous Monk is a popular beer garden and restaurant in downtown Mystic. It's located right next to Mystic Aquarium so the place is very easy to find.
The menu features dishes like burgers, boneless wings, sandwiches, and salads. They have a separate kids menu and dessert menu as well.
Jealous Monk offers a selection of 32 tap beers, along with an expansive cocktail and wine list.
Address: 27 Coogan Blvd, Mystic, CT
12. Margaritas Mexican Restaurant
Margaritas Mexican Restaurant is a great place to grab Mexican food in Mystic. The chain has two locations in Connecticut and is known for its family-friendly atmosphere and excellent service.
You're able to order foods like tacos, burritos, enchiladas, fajitas, chimichanga, and quesadillas. The margaritas here are really good too.
If you're on a plant-based diet, there are plenty of vegetarian options on the menu. This is one of the restaurants in the area that offers dine-in, delivery, and takeout.
Address: 12 Water St, Mystic, CT 
13. Kitchen Little
Kitchen Little is a cool breakfast spot near the Mystic River Marina. They serve a hearty American breakfast, along with some seafood dishes.
Some of the more notable items on the menu include buttermilk pancakes, omelets, lobster benedict, waffles, French toast, and home fries.
The restaurant has outdoor patio dining with an amazing view of the marina. Just be aware that Kitchen Little is closed on Tuesdays.
Address: 36 Quarry Rd, Mystic, CT 
14. Sift Bake Shop Mystic
Sift Bake Shop is a French bakery found in the historic district of downtown Mystic. The bakeshop is run by Chef Adam Young, who is an award-winning pastry chef.
When you eat here, you're able to treat yourself to delights like artisanal bread, breakfast pastries, croissants, brownies, cookies, cheesecakes, and sticky buns.
This is one of the best bakeries in Connecticut, so make sure you get here early or place an order online. Sift Bake Shop gets very busy.
Address: 5 Water St, Mystic, CT
15. Bravo Bravo
Bravo Bravo is one of the top Italian restaurants in Mystic. Many of the dishes here, like the pastas, sauces, breads, and desserts, are made in-house with fresh ingredients.
You can order lunch and dinner entrees like grilled salmon, cod BLTs, lobster ravioli, burgers, tomato fettuccine, meatballs, veal Milanese, and NY strip steak.
You can find this Italian eatery right across the street from the Whaler's Inn. Just know that they are closed on Mondays.
Address: 19 E Main St, Mystic, CT
16. Pizzetta
Pizzetta is another great pizza restaurant in Mystic, Connecticut. This gourmet pizzeria offers a variety of pies, including some gluten-free, dairy-free, meatless, vegan, and vegetarian options.
They use fresh and local ingredients to make creative pizza flavors like buffalo chicken, chicken parmesan, margarita, mac & cheese, white three cheese, meat lovers, and Philly cheese steak to name a few.
This spot is both family-friendly and dog-friendly, plus they have outdoor dining and live music.
Address: 7 Water St, Mystic, CT 
17. Pink Basil
Pink Basil is a casual Asian-fusion restaurant found right next to the Mystic Aquarium. They offer authentic Asian cuisine at an affordable price.
The restaurant features a menu of Japanese, Korean, Thai, and Vietnamese dishes like chicken teriyaki, grilled lemongrass beef, pad Thai noodles, pho, spring rolls, and bulgogi. Pink Basil has a sushi bar as well.
Pink Basil offers both indoor and outdoor dining. If you're in a rush, you can also order your food for takeout or delivery.
Address: 27 Coogan Blvd Building 3B, Mystic, CT
18. Anthony J's Bistro
Anthony J's Bistro is an excellent Italian restaurant in Mystic, Connecticut. This spot is a local favorite that has earned rave reviews for its delicious food and renowned wine cellar.
You can order items like garlic bread, fried calamari, lobster rolls, house lasagna, veal parmesan, carbonara, and filet mignon.
There are a ton of great appetizers, sides, and desserts on the menu as well. Also, look out for the restaurant's popular daily blackboard for great deals on your food.
Address: 6 Holmes St, Mystic, CT
Other Notable Mystic Restaurants
Aside from the Mystic CT restaurants already mentioned, there are plenty of other great places to eat in town. Here are a few honorable mentions:
Sea Swirl (seasonal)
Steak Loft Restaurant
Via Emilia
Noble Smokehouse
There are also a number of restaurants located near Mystic (Mystic is technically a village in Stonington and Groton). However, they aren't located near the main attractions, so this list sticks to the restaurants in Mystic CT exclusively.
Restaurants Mystic CT – Final Thoughts
Those are a few of the best restaurants in Mystic, Connecticut. If you're planning a trip to Mystic and want to eat a meal at one of these restaurants, I recommend making a reservation in advance if possible. Some of these restaurants get extremely busy, especially around dinner time.