11 Best Escape Rooms in CT
Visiting an escape room is the perfect way to challenge yourself to a different type of adventure. They are a ton of fun for people of all ages.
That's why I tried some of the top Connecticut escape rooms to see which ones are the best. After a weekend of solving puzzles and riddles, I found these to be the best escape rooms in CT.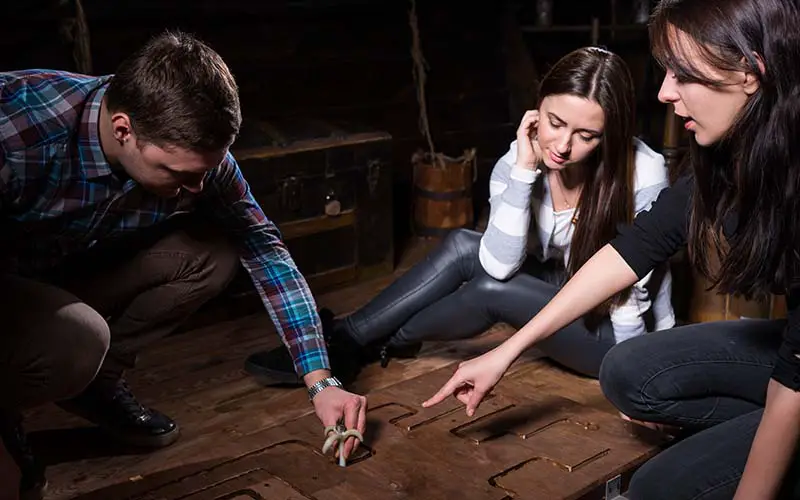 Top Escape Rooms in Connecticut
1. Mission Escape Games – West Hartford
Mission Escape Games is one of the most popular escape rooms in Connecticut. They provide stimulating escape games that force your mind to solve puzzles using collaboration.
You have an hour to solve all of the obstacles and escape your way to freedom. It's a great activity to play with family and friends, or during corporate team-building events.
Location: 76 LaSalle Rd Unit 403, West Hartford, CT
2. Trap't Escape Room Adventures – Stamford
Trap't Escape Room Adventures is an excellent Connecticut escape room in Stamford. All of the escape experiences here have multiple rooms that challenge you to think outside the box.
Each interactive room offers puzzles and clues that help you to escape from the locked space. Teamwork is essential and requires you to use your hands and senses.
Location: 76 Progress Dr #262, Stamford, CT
3. Team vs Time – Berlin
Team vs Time is a highly-rated escape experience in Berlin. They offer 4 different escape rooms, each with a different theme and level of difficulty.
As you race against the clock to find clues in order to escape, you'll have the luxury of choosing your own team. Unlike some of the other escape rooms in the state, you'll never be paired up with strangers.
Location: 320 New Britain Rd, Berlin, CT 
4. Escape Rooms Connecticut – Orange
Escape Rooms Connecticut is one of the top escape adventures in the southern part of the state. This escape room uses creative storylines and special effects to really immerse you in the experience.
There are 5 well-designed rooms to choose from, each with its own unique puzzle to solve. Just make sure you book an appointment in advance since they only take reservations.
Location: 500 Boston Post Rd Unit 9, Orange, CT
5. REACT Premium Escape Rooms – Windsor Locks
REACT Premium Escape Rooms is one of the Connecticut escape rooms in the northern part of the state. Located in Windsor Locks, the themed rooms here are a ton of fun and fairly affordable.
The escape experience is designed for players of all ages and skill levels, so anyone is able to solve the riddles and conquer the challenges. This is also one of the largest escape rooms in Connecticut.
Location: 1 Corporate Dr Suite 102, Windsor Locks, CT
6. Mystified Escape Rooms – Mystic
Mystified Escape Rooms is a live-action adventure game found in Mystic, Connecticut. They have several different rooms that test your wits to solve each mystery before time runs out, using hidden clues and mysterious objects.
Aside from the escape games, this spot also offers a scavenger hunt. There is no shortage of puzzles to solve at Mystified Escape Rooms.
Location: 14 Clara Dr, Mystic, CT 
7. All In Adventures – Multiple Locations
All In Adventures is one of the few CT escape rooms with multiple locations. You can find them inside the shopping malls in Manchester, Milford, and Waterbury.
The escape rooms are designed for groups of 2-10 people and are perfect for guests of all ages. Plus, the rooms are very kid-friendly, so they're great for birthday parties and private events.
Location 1: 194 Buckland Hills Dr. Space 2002, Manchester, CT
Location 2: 1201 Boston Post Rd Suite 1220, Milford, CT
Location 3: 495 Union St Suite 1158, Waterbury, CT
8. Complexity Rooms: A Puzzling Adventure – Farmington
Complexity Rooms is a fun escape game in Farmington. Each room has a different theme and a new set of clues that help you decipher each puzzle and escape.
There are 4 total rooms at Complexity Rooms, so you have several options to choose from. Also, all bookings here are private, so you'll only be paired with people in your group.
Location: 2 Eastview Dr, Farmington, CT 
9. Pursue the Clues – Torrington
Pursue the Clues is one of Connecticut's top escape rooms in Litchfield County. The games are fun yet challenging, making you use teamwork to help you stage a successful room escape.
The puzzles require you to use observation skills and wits in order to win. The escape experiences at Pursue the Clues are designed for adults, but kids can play too as long as there is an adult present.
Location: 733 E Main St, Torrington, CT
10. Panic Room – Stamford
Panic Room is another popular escape room in CT. Like many of the other escape adventures in the state, you and your team must race against time to solve each puzzle.
This escape room offers 6 different themed rooms, each with a different mystery. This is one of the top escape room operators in the state, as the company also runs the aforementioned Trap't Escape Room Adventures in Stamford.
Location: 1000 Hope St, Stamford, CT
11. Escape New Haven – New Haven, CT
Escape New Haven is one more escape room in Connecticut. This spot offers several games where your team fights the clock to solve the mystery before you run out of time.
Escape New Haven also has a 2-hour outdoor escape adventure, which is unique to this location. Just be aware that they aren't open on Mondays.
Location: 103 Whitney Ave, New Haven, CT
Escape Rooms CT – Final Thoughts
Those are some of the best escape rooms in CT. Whether you're visiting with your family, a group of friends, or coworkers, each place is a ton of fun. I recommend visiting the CT escape room closest to you so you don't have to travel across the state.
If you're looking for other cool activities in Connecticut, make sure you visit one of the many mini golf courses in CT.