Italian Restaurants in CT – Best Italian Restaurants in Connecticut [Updated 2023]
There is no shortage of Italian restaurants in Connecticut. Whether you're looking for spaghetti & meatballs, a freshly baked pizza, or a juicy steak, you'll easily be able to find a restaurant that serves exactly what you're craving.
However, with so many options, it can be difficult to decide where to eat. That's why I put together this guide. After eating at all of the most popular Italian spots in the state, I'm certain that these are the best places to eat Italian food in CT.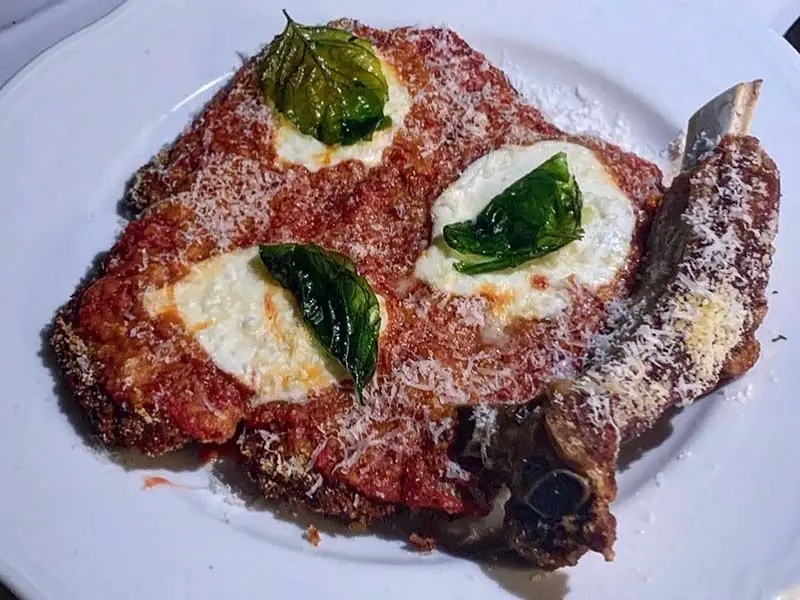 Italian Restaurants in Connecticut
1. Bricco Trattoria – Glastonbury
Bricco Trattoria is one of the top Italian restaurants in CT. Found in Glastonbury, the restaurant will make you feel like you're in Italy, serving modern takes on all of the classic Italian dishes.
This award-winning Italian restaurant serves delicious entrees like house-made butternut ravioli, chicken parmesan, penne alla vodka, and Italian sausage pizza. They offer some great appetizers and soups too, like fried calamari and beef carpaccio.
Location: 124 Hebron Ave, Glastonbury, CT
2. Viron Rondo Osteria – Cheshire
Viron Rondo Osteria is a great place to grab some Italian food in the Hartford-Waterbury area. The restaurant has a great ambiance and the service is always amazing.
The menu features many Italian classics for lunch and dinner, like garlic bread, rigatoni bolognese, chicken piccatta, and salmon. You can also order a variety of wood-fired paninis and Italian sandwiches.
I usually get the classic meatball grinder, which is more Italian-American than pure Italian food.
Location: 1721 Highland Ave, Cheshire, CT
3. Salute – Hartford
Salute is one of the best Italian restaurants in Hartford, CT. This trendy Italian eatery offers an upscale menu of pastas and grilled dishes, like boneless short ribs, pork tenderloin, chicken parmesan, and ragu bolognese, along with some gluten-free options.
The restaurant also has a nice bar and lounge area with a wide selection of wines, beers, and spirits available.
If you don't have time to dine in, this is one of the restaurants that also offers takeout and delivery too.
Location: 100 Trumbull St, Hartford, CT
4. Goodfellas Restaurant – New Haven
Goodfellas Restaurant is an excellent place to grab Italian food in New Haven. This old-school restaurant is mob-themed and has been visited by celebrities like Donny Wahlberg and Robert DeNiro.
The menu features dishes like Sicilian pork chops, jumbo shrimp, New York strip steak, and lasagna & meatballs.
As you would expect with most Italian restaurants, Goodfellas has an extensive wine list as well.
Location: 702 State St, New Haven, CT 
5. Cafe Silvium – Stamford
Cafe Silvium is another fantastic Italian restaurant in Connecticut. Everything on the menu at this casual eatery is prepared in-house by the chefs daily, including their specialty hand-made pasta.
You can order dishes like fettuccine al mascarpone, calamari fritti, and spaghettini alle vongole, along with a range of mouth-watering desserts. This is one of the many Italian restaurants in Stamford.
Location: 371 Shippan Ave, Stamford, CT
6. Tony D's – New London
Tony D's is an Italian restaurant, with a family-oriented atmosphere and great service. They even play live music on Fridays and Saturdays. The classic recipes at this restaurant have been passed down for generations, so you know the food is really good.
The menu features a number of excellent Italian appetizers, sides, and entrees, but some of the more notable dishes include the chef's choice ravioli, shrimp scampi, chicken marsala, veal parmagiana, and lollipop lamb chops.
There aren't many Italian restaurants better than Tony D's in the New London area.
Location: 92 Huntington St, New London, CT
7. Ludal's Italian Restaurant – North Haven
Ludal's Italian Restaurant is another one of the CT restaurants that serve Italian food in the greater New Haven area. They serve lunch and dinner but also have a superb happy hour special at their bar.
You're able to order dishes like meatballs & sausage, lobster ravioli, and stuffed crispy chicken. I really enjoy Ludal's shrimp cocktails and fried calamari as well.
I highly recommend this Italian spot if you live nearby since they made our list of the best restaurants in North Haven.
Location: 28-30 Broadway, North Haven, CT
8. Sofia's Restaurant & Pizzeria – East Windor
Sofia's Restaurant & Pizzeria is a terrific place to get Italian food in Connecticut if you live in the northern part of the state. Located in East Windsor, this Italian restaurant is known for preparing its food with the best ingredients.
Some of the Italian foods you can order off the main menu include antipasto, fettuccine alfredo, pasta with eggplant, veal marsala, seafood platters, and grilled pork chops. A variety of pizzas, sandwiches, calzones, and beverages are available as well.
In addition to dining in, Sofia's offers delivery and carry-out options. For this reason, Sofia's is one of the go-to Italian restaurants for residents of the area.
Location: 136 Prospect Hill Rd, East Windsor, CT
9. Carbone's Prime – Rocky Hill
Carbone's Prime is another highly-rated Italian restaurant in CT. They are known for their prime steaks, seafood, and their extensive menu of Italian classics.
Some of the feature dishes on the menu here include oysters, eggplant parmigiana, chicken marsala, wagyu burgers, and grilled octopus.
There are a couple of vegetarian and gluten-free items on the menu too, in addition to the classic Italian food.
Location: 838 Cromwell Ave, Rocky Hill, CT
10. Treva – West Hartford, CT
Treva is a popular Italian restaurant in West Hartford, Connecticut. The dishes here are hand-crafted and made with fresh, in-season ingredients.
This is one of the few Connecticut Italian restaurants that offer brunch, lunch, and dinner. On the brunch menu, I highly recommend you order the eggs benedict or the brioche French toast.
On the lunch and dinner menus, the paninis, flatbreads, pastas, and beef dishes are all worth ordering.
Location: 980 Farmington Ave #2102, West Hartford, CT
11. Alta Strada – Ledyard
Alta Strada is a fine-dining Italian restaurant located at the Foxwoods Resort Casino in Ledyard, CT. The dining room here has a very relaxed atmosphere, which is a nice break from the casino, and the staff is super friendly.
The menu is a bit limited, but the food is delicious. You can order a range of pasta dishes, entrees, and desserts. I particularly enjoyed the mushroom ricotta ravioli and the margarita pizza.
Just know that the restaurant is closed on Mondays and Tuesdays.
Location: 240 Fox Tower Dr, Ledyard, CT
12. Figaro Ristorante – Enfield
Figaro Ristorante is a fantastic Italian restaurant in Enfield that gets rave reviews online. They serve tasty Italian-American cuisine, which is made to order by the chefs. Figaro Ristorante will even cook your food to meet your dietary needs.
You're able to order dishes like ravioli, fried mozzarella, pork chops, steak, chicken parmesan, and shrimp scampi.
They have banquet facilities as well if you're looking for catering. You can find this Italian spot in the same plaza as the Enfield Square Mall.
Location: 90 Elm St, Enfield, CT
13. Paul's Pasta Shop – Groton
Paul's Pasta Shop is a popular Connecticut Italian restaurant located in New London County. This family-run restaurant specializes in making housemade pasta with high-quality ingredients.
The portion sizes here are very generous, and all the food is cooked to perfection. Plus, they offer daily specials both for dining in and to-go.
The pasta shop also has a great view overlooking the Thames River, making it one of my favorite Italian restaurants in CT.
Location: 223 Thames St, Groton, CT
Other Excellent Dining Establishments in Connecticut that Serve Italian Food
Aside from the spots already mentioned, there are plenty of other places to grab some good Italian cuisine in Connecticut. Here are a few honorable mentions for Italian restaurants in CT:
Restaurant Bricco in West Hartford
Italia Mia Restaurant & Pizzeria in New Milford
Cafe Aura in Manchester
Buonavita in Enfield
Best Italian Restaurant CT – Final Thoughts
That concludes this list of the best Italian restaurants in Connecticut. Wherever you end up dining, I highly recommend making reservations in advance. Many of these restaurants fill up quickly.
If you're in the mood for something other than Italian next time you go out to eat, I recommend checking out one of the many French restaurants in CT.