Best Places to Play Mini Golf in CT [2023 Update]
There are countless mini golf courses spread throughout the state of Connecticut. But which ones are the best? I decided to find out.
After a couple of weeks of nonstop putting, I'm pretty sure that I have an answer. These are the best places to play mini golf in CT.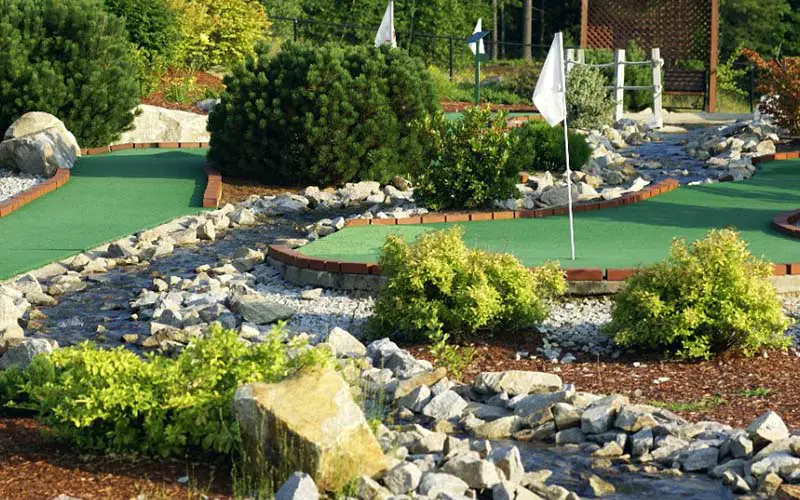 Top Places to Play Mini Golf in CT
1. Hidden Valley Miniature Golf and Waterfront Grille – Southington
Hidden Valley is an award-winning miniature golf course and restaurant in Southington. This 18-hole course focuses on meticulous landscaping to give off the illusion that you're in a green paradise.
The course is extremely well-maintained and encompasses 8 gorgeous waterfalls, 3 giant koi ponds, a gristmill, and a cave. There's also a kid's play area with a pirate ship and a 50-foot wooden train. A round of golf here costs $9 for adults, but replays are only $4. Just know that they are closed on Mondays and Tuesdays.
Address: 2060 West St, Southington, CT
2. Monster Mini Golf – Bethel
Monster Mini Golf is a monster-themed mini golf chain found in Bethel, CT. This place has a cool glow-in-the-dark course located indoors, so you can play regardless of the weather outside.
Monster Mini Golf is one of the smaller mini golf courses in Connecticut, however, they make up for it with the other attractions that they offer. You can also go bowling, play laser tag, and have fun at the arcade. Monster Mini Golf is always a great time for the whole family.
Address: 13 Stony Hill Rd, Bethel, CT 
3. Safari Golf – Berlin
Safari Golf is another award-winning course that offers mini golf in Connecticut. This carefully landscaped miniature golf course is jungle-themed and features oversized greens which are surrounded by life-size animals, streams, and waterfalls.
The course here is relatively long and the staff is always super friendly. A round here costs $9.50 for adults and $8.50 for kids 12 and under. Plus, you can win a free game if you get a hole-in-one on the 18th hole. You can find Safari Golf on the Berlin Turnpike.
Address: 2340 Berlin Turnpike, Berlin, CT
4. Matterhorn Mini Golf – Canton
Matterhorn Mini Golf is a top place to play miniature golf in CT. This 18-hole Swiss-themed course spans half an acre, so it's a good-sized mini golf course. Each hole has creative obstacles, which keeps the entire game interesting.
A game of golf at Matterhorn costs $11 for adults and $6 for kids under 6. But you can also purchase an all-day pass for only $20. Non-playing adults keeping score will have to pay $6. After you're done golfing, I highly recommend you try their Swiss swirl ice cream. Matterhorn is located in Canton, CT.
Address: 10 Dyer Cemetery Rd, Canton, CT
5. Sonny's Place – Somers
Sonny's Place is another place to play CT mini golf. Located in Somers, this miniature golf course features 18-holes of challenging obstacles like fountains, ponds, rivers, and waterfalls. A round of golf costs $9.50, but kids 4 and under are free.
Sonny's also has other games available, including batting cages, go-karts, and laser tag. There's a sizeable arcade here as well.
Address: 349 Main Street, CT-190, Somers, CT
6. Riverfront Miniature Golf – Unionville
Riverfront Miniature Golf is a laid-back Connecticut mini golf course in Unionville. The course was designed to look like a full-scale golf course, so it has some very similar characteristics (one being the amazing view of the Farmington River).
Riverfront features a number of natural obstacles, like water traps, rocks, and bricks. There's a water system that allows you to jump over steams as well. It costs $8 per golfer to play a round here before 6 pm and $9 after 6 pm. But, if you play here often, you can get a free round once every 10 games.
Address: 218 River Rd, Unionville, CT
7. Putters Paradise Mini Golf at the Berlin Batting Cages – Berlin
The Berlin Batting Cages are another great place to play miniature golf in Connecticut. They offer two courses that cater to both new and experienced mini-golfers.
The beginner course has easy obstacles like windmills, bucket wheels, and wells. If you want to put your putting skills to the test, I recommend the expert course, which has rock traps and difficult breaks in the green. Whichever course you choose, a round costs an affordable $6.75 per person.
Address: 1823 Berlin Turnpike, Berlin, CT
8. Mar-Lea Miniature Golf & Driving Range – Bolton
As the name suggests, Mar-Lea Miniature Golf & Driving Range has both a miniature golf course and a driving range. Whether you're working on your short game or long game, Mar-Lea is the perfect place to improve your golf skills.
Miniature Golf is only $7 a person, while the driving range charges by the bucket. Golf balls cost $5 for a small bucket, $8 for a medium bucket, and $10 for a large bucket. Mar-Lea does birthday parties too.
Address: 244 Boston Turnpike, Bolton, CT
9. Torza's Golf & Putt Putt – Cromwell
Torza's Golf & Putt Putt is another place that offers both a driving range and mini golf. The putt putt golf course is designed for both new and expert players. If your putting skills are more seasoned, it's recommended that you follow the arrows on the course to challenge yourself.
Miniature golf is only $5 a person, plus kids 3 and under are free. The driving range costs between $6 and $15 depending on how many balls you get. Torza's has a Toptracer Range as well that's free to use.
Address: 150 Sebethe Dr, Cromwell, CT
10. Farmington Miniature Golf & Ice Cream – Farmington
Farmington Miniature Golf is a long-standing mini golf course in Farmington. This family-owned mini golf spot has been around for over 50 years, hosting tournaments and traditional mini golf games.
The course is well maintained and isn't too easy or too difficult, which is perfect for families. Games cost $8 before 6 pm and $10 after that. Repeat games are only $4.
Address: 1048 Farmington Ave, Farmington, CT 
11. Fairways Mini Golf – South Windsor
Fairways Mini Golf offers a chance to play mini-golf in South Windsor, CT. It's a lesser-known mini-golf spot, but they have a solid course. It has 18 holes, which takes the perfect amount of time to complete (games aren't too short or too long).
Admission at Fairways Mini Golf is relatively cheap, plus they have a batting cage and ice cream stand too. You can find them right off Route 5.
Address: 75 Spielman Rd, South Windsor, CT
12. Mini-Golf at Saybrook Point – Old Saybrook
Mini-Golf at Saybrook Point is a miniature golf course right on the water. It's located right next to the Saybrook Point marina overlooking the Long Island Sound. The views here are incredible.
This is a very simple yet fun golf course. It's extremely affordable too at $7 per round. Children also get discounts here during the week.
Address: 154 College St, Old Saybrook, CT 
Best Minature Golf Courses in Connecticut
These are the top places to play mini golf CT. Whether you're looking to work on your putting or just have some fun with your friends, I'm confident that you'll enjoy these mini golf courses.