Best Vegetarian & Vegan Restaurants in CT [Updated 2023]
The plant-based dining scene is growing rapidly in Connecticut. There are so many great places to grab vegan and vegetarian food in the state that it can be overwhelming at times.
So, I decided to eat at the top vegan restaurants in CT to see which ones are the best. After a couple of days of trying all the most popular vegan eateries, I found these spots to have the best food.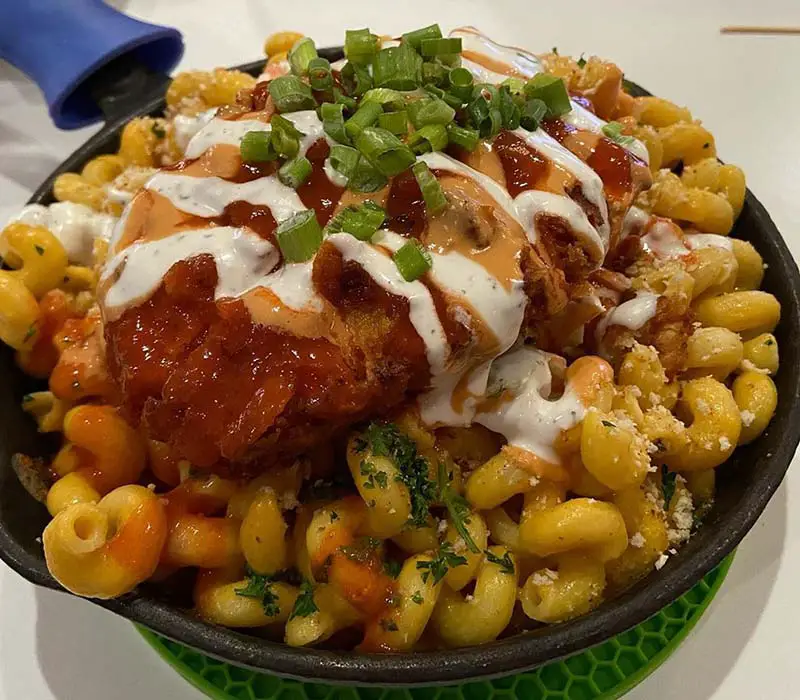 Top Vegetarian & Vegan Restaurants in Connecticut
1. ION Restaurant, It's Only Natural – Middletown
It's Only Natural (or ION Restaurant for short) is one of the best vegan restaurants in Connecticut. This award-winning restaurant has been serving plant-based food for over 35 years.
Everything on the extensive menu here is vegan and organic, plus they offer some gluten-free options. The dishes look appetizing and are delicious, even for someone who isn't vegan. I highly recommend trying the chickpea parmesan, the southern fried tofu, and the burrito bowl.
Address: 606 Main St, Middletown, CT
2. Fire-N-Spice Vegan Restaurant – Hartford
Fire-N-Spice is another popular vegan restaurant in Connecticut. Located in downtown Hartford, this small cafe offers friendly service and amazing food.
The menu features a variety of vegan-inspired dishes, baked goods, and juices, like burritos, patties, tofu, muffins, and green smoothies. Many of the plates at Fire-N-Spice Vegan Restaurant also offer a Jamaican twist.
Address: 491 Capitol Ave, Hartford, CT
3. Claire's Corner Copia – New Haven
Claire's Corner Copia is a great place to grab vegan food in New Haven, CT. The restaurant serves a variety of vegan dishes, plus it's kosher-certified.
You can order dishes like avocado toast, hummus wraps, soy bacon BLTs, spicy buffalo tofu sandwiches, and a number of different salads. Claire's menu also has plenty of non-vegan dishes in case you're eating with your non-plant-based friends. The coffee here is very good as well.
Address: 1000 Chapel St, New Haven, CT
4. Flora – West Hartford
Flora is an excellent vegan restaurant in West Hartford. This full-service restaurant and bar offers seasonal vegan and vegetarian dishes, alongside a few responsibly raised animal products.
Some of the standout items on the menu include vegan shrimp rigatoni, "chicken parm" marinara, impossible burger, and buffalo cauliflower ranch. In addition to traditional dining, they also offer takeout and delivery. You can find Flora in Blue Back Square in West Hartford.
Address: 45 Raymond Rd 2nd floor, West Hartford, CT
5. Arles & Boggs Vegan Eatery – Wallingford
If you live in the central part of the state, Arles & Boggs Vegan Eatery is quickly becoming one of the go-to places to order vegan food in Connecticut. This family-owned, plant-based eatery serves of variety of unique vegan cuisines.
You're able to order dishes like chili cheese fries, falafel sandwiches, and loaded taquitos. The entire menu is 100% vegan, including the appetizers, entrees, sides, and beverages.
Address: 100 Quinnipiac St, Wallingford, CT
6. Three Girls Vegan Creamery – Guilford
Three Girls Vegan Creamery is a popular vegan restaurant in Connecticut located in Guilford. This restaurant specializes in vegan cheeses made from nuts, but also offers a range of other tasty vegan delicacies.
A few of the foods available here include vegan smoked maple bacon, vegan BBQ ribs, vegan cannoli dip, vegan cutlets, vegan Neopolitan pizza, and vegan meatballs. If you visit, I recommend ordering your food online ahead of time since the line can get long.
Address: 645 Boston Post Rd, Guilford, CT
7. The Stand Vegan Cafe – Fairfield
The Stand Vegan Cafe is a fantastic spot to grab vegan food if you live in the Fairfield area. This is one of the plant-based restaurants in the state that's known for fresh, high-quality ingredients that are locally sourced.
Some of the dishes on the menu include the skinny Buddha bowl with seasonal veggies, almond-avocado wraps, French-onion veggie burgers, tofu & noodles, and brownie sundae desserts. They also serve an amazing banana, blueberry, acai, and kale smooth made with almond milk. You can order breakfast, lunch, and dinner at The Stand Vegan Cafe 7 days a week.
Address: 85 Mill Plain Rd, Fairfield, CT
8. Organika Plant Based Kitchen – Southport
Organika Plant Based Kitchen is one more Connecticut vegan restaurant. You can find them in Southport, right off I-95.
The menu features plenty of vegetarian items like smoothies, juices, raw fruits, organic acai bowls, gluten-free pizzas, organic salads, organic sandwiches, and breakfast items. This is one of the restaurants that offers dine-in, takeout, and delivery.
Address: 3546 Post Rd, Southport, CT
9. Right Path Organic Cafe – New London
Right Path Organic Cafe is one of the Connecticut vegan restaurants in New London County. This award-winning vegan, vegetarian, and gluten-free restaurant features an expansive menu of rice bowls, wraps, salads, smoothies, and desserts.
The ingredients used in the dishes here are organic and non-GMO, so you know that you're eating high-quality food. Their ingredients are one of the reasons why this restaurant gets such great reviews online. Just know that they are closed on Sundays and Mondays.
Address: 147 Bank St, New London, CT
10. Lion's Den Vegetarian – Hartford
Lion's Den Vegetarian is one of the top vegetarian restaurants in Connecticut. The plant-based menu here offers a number of delicious options like tofu, chickpeas, veggie drumsticks, spring rolls, and veggie steaks.
The staff at Lion's Den is super friendly and the food is very affordable. Just be aware that they don't open on Sundays.
Address: 3347 Main St, Hartford, CT
11. Heirloom Food Company – Danielson
Heirloom Food Company is a vegetarian restaurant in CT located near the Rhode Island-Connecticut border. The chefs here pride themselves on using locally sourced organic ingredients that taste great.
Everything on the menu here is vegan (with the exception of the tuna wrap and turkey sandwich). You can order a number of baked goods, along with smoothies, salads, and sandwiches. Gluten-free options are available on the menu as well.
Address: 630 N Main St, Danielson, CT
12. Bloodroot – Bridgeport
Bloodroot is another one of Connecticut's vegan restaurants located in the southern part of the state. This casual vegan eatery uses local ingredients that change with the seasons.
A few of the dishes on the menu include vegan meatloaf, bloodroot burgers, organic tossed salad, and chocolate silk pudding. The restaurant also has a nice outdoor patio, along with a cool bookstore.
Address: 85 Ferris St, Bridgeport, CT
Other Good Vegan & Vegetarian Restaurants in CT
Aside from the restaurants already mentioned, there are plenty of other places to grab vegetarian and vegan food in CT. Here are a few of those restaurants:
Caribbean Style Vegan in New Haven
Shayna B's By The Sea in Westbrook
Catch A Healthy Habit Cafe in Fairfield
If you enjoy wine, Priam Vineyards is a great place to check out too. It's the only vegan-certified winery in Connecticut. I wrote more about Priam Vineyards in this article detailing the best wineries in CT.
Vegan Food CT – Final Thoughts
Those are CT's top vegan restaurants. Each restaurant has its own selection of unique dishes and flavors so I recommend trying them all. You can't go wrong with any plant-based restaurants in Connecticut.