Best Waterfront Restaurants in CT [Updated 2023]
If you're looking for a unique dining experience in Connecticut, you're going to want to eat at a waterfront restaurant. A meal at one of these spots comes standard with a gorgeous coastline or lakeside view.
Over the past few months, I've eaten at many of the most popular waterfront restaurants in the state. So after extensive taste tasting, I've determined that these are the best restaurants on the water in CT.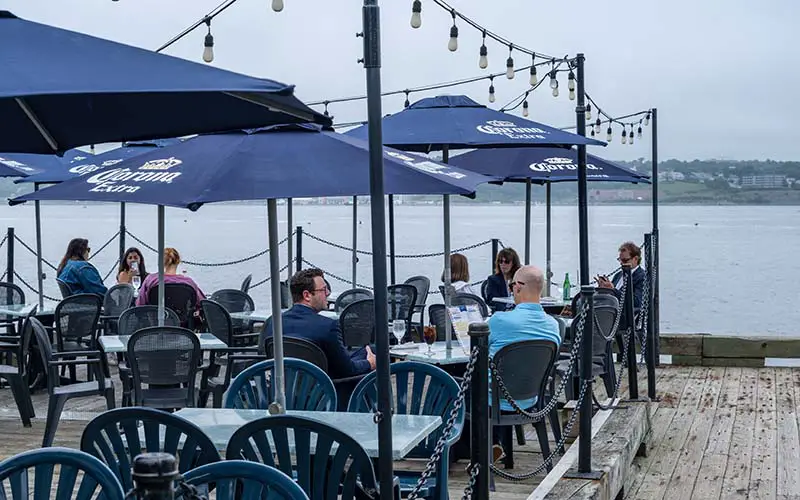 Top Waterfront Restaurants in Connecticut
1. On The Waterfront Restaurant – New London
On The Waterfront is a popular dockside restaurant in New London. This spot allows you to enjoy stunning views of the Thames River and the nearby marina while eating your meal.
They serve an array of seafood dishes, along with Italian specialties, like clams on the half shell, chicken parmigiano, baked cod, stuffed pork tenderloin, and lobster tacos.
On The Waterfront Restaurant has a full bar and an outdoor patio, however, the patio isn't open in the colder months.
Address: 250 Pequot Ave, New London, CT
2. Shell & Bones Oyster Bar & Grill – New Haven
Shell & Bones Oyster Bar & Grill is another one of the top waterfront restaurants in CT. This award-winning seafood restaurant overlooks New Haven harbor, offering breathtaking waterfront views.
You can order a wide range of dishes here, including butter-poached lobster tails, crab cakes, cooked salmon, shrimp cocktails, littleneck clams, and Alaskan black garlic cod.
There are non-seafood items available on the menu as well, like their Wagyu sirloin steak and pan-roasted chicken. This is one of the Connecticut restaurants that offer both indoor dining and outdoor dining on its seasonal deck.
Address: Shell & Bones Oyster Bar & Grill
3. The Mill on the River – South Windsor
If you're looking for waterfront dining in northern Connecticut, you're going to want to check out The Mill on the River. Located in South Windsor, this restaurant offers beautiful views of the waterfall at Vinton pond.
The CT restaurant serves a wide variety of dishes for lunch, dinner, and Sunday brunch. I highly recommend the pork chops, the ahi tuna, and the chicken parmesan.
The food at The Mill on the River is always top-notch, especially if you order off the 3-course dinner menu. On top of that, the atmosphere is service is amazing.
Address: 989 Ellington Rd, South Windsor, CT
4. Red 36 – Mystic
Red 36 is one of the many waterfront restaurants in Connecticut located in Mystic. This spot features open-air dining and an extensive menu of seafood and American classics.
Some of the dishes you can order include fried oysters, lobster carbonara, crab cakes, grilled salmon, flat-bread pizzas, burgers, and Ahi tuna poke bowls. There's a raw bar as well.
Dining on the waterfront deck is awesome in the summer. But in the winter, Red 36 also offers an intimate indoor dining experience with a fireplace.
Address: 2 Washington St, Mystic, CT
5. Abbott's Lobster In the Rough – Noank
Abbott's Lobster In the Rough is another seafood place located on the water. This restaurant is known for its giant lobster rolls, which have up to a pound of meat and are served with melted butter on a toasted bun.
In addition to lobster rolls, Abbott's serves other seafood dishes as well. The clams & oysters on the half shell, crab, shrimp, and mussels are all very popular items to order.
When dining here, I love walking out on the pier to watch the ocean while eating. Just be aware that this restaurant is seasonal, so they do close down in the winter.
Address: 117 Pearl St, Noank, CT
6. River: A Waterfront Restaurant and Bar – Wethersfield
River: A Waterfront Restaurant and Bar is an upscale steak and seafood joint. It's located in Wethersfield and has a large riverfront deck with scenic views of the Connecticut River.
The menu at River offers dishes like USDA prime steaks, house-made pastas, pork chops, lobster ravioli, and seafood linguini, along with wood-fired flatbreads and sandwiches.
The restaurant is also known for its excellent weekend brunch menu, plus its happy hour specials during the week.
Address: 100 Great Meadow Rd, Wethersfield, CT
7. Prime Stamford – Stamford
Prime is one of the best restaurants in Stamford, Connecticut. This American Kitchen and Bar overlooks Long Island Sound and the yacht club next door.
The restaurant has made a name for itself by serving high-end steak and seafood dishes with first-rate service. I highly recommend ordering the world-class sushi or USDA Prime dry-aged beef off the menu.
If you visit on Sunday, Prime also offers a special Sunday brunch menu which is just as good. You can order exotic dishes like lobster omelets, crab benedict, short ribs & eggs, and pastrami & lobster hash.
Address: 78 Southfield Ave, Stamford, CT
8. Harbor Lights – Norwalk
Harbor Lights is another great place for waterfront dining in Connecticut. The restaurant has both indoor and outdoor seating that overlooks Norwalk's harbor.
The menu mainly consists of Mediterranean-inspired seafood, like salmon, seafood risotto, clams, shrimp, and crab cakes. Everything is sourced from local vendors and made with the best ingredients. Even the desserts are made in-house by the pastry chef.
With the dining room offering fantastic sunset views over the water, Harbor Lights is the ultimate New England dining experience.
Address: 82 Seaview Ave, Norwalk, CT
9. Breakwater Restaurant – Stonington
Breakwater is an excellent seaside restaurant in Stonington. This modern waterfront space features more stunning sunset views out over Stonington Harbor.
The menu has a ton of seafood appetizers and entrees like steamed mussels, fried calamari, shrimp tacos, and swordfish kabobs. If you don't eat seafood, they have a few meat and vegetarian options too.
This is a great place to dine on the waterfront, but Breakwater Restaurant also offers its full menu to-go. However, they don't offer delivery.
Address: 66 Water St, Stonington, CT
10. S&P Oyster Restaurant and Bar – Mystic
S&P Oyster Restaurant and Bar is a popular waterfront restaurant that overlooks the Mystic River. This seafood spot is a local favorite since it sources all of its fish from regional vendors.
The menu here is huge and features fresh dishes like oysters, mussels, lobster, crab cakes, shrimp, yellowfin tuna, New England clam chowder, and salmon.
There are separate gluten-free and vegan menus as well. I highly recommend checking this place out, if you live in the area or are looking for a great seafood restaurant in CT.
Address: 1 Holmes St, Mystic, CT
11. Down The Hatch – Brookfield
Down The Hatch is a waterfront restaurant in Connecticut found in the Danbury area. Located beside Candlewood Lake, this place is famous for its outdoor lakeside dining area and delicious food.
You're able to order anything from chicken tenders, burgers, tacos, Philly cheese steaks, and shrimp to salads and turkey wraps. The entire menu is super affordable as well.
Most of the seating is focused on outdoor dining, but they have an indoor dining room too. Just be aware that the restaurant does close for the season once it gets cold in the winter.
Address: 292 Candlewood Lake Rd, Brookfield, CT
12. Guilford Mooring – Guilford
Guilford Mooring is a great place to dine on the Connecticut shoreline. Like many of Connecticut's other waterfront eateries, this spot offers a ton of seafood dishes.
Some of the more notable items on the menu include lobster rolls, pan-seared halibut, braised short ribs, salmon ramen, and chicken wings.
In addition to the restaurant, Guilford Mooring has an outdoor bar on the water. Dining here is always a treat.
Address: 505 Whitfield St, Guilford, CT
13. Rowayton Seafood Restaurant – Norwalk
Rowayton Seafood Restaurant is a waterfront restaurant in CT located in Norwalk. This family-owned eatery sources its seafood directly from the fish market next door, so all of the food is extremely fresh.
The menu is pretty extensive at Rowayton Seafood. Some of the notable items include shrimp cocktails, lobster bisque, roasted oysters, marinated cod, pan-seared halibut, and grilled line-caught swordfish.
If you decide to eat dinner here, I recommend trying their excellent cocktails and wine by the glass.
Address: 89 Rowayton Ave, Norwalk, CT
14. Carlson's Landing – Essex
Carlson's Landing less-known spot to grab food on the Connecticut River. The restaurant serves a variety of surf and turf dishes but the menu is mainly geared toward seafood.
You're able to order things like cod, clam chowder, mussels, swordfish, roasted chicken, and pulled pork sandwiches. There's also a raw bar that serves littleneck clams and shrimp cocktails.
You can visit Carlson's Landing in Essex, Connecticut. But if don't have time to dine in, the restaurant also allows you to order your food for both takeout and delivery.
Address: 63 Main St, Essex, CT
15. The Boathouse at Saugatuck – Westport, Connecticut
The Boathouse at Saugatuck is one more restaurant with a waterfront location in Connecticut. Located in Westport, this farm-to-table restaurant offers waterfront views of the Saugatuck River.
The menu here is a bit limited, but it does make it easier to decide what to order. The lobster ravioli, filet mignon, caviar, and black sea bass are the dishes that stuck out to me.
Whether you're having a few drinks or are dining in, this is a great restaurant to check out if you live in Fairfield County.
Address: 521 Riverside Ave, Westport, CT
Dining at Other Restaurants on the Water in CT
Aside from the places already mentioned, there are a few other solid restaurants on the water in CT. Here are a few of the other popular places to dine on the water in Connecticut:
The Wharf Restaurant in Madison
Stonebridge Restaurant in Milford
The Blue Oar in Haddam
Rocky's Aqua in Clinton
Waterfront Dining CT – Final Thoughts
Those are a few of the top CT waterfront restaurants. Most of them are located on the coastline, so diners living in the northern part of the state are going to have to travel a bit from their home.
Fortunately, there are a select few lake and river restaurants in the central part of the state, like The Mill on the River and Down The Hatch.