Water parks are a great way to beat the summer heat in Connecticut. That's why I visited all of the top water parks in CT to see which ones are the best.
In this article, I'll walk you through exactly what to expect at each water park, including ticket prices, season dates, and a complete list of rides. I'll also cover where each water park is located, so you can find the one closest to you.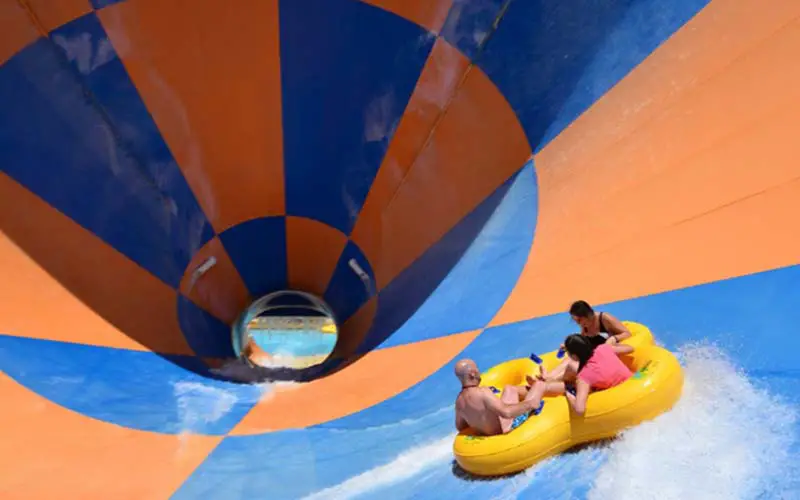 Top Outdoor Water Parks in Connecticut
1. Lake Compounce Theme Park
Connecticut's largest water park is located at Lake Compounce. The park, known as Crocodile Cove, features nearly a dozen water rides including a wide variety of slides, raft rides, and multiple wave pools. There are plenty of attractions for kids of all ages.
In addition to the water park, you also get access to the Lake Compounce amusement park when you purchase a ticket. Regular admission to the park costs $60 a person, but they also have season passes available starting at $99.
Location: 185 Enterprise Dr, Southington, CT
2. Quassy Amusement & Waterpark
Quassy Amusement & Waterpark is another popular water park in Connecticut. Located in Middlebury, this is the perfect spot to stay cool in the summer. The waterpark here, called Splash Away Bay, has a number of slide, raft, and tube rides, along with a giant water playground.
You can also head over to Lake Quassapaug, where you're able to play on the beach, or rent paddle boats to take out on the water. Many of the attractions here are geared toward smaller kids, so this is a great place to visit if you have a younger family.
Tickets cost $32 per person, but you can also pick up a season pass for $99.
Location: 2132 Middlebury Rd, Middlebury, CT
3. Brownstone Adventure Sports Park
Brownstone Adventure Sports Park is a popular waterpark in Portland. This Connecticut water park offers plenty of cool outdoor activities like ziplining, rock climbing, cliff jumping, wakeboarding, rope swinging, kayaking, paddle boarding, and swimming.
Plus, the park has a water obstacle course, which is perfect for smaller kids. Tickets cost between $40-$60 a person depending on what activities you want to do. Passes for the season start at around $200.
Location: 161 Brownstone Ave, Portland, CT
4. Ocean Beach Park
Ocean Beach Park is a less-known waterpark in CT. Located on the shoreline, this park has an Olympic-sized swimming pool, several water slides, and access to the beach. Plus, Ocean Beach Park doubles as an amusement park.
There are a handful of old-school carnival rides for the whole family to enjoy here, along with a mini-golf course, an arcade, and a playground.
Admission to the park costs $25 during the week and $30 on the weekend (you have to pay for parking as well). A season pass costs $140, but New London Residents can grab one for only $40.
Location: 98 Neptune Ave, New London, CT
5. Six Flags New England
Although not technically located in the state, Six Flags New England is only 5 minutes from the Connecticut-Massachusetts border. This park is huge and compares very favorably to the other Connecticut waterparks.
There are over 15 different water rides at the park, ranging from slides, water roller coasters, and raft rides. Prices for tickets are always changing, but a single-day pass is usually about $50.
A season pass to the park isn't that much more expensive, at around $75. That gives you access to both the theme park and the water park.
Location: 1623 Main St, Agawam, MA
Indoor Water Park in CT – CoCo Key Water Resort
There used to be an indoor water park in CT called Coco Key Water Resort, however, it closed a few years ago. The park was located in Waterbury and had a number of slides, a lazy river, and a huge water playground with splash buckets.
Since closing in 2015, no additional indoor water parks have opened in Connecticut.
Waterpark Season Dates – When are they open?
Every park has a different opening date, but most water parks in CT are open by late April or early May. The season is only 4-5 months long, so most parks are closed by September. The busiest months of the year are always June, July, and August as they are the hottest, and school is out.
Connecticut Water Parks – Final Thoughts
Those are the best outdoor water parks in and near the state of Connecticut. Every waterpark on this list has plenty of cool attractions and fun things to do, making them perfect for birthday parties. They also all have solid options for ordering food while at the park.
If you're looking for a park that also has amusement park rides, I recommend you check out this article about the top theme parks in CT. Theme parks typically have a longer season than waterparks, since water rides are usually closed by September.