Snowmobiling in CT (Rentals & Trails)
Snowmobiling is one of the most thrilling winter activities you can try in Connecticut. But, you can't just ride your snowmobile anywhere. The state has many rules about where you can and can't bring your snowmobile.
This guide will cover everything you need to know about snowmobiling in Connecticut, including where you can ride a snowmobile, where to rent a snowmobile, and the best places to buy snowmobiles.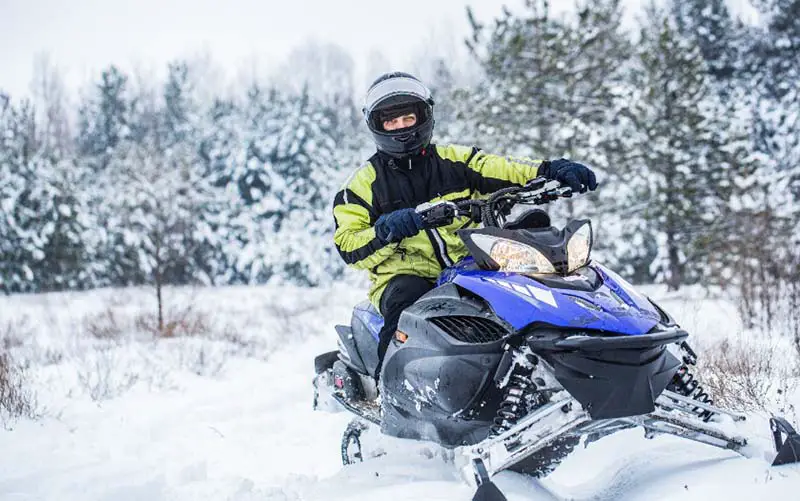 Snowmobiling Trails in Connecticut
There are a handful of state forests that allow snowmobiling in CT. These trails are the most popular places to go snowmobiling in the state:
American Legion State Forest in Barkhamsted
Cockaponset State Forest in Chester and Haddam
Housatonic State Forest in Sharon
Shenipsit State Forest in Stafford
Pootatuck State Forest in New Fairfield
Naugatuck State Forest in Beacon Falls
Mohawk State Forest in Cornwall
Natchaug State Forest in Eastford
Nipmuck State Forest in Union
Pachaug State Forest in Voluntown
Peoples State Forest in Barkhamsted
You can also ride your snowmobile in Connecticut if you have a large enough private property. However, most people opt to ride in the state forests since they don't have access to private land.
Connecticut Snowmobile Rules
In order to snowmobile in CT on public trails, there are a couple of rules you need to follow (these rules do not apply to private snowmobile trails). Here are a few of the rules you're going to want to be aware of:
The snowmobile hours on public lands are from 8 am to sunset.
There must be a minimum of 6 inches of snow to operate your snowmobile.
In order to operate a snowmobile, you must be over 16 and properly licensed.
Snowmobiles must be registered at the DMV and have the plate displayed on the vehicle.
There's a maximum speed limit of 20 mph (although this rule is followed very loosely).
You cannot ride a snowmobile on the road.
Snowmobile Rentals in CT
Snowmobiles aren't cheap, so snowmobile rentals are an excellent way to dip your toe into the sport to see if it's something you like. However, there aren't many places that will actually allow you to rent snowmobiles in CT.
If you want to rent a snowmobile, I recommend you head up to New Hampshire or Vermont. There are a couple of mountain resorts and lodges up there that will allow you to rent snowmobiles by the hour to ride on their trails. Here are a few of them:
Northern Extremes Snowmobile Rentals in New Hampshire
Stratton Adventures in Vermont
Ridge View Lodge in upstate New York
Some of these places offer guided tours as well if you're completely new to snowmobiling.
Where to Buy Snowmobiles in Connecticut
If you're looking to purchase a snowmobile, there are a few really good dealers in Connecticut. Here are some of the top places to buy a snowmobile.
Scranton Powersports – Vernon, CT
Scranton Powersports is a family-owned snowmobile dealer in Vernon. They primarily carry two snowmobile brands, Ski-Doo and Polaris, in a ton of different models and variations. Scranton offers both new and used inventory, plus they have financing options available.
This is a full-service dealership, so they're able to service your snowmobile as well. Aside from snowmobiles, they also sell a variety of off-road vehicles, like ATVs, Side X Side, Slingshots, watercraft, dirtbikes, and motorcycles. You can buy a trailer here too, so you can transport your new toys.
Location: 713 Talcottville Rd, Vernon, CT
Land N' Sea PowerSports – Waterbury, CT
Land N' Sea PowerSports is a highly-rated snowmobile dealer in Waterbury. Like Scranton, they carry two main snowmobile brands Polaris and Ski-Doo. The staff here is very knowledgeable and can give you all the information you need about a particular snowmobile.
They're also authorized dealers of Can-Am, Kawasaki, Sea-Doo, and Triton Trailers, so they service and offer other sporting equipment as well. If Land N' Sea PowerSports doesn't have the snowmobile you want in stock, they'll order it for you.
Location: 2974 E Main St, Waterbury, CT
Snowmobile CT – Final Thoughts
The best places to ride your snowmobile in Connecticut are the public forests. However, private lands can be just as fun to ride if you have access to them.
If you're completely new to snowmobiling, I recommend that you rack up a couple of miles on the trail before making a purchase. On average, a snowmobile costs about $15,000, so it's best to rent one before buying.
Snowmobiling isn't the only winter sport in Connecticut. There are also some great places to ice skate and ski in CT.