Best Places for Snow Tubing in CT [2023 Update]
Most people think of skiing and snowboarding as the main snow sports in Connecticut, but tubing is becoming more popular every year. Fortunately, the state has plenty of hills and mountains that are perfect for tubing.
That's why we recently went out of our way to find the best places to go snow tubing in CT. So without further ado, these are the top tubing parks in Connecticut for this upcoming winter.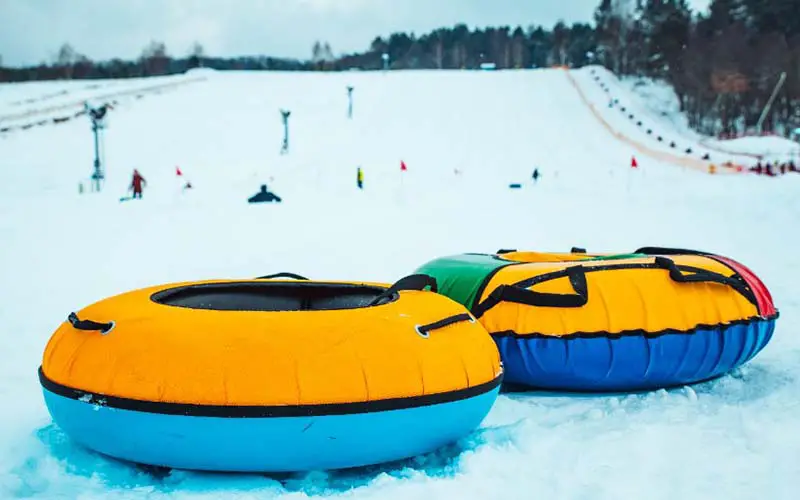 Snow Tubing in Connecticut
Mohawk Mountain Ski Area
Not only is Mohawk Mountain Ski Area a great place to go skiing in CT, but it also has a tubing section. The tube runs are pretty long, plus they have a conveyor belt system that takes you back to the top of the hill so you don't have to walk.
Tubing sessions are held on Fridays, Saturdays, and Sundays, and they cost $38 (each session lasts 1 hour and 45 minutes). Just know that you can't bring your own tubes. Also, kids must be at least 42 inches tall to participate.
Location: 46 Great Hollow Rd, Cornwall, CT
Powder Ridge Mountain Park & Resort
Powder Ridge Mountain Park & Resort is another one of the Connecticut ski resorts that offers snow tubing. Similar to Mohawk Mountain, the slopes are relatively long and they have a conveyor belt system.
Tubing here costs $24 for two hours, and the resort provides all tubes and helmets for rides. Due to its low prices, Powder Ridge is one of the best places to go tubing in Connecticut. The snow tubing park is open on Friday, Saturday, and Sunday.
Location: 99 Powder Hill Rd, Middlefield, CT
Where to go Snow Tubing Near CT
There are only two official places to go snow tubing in Connecticut, but there are a handful of other places that offer it right over the CT border. In fact, these other mountains and hills may be closer to you depending on what part of the state you live in.
Butternut Ski Area and Tubing Center
Butternut Ski Area and Tubing Center is a popular tubing place in Massachusetts, located about 20 minutes from northern Connecticut. They have a good-sized tubing hill with 11 lanes and affordable pricing.
It costs $28 to go tubing on Friday nights (4 pm to 8 pm) and $33 to go tubing on Saturday and Sunday. Tickets are for 2-hour time slots and include tube rentals. Ski Butternut also uses snow machines at its tubing area to make sure there is snow on the trail all season.
Location: 380 State Rd, Great Barrington, MA
Campgaw Mountain
Campgaw Mountain is an excellent place to go snow tubing if you live in southern Connecticut. The mountain is located in Mahwah NJ, which is about an hour's drive from Stamford.
They have different trails with varying levels of steepness, along with a surface lift. Tickets at Campgaw Mountain cost between $29 and $34 for two hours, depending on what day of the week you go. This is one of the few tubing mountains that's open 7 days a week.
Location: 200 Campgaw Rd, Mahwah, NJ
Yawgoo Valley Ski Area & Water Park
Yawgoo Valley Ski Area is a great place for tubing in the winter if you live in eastern Connecticut. The park is located in Rhode Island, making it the closest ski area for residents of New London County.
The snow tubing park here has about half a dozen tube runs. The slopes are decently large and allow you to pick up a good amount of speed, making it perfect for tubers of any age. Tickets cost $30 for a 90-minute session, and they are open on Fridays, Saturdays, and Sundays.
Location: 160 Yawgoo Valley Rd, Exeter, RI
Hunter Mountain Resort
Hunter Mountain Resort is another fantastic spot for tubing if you live in northeastern CT. The mountain is located across the border in New York but has a 1,000-foot-long tube area that's a ton of fun for the whole family.
Hunter Mountain's tubing area is open on Friday, Saturday, and Sunday at different times throughout the day. Tickets are for 2-hour sessions, and cost $25 for a standard tube or $35 for a double-sized tube.
Location: 64 Klein Ave, Hunter, NY 
Other Small Tubing Hills
Aside from the official snow tubing spots, there are plenty of other places to ride your own tube in CT. Almost every town in Connecticut has a big hill in the local park where you can go snowtubing for free.
There are too many snow tube spots in the state to list all of them here, but these are some of the more notable tubing locations:
Foss Hill in Middletown
Wickham Park in Manchester
Beardsley Park in Bridgeport
For more, check out this list of the best places to go sledding in CT.
Snow Tubing CT – Final Thoughts
There's no doubt about it, riding in a tube is a great alternative to skiing or snowboarding, especially for younger kids. But, even with tubing becoming more popular throughout New England, sledding is still fun too.
If you're reading this during the summer, check out our article about river tubing in Connecticut.