Best Places to Order Smoothies in CT
Drinking smoothies is a great way to maintain a healthy diet without sacrificing taste. But which juice bars serve the best smoothies in Connecticut? I decided to find out.
After ordering smoothies from all of the most popular juice bars in the state, I finally have the answer. These are the best places to order smoothies in CT.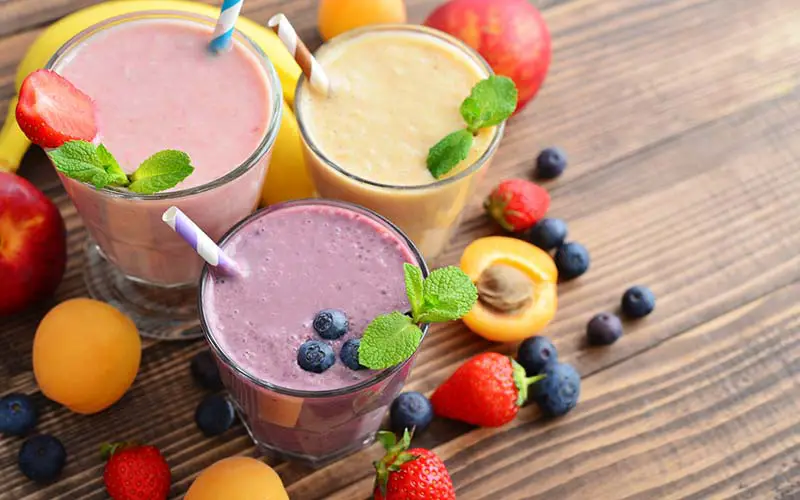 Top Smoothies in Connecticut
1. Catch A Healthy Habit Cafe – Fairfield
Catch A Healthy Habit Cafe is one of the top places to grab a smoothie in Connecticut. The restaurant has been in business for over 10 years, using fresh organic vegan ingredients in its dishes.
You can order a range of delicious juices, smoothies, and small health-focused plates with flavor packed into every bite. They have over 20 flavors of smoothies available including banana boat, tiramisu, and chocolate-covered strawberry.
You're able to sit down with your smoothie in the cafe, but you can also order your drink for takeout or delivery.
Address: 39 Unquowa Rd, Fairfield, CT
2. Green & Tonic – Multiple Locations
Green & Tonic is one of Connecticut's smoothie & juice bars with multiple locations throughout the state. They have restaurants in Greenwich, Westport, New Canaan, and Fairfield.
This smoothie and juice bar allows you to build your own acai bowls, smoothie bowls, and superfood smoothies. Every bowl and drink has a list of nutrients as well, so you can track your calories.
I love that Green & Tonic allows you to add ingredients to your smoothie, like protein, immunity boosters, and antioxidants. Plus, they offer meal plans and cleanse plans as well.
Address: 665 Commerce Dr. Unit G, Fairfield, CT
3. The Juice Box – New Haven
The Juice Box is a great place to grab a smoothie in New Haven. This juice shop is known for its cold-pressed juices, smoothies, acai bowls, and coffee.
There is a wide range of citrus fruits, greens, roots, and milks on the menu to choose from and add to your drink.
I always enjoy ordering their tropical smoothie made from watermelon, strawberry, blueberry, and raspberry. The avocado toast is really good as well.
Address: 1092 Chapel St, New Haven, CT 
4. Wild Alchemy Cafe – Wallingford
Wild Alchemy Cafe is another great place to order a smoothie in CT. They offer a range of juices, protein smoothies, boosted smoothies, smoothie bowls, and snacks.
There are a ton of tasty smoothies on the menu, but I usually order the Pineapple Express smoothie, which is made from a blend of fresh fruits like pineapple, orange, banana, coconut water, and ginger.
If you're into juices, the Root Juice drink with lemon, carrots, beets, garlic, apples, and ginger is worth a try as well. Most of the menu here is dairy-free and refined sugar-free.
Address: 600 N Colony Rd, Wallingford, CT
5. Smoothville Smoothies – Enfield
Smoothville Smoothies is an excellent place to order smoothies, acai bowls, yonana bowls, chia pudding, overnight oats, and teas in Enfield, Connecticut.
This smoothie cafe caters to a wide range of diets, including vegan, vegetarian, keto, dairy-free, gluten-free, and nut-free. They have a very extensive menu.
I like to order the Almond Pleasure, which includes chocolate almond milk, vanilla yogurt, coconut flakes, chocolate chips, condensed milk, oats, and banana. The Blue Mango Iced Tea is delicious as well.
Address: 310 Hazard Ave, Enfield, CT
6. Juiced Up Juice Bar – Hartford
Juiced Up Juice Bar is a great place to grab a Connecticut smoothie in Hartford. They have been serving all-natural and nutritious juices and foods for 15 years, so you know that the smoothies are good.
The juice shop specializes in healthy fruit smoothies and fruit & vegetable blended juices, along with other healthy desserts like fruit salads.
Everything on the menu is affordable, plus you can order your meal through Uber Eats.
Address: 231 Asylum St, Hartford, CT
7. Smoothie King – Multiple Locations
Smoothie King is another smoothie cafe in Connecticut with multiple storefronts. You can visit them in Branford, Orange, Newington, Wallingford, and Waterford.
The smoothies here are super healthy since they're made with whole fruits and organic veggies.
I particularly enjoy their Yogurt D-Lite smoothie, which includes ingredients like nonfat milk, turbinado (natural brown sugar), dairy whey blend, and vanilla frozen yogurt.
Address: 3117-A Berlin Turnpike, Newington, CT
8. Right Path Organic Cafe – New London, CT
Right Path Organic Cafe is one more spot to grab a CT smoothie. Located in New London, this award-winning vegan, vegetarian, and gluten-free restaurant features an expansive menu of rice bowls, wraps, salads, smoothies, and desserts.
The ingredients used in the dishes here are organic and non-GMO, so you know that you're eating high-quality food.
Some of the types of foods you can put into your smoothie at the cafe include almond milk, coconut water, bananas, strawberries, blueberries, apples, vanilla, maca, and kale to name a few.
Location: 147 Bank St, New London, CT
Smoothie & Juice Bars in Connecticut – Final Thoughts
Those are a few of the top places to order smoothies in Connecticut. Whether you like acai, almond butter, spinach, bananas, or any other ingredient in your smoothie, you'll find exactly what you're looking for at these restaurants.
If you're looking for something with a little bit more sugar, you may also want to check out these articles about where to get milkshakes and bowls of ice cream in CT.