Sledding in CT – 15 Best Sledding Hills in Connecticut
Whether you have a snow tube or a good old-fashioned sled, you're going to need to find a decent-sized hill to have the most fun. Fortunately, Connecticut has plenty of sledding hills.
But, sometimes it can be difficult to find a sledding hill near your home. That's why we decided to put together this list of the best places to go sledding in CT. We included the best hills from a variety of towns throughout the state.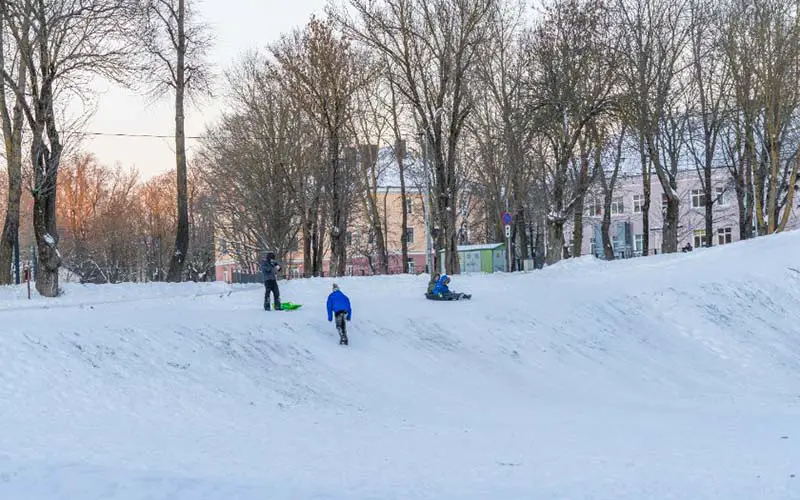 Best Places to go Sledding in Connecticut
1. Wickham Park – Manchester
Wickham Park is a 280-acre park found in Manchester, Connecticut. This is an excellent park for sledding, as you'll see plenty of families gather on the hills here every time it snows.
Location: 1329 Middle Turnpike W, Manchester, CT
2. Elizabeth Park – West Hartford
Elizabeth Park is a fantastic place to sled in CT. This 100-acre park on the West Hartford-Hartford border has a couple of sledding hills, and plenty of open space to enjoy your snow day.
Location: 1561 Asylum Ave, West Hartford, CT
3. Goodwin Park Golf Course – Hartford
Goodwin Park Golf Course is a great place to go sledding in Hartford, CT. This place has some steep hills and a good amount of open space (just look out for some of the trees). The annual Holiday Light Fantasia is also hosted here.
Location: 1130 Maple Ave, Hartford, CT
4. Page Park – Bristol
Page Park is a beautiful park in Bristol that features a good-sized snow sledding hill, and a lot of open space. You can find the hill near the parking lot off Dewitt Page Park Road.
Location: 651 King Street, Bristol, CT
5. Edgerton Park – New Haven
Edgerton Park is another popular place to go sledding in Connecticut. Located in New Haven, the park has a few really nice hills that are perfect for both traditional sleds and tubes.
Location: 75 Cliff St, New Haven, CT
6. Major Besse Park – Torrington
Major Besse Park is an awesome spot to sled in Torrington. Local sledders love this place because of the massive sledding hill found behind the baseball field. Just know that the town only allows sledding when the "Sledding Hill Open" sign is up.
Major Besse Park has an ice skating rink as well. If you're looking for a nearby spot to go ice skating in CT, check out this article.
Location: 755 Riverside Ave, Torrington, CT
7. Beardsley Park in Bridgeport
Beardsley Park in Bridgeport is another top place to sled in Connecticut this winter. The rolling hills here have varying levels of steepness and height, making it the perfect spot to take your kids out to play in the snow.
Location: 3102 E Main St #100, Bridgeport, CT
8. Nelson's Field – Bristol
Nelson's Field is one more place to sled near Bristol, Connecticut. There's more than enough open space in this park to go sledding or snow tubing. I've even seen people build small jumps on the hills. The park is open from dawn until dusk for sledding and all winter activities.
Location: 510 Maple Ave, Bristol, CT
9. Foss Hill – Middletown
Foss Hill is a great place to take your sleds and snow tubes in Middletown when school is closed for a snow day. There's one big hill in the park, where you can get some speed.
Location: 18 Foss Hill Dr, Middletown, CT
10. Linnet Park – Ansonia
Linnet Park has one of the most popular sledding hills in CT. This winter playground in Ansonia is one of the best places for riding sleds, tubes, and toboggans in the area. You'll find local kids and grown-ups alike enjoying the snow here.
Location: 134 N State St, Ansonia, CT
11. Sturges Park – Fairfield
Sturges Park is a fun place to go sledding with your family in Fairfield, Connecticut. The giant snow-covered hill offers an amazing opportunity to pick up some serious speed on your sled. If you live in the Fairfield area, I highly recommend that you check out Sturges Park this winter.
Location: 550 Mill Plain Road, Fairfield, CT
12. Henry Park – Vernon
Henry Park is a terrific place to sled if you live in the Vernon area. The park has a big hill that's perfect for sledding. Lights were put in a couple of years back, so you can now sled late into the evening. You can find parking in the cul-de-sac near the top of the hill.
Location: 120 South St, Vernon, CT
13. Richter Park Golf Course – Danbury
Sledding at Richter Park Golf Course is a ton of fun for the whole family. The golf course allows kids to sled in the winter on one of the hills across the street from the clubhouse.
Location: 100 Aunt Hack Rd, Danbury, CT
14. Powder Ridge Mountain Park & Resort – Middlefield
Powder Ridge Mountain Park & Resort also has a popular tubing hill. It's not free like the other sledding places mentioned on this list, but at $24, it's not too expensive.
The benefit of tubing at Powder Ridge is that they have one of the biggest sledding hills in the state. Just know, it's only open on Friday, Saturday, and Sunday, and it's for tubes only.
Location: 99 Powder Hill Rd, Middlefield, CT
15. Mohawk Mountain Ski Area – Cornwall
Mohawk Mountain Ski Area is another place to go tubing in Connecticut (no traditional sleds). The tube slopes are super long, and they have a conveyor belt system that takes you back to the top of the hill so you don't have to walk.
It costs $38 to sled here and the park supplies you with a tube (you can't bring your own). Also, kids must be at least 42 inches tall to participate, so this might not be the best sledding park for younger kids.
Location: 46 Great Hollow Rd, Cornwall, CT
Sledding CT – Final Thoughts
New England is beautiful in the winter, so take advantage of all the snow days you can get. Whether you're sledding, tubing, or skiing in Connecticut, we can all agree winter is the best time of year.