Best Seafood Restaurants in CT [Updated 2023]
As a coastline state, Connecticut is known for its high-quality seafood. But with so many restaurants available, it can be difficult to decide where to eat.
That's why I decide to try out all of the most popular seafood restaurants in Connecticut to see which ones are the best. So without further ado, these are the best places to eat seafood in CT.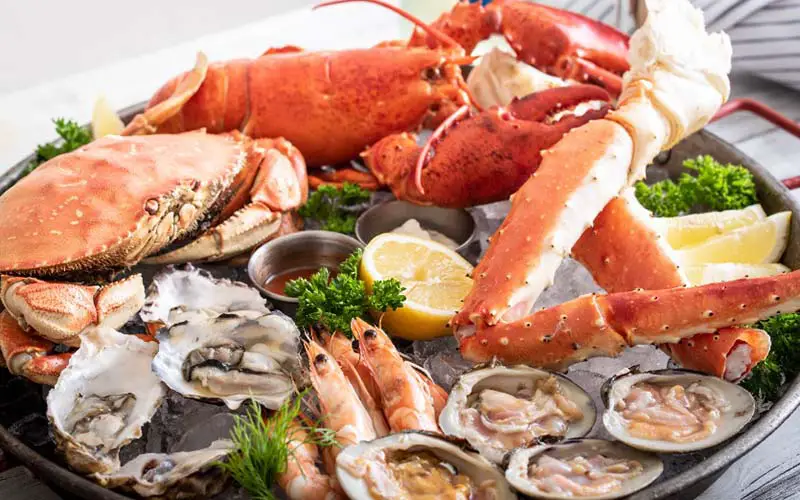 Top Seafood Restaurants in Connecticut
1. S&P Oyster Restaurant and Bar – Mystic
S&P Oyster Restaurant and Bar is one of the best seafood restaurants in CT. This high-end restaurant sources all of its seafood from local vendors, so the food travels directly from the boat to your plate.
The menu features fresh fish like oysters, mussels, lobster, colossal shrimp, yellowfin tuna, crab cakes, and salmon. Plus, there are separate gluten-free and vegan menus as well. I highly recommend checking this place out, especially since you can enjoy waterfront views while you're dining.
Location: 1 Holmes St, Mystic, CT
2. Stowe's Seafood – West Haven
Stowe's Seafood is one of Connecticut's top seafood spots in the greater New Haven area. This seafood shack is more affordable than S&P Oyster Restaurant and Bar, but the food is arguably just as good.
You can order dishes like lobster rolls, hot chowder, shrimp, haddock, cod, scallops, tilapia, clams, squid, and swordfish. Stowe's Seafood is open year-round, however, they don't have indoor seating. Just be aware of that if you visit during the winter.
Location: 347 Beach St, West Haven, CT
3. Max's Oyster Bar – West Hartford
Max's Oyster Bar is a great place to order seafood in West Hartford. They have both indoor and outdoor dining, along with a solid menu of seafood classics.
The dinner menu offers dishes like grilled octopus, lobster, salmon, and Ahi tuna, while the lunch menu features foods like New England clam chowder, calamari, and steamed mussels. This is certainly one of the better seafood restaurants in the northern part of the state.
Location: 964 Farmington Ave, West Hartford, CT
4. Rowayton Seafood Restaurant and Market – Norwalk
Rowayton Seafood Restaurant and Market is a popular seafood restaurant in CT. Located in Norwalk, this modern, family-owned eatery sources its seafood directly from the fish market next door, so you know that it's fresh.
The menu is pretty extensive, but some of the notable items include shrimp cocktails, roasted oysters, marinated cod, lobster bisque, pan-seared halibut, and grilled line-caught swordfish. They serve excellent cocktails and wine by the glass as well.
Location: 89 Rowayton Ave, Norwalk, CT 
5. Bill's Seafood Restaurant – Westbrook
Bill's Seafood Restaurant is located near the marinas in Westport. This is another seafood shack that offers a variety of seafood dishes, including clams, sea scallops, shrimp, salmon, cod, swordfish, and lobster.
I highly recommend you order their boiled Maine lobster entree which comes with 1.25 pounds of delicious lobster meat. If you have people in your party that don't like fish, they have non-seafood options available as well.
Location: 548 Boston Post Rd, Westbrook, CT
6. Lenny & Joe's – Madison
Lenny & Joe's is a highly-reviewed seafood spot with locations in Madison and Westbrook. They are known for their fresh seafood, great service, reasonable prices, and generous portion sizes.
The restaurant serves a wide range of seafood appetizers, entrees, and sides including shrimp, crab, cod, bluefish, tuna, salmon, and swordfish. Lenny & Joe's also makes one of CT's best lobster rolls, which is why it's one of the most popular places to grab seafood in Connecticut.
Location: 1301 Boston Post Rd, Madison, CT
7. Oyster Club – Mystic
Oyster Club is a highly-rated Connecticut seafood restaurant found in Mystic. This fine-dining restaurant serves fresh, boat-to-table seafood with unmatched quality and taste.
The menu is very simple, which makes it easy to decide what to order. Some of the featured dishes include littleneck clams, roasted oysters, swordfish, smoked whitefish, and mussels.
Location: 13 Water St, Mystic, CT
8. U.S.S. Chowder Pot III – Branford
U.S.S. Chowder Pot is an award-winning seafood restaurant with locations in Hartford and Branford, Connecticut.
The restaurant's menu offers dishes like fried calamari, shrimp cocktails, lobster, tilapia, North Atlantic salmon, and clam chowder. I highly recommend the lobster mac & cheese as well. The service at the U.S.S. Chowder Pot is always fast, and the staff is super friendly.
Location: 560 E Main St, Branford, CT
9. Ford's Lobsters – Noank
Ford's Lobsters is an excellent seafood restaurant that specializes in lobster dishes. You can order a range of sandwiches, soups, and entrees, including lobster rolls, lobster mac & cheese, lobster BLTs, and lobster bisque, to name a few.
Cod, salmon, shrimp, clams, and fish tacos are also available on the menu. After you order your food, you have the choice of dining inside or eating on the outdoor patio. Ford's Lobsters offers takeout too, but no delivery.
Location: 15 Riverview Ave, Noank, CT
10. Maine Fish Market Restaurant – East Windsor
Maine Fish Market Restaurant is a traditional seafood restaurant found in northern Connecticut. Some of the seafood dishes available on the menu include shrimp cocktails, stuffed salmon, boiled lobster, Alaskan king crab legs, and fried haddock.
Aside from dining in, this is one of the restaurants that allow you to purchase fresh seafood to cook at home. They sell live lobsters, oysters, crab legs, salmon, steamers, swordfish, calamari, and shrimp by the pound.
Location: 60 Bridge St, East Windsor, CT
11. The Mariner – Mystic
The Mariner is another seafood restaurant in Connecticut found in Mystic. Since there are so many great restaurants in Mystic, this place is often looked over, but that is a mistake.
The lunch and dinner menu is very basic, featuring seafood options like baked clams, crab cakes, steamed mussels, lobster rolls, New England clam chowder, and shrimp. They also offer a local catch special, which is determined by the chef daily.
Location: 21 W Main St, Mystic, CT
12. Abbott's Lobster In the Rough – Noank
Abbott's Lobster In the Rough is another seafood place that puts a heavy emphasis on lobster. The menu offers giant lobster rolls that have up to a pound of meat and are served with melted butter on a toasted bun.
Although lobster is the specialty here, Abbott's is known for its other seafood dishes as well. The clams & oysters on the half shell, crab, shrimp, and mussels are all very popular. Just be aware that this is one of the seafood spots that close down in the winter.
Location: 117 Pearl St, Noank, CT 
Other Excellent Seafood Restaurants in CT
There are so many great places to get seafood in Connecticut, that it's difficult to list them all. But here are a few honorable mentions:
Supreme Seafood Restaurant in North Branford
Elmo's Dockside in Vernon
Westville Seafood in New Haven
Sea Swirl in Mystic (seasonal)
Saybrook Fish House in Canton
Lucas Local Oyster Bar in Southbury
Best Seafood CT – Final Thoughts
Those are the best restaurants in Connecticut if you want seafood. Regardless of which seafood restaurant you're dining at, I recommend making reservations in advance. A reservation will reduce wait times and make for a better dining experience.