RV Parks in CT – 12 Best Spots to Camp with an RV in Connecticut
Connecticut has a ton of great campgrounds, but not all of them can accommodate RVs. That's why I recently did some research to find all of the top RV parks in the state.
In this article, I'll give you an in-depth review of the most popular RV parks in Connecticut, including the amenities offered, the nearby attractions, and the price point for each park. So without further ado, these are the best RV parks in CT.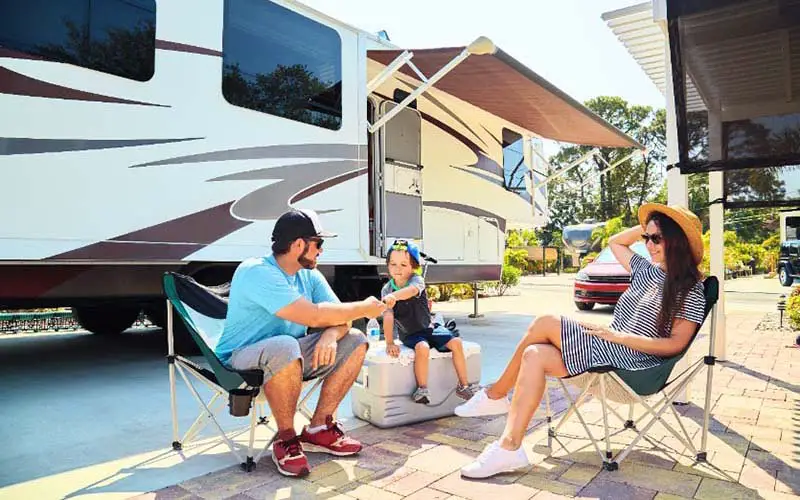 Top RV Parks in Connecticut
1. Salem Farms Campground – Salem
Salem Farms Campground is a top RV park in Connecticut. They have a ton of 30 and 50-amp hookups for RVs, along with free cable TV, laundry facilities, and showers.
There are plenty of fun things to do at this campground including swimming, mini-golf, hiking, basketball, tennis, bingo, ping-pong, fishing, and movies. The daily RV rate at the park is $175, but you can get a deal by staying for at least a week ($975).
Location: 39 Alexander Rd, Salem, CT
2. Sun Outdoors RV Resort – Mystic
Sun Outdoors RV Resort is a great RV park in Mystic, Connecticut. The spacious RV campsites here start at around $60/night and include hookups, cable, Wi-Fi, a picnic table, and a fire pit. Plus, there are a ton of top-notch amenities at the park including fishing, volleyball, basketball, a game room, a heated swimming pool, a mini-golf course, and a fitness center.
In addition to the on-site activities, Sun Outdoors RV Resort is also close to Mystic Seaport and the Mystic Aquarium. The campground is also within a 30-minute drive of Foxwoods Resort Casino and Mohegan Sun.
Location: 45 Campground Rd, Old Mystic, CT
3. Strawberry Park Resort Campground – Preston
Strawberry Park Resort Campground is another fantastic RV park in CT. The 70-acre campground has over 320 RV sites, many of which are pet-friendly. Plus, the location of the park is perfect, giving you quick access to beaches, casinos, and Providence, RI.
Rentals cost roughly between $80 to $200 a night depending on the size of your rig and when you decide to visit. Not only can your rent RV sites here, but they also allow you to purchase your own RV pad.
Location: 42 Pierce Rd, Preston, CT 
4. Brialee Family Campground – Ashford
Brialee Family Campground is one of the better RV parks in Windham County, CT. This full-service park has sites for trailers and motorhomes of all sizes, along with sites for tents and cabin rentals.
The park is very kid-friendly featuring activities like swimming, boating, fishing, sports, crafts, and festivals. This is a seasonal RV park so they are only open from April until October.
Location: 174 Laurel Ln, Ashford, CT
5. Aces High RV Park – East Lyme
Aces High RV Park is one of Connecticut's RV parks found near the shoreline. The campsites at the park are decently large, so they can accommodate RVs of all sizes.
The facility has good amenities including clean bathrooms and laundry rooms, and the property is beautifully manicured as well. If you're looking for an affordable year-round RV rental, I highly recommend you check them out.
Location: 301 Chesterfield Rd, East Lyme, CT
6. Wilderness Lake Campground & RV Resort – Willington
Wilderness Lake is an inclusive RV park, campground, and recreational area located in Willington. This is one of the parks in the state that sits on over 100 acres, so the campground is quite large. The rates are super affordable as well, with nightly rates costing $65 and monthly rates costing only $900.
Wilderness Lake Campground & Resort has tons of attractions for the whole family, like swimming, boating in the lake, hiking, horseshoe pits, volleyball courts, a game room, and a playground for kids. This is one of the best RV parks for both overnight camping and longer-term stays.
Location: 150 Village Hill Rd, Willington, CT
7. Riverdale Farm Campsite – Clinton
Riverdale Farm Campsite is a great place for family camping in south-central Connecticut. The park offers spacious sites in wooded, waterfront, and grassy areas so you're rig will fit regardless of the size of your RV.
Both 30 and 50-amp RV sites start around $50/night, but the campground also offers weekly rates for around $300. The season at this spot starts in spring and offers campers amenities like swimming, basketball, shuffleboard, horseshoe pits, an arcade, a large recreation hall, Wi-Fi access, and hot showers.
Location: 111 River Rd, Clinton, CT
8. Cozy Hills Campground – Bantam
Cozy Hills Campground is one of the Connecticut RV parks in Litchfield County. This family-friendly campground gets excellent reviews online because they offer themed activities 7 days a week during the summer.
Some of the attractions and amenities here include a swimming pool, kayaking, fishing, a climbing wall, laser tag, archery, a dog park, playgrounds, a sports field, free Wi-Fi, and clean restrooms with showers. The prices are also very affordable starting at around $70 a night for an RV. Weekly and monthly prices are also available a the park.
Location: 1311 Bantam Rd, Bantam, CT
9. Mystic KOA Holiday – North Stonington
The Mystic KOA Holiday is another place to bring your RV in Connecticut. The campsites at the park are big-rig friendly, plus their RV prices won't break the bank.
Some of the park amenities include full hookups, Wi-Fi, cable TV, propane, firewood, a pool (seasonal), fishing, mini-golf, a dog park, a playground, outdoor movies, and hayrides.
Location: 118 Pendleton Hill Rd, North Stonington, CT
10. Witch Meadow Lake Campground – Salem
Witch Meadow Lake Campground is an RV paradise in Salem. The park spans over 140 acres, including a massive 14-acre lake. There's a ton to do here like swimming, boating, fishing, and hiking. There's also an adult lounge and courts for sports like basketball, tennis, volleyball, and softball.
Nightly rates at the park start at $65 for an RV, but there are also weekly and monthly rates available if you're camping for longer.
Location: 139 Witch Meadow Rd, Salem, CT
11. Nelson's Family Campground – East Hampton
Nelson's Family Campground is a popular Connecticut RV park and campground in East Hampton. The campsites here are spacious and the park comes equipped with amenities like RV hookups, free Wi-Fi, restrooms, showers, a propane station, laundry facilities, and a dump station.
This park has plenty of attractions for families, including an outdoor pool, a kid's playground, a fishing pond, an arcade, hiking trails, basketball courts, volleyball courts, bocce ball, and horseshoes.
Location: 71 Mott Hill Rd, East Hampton, CT
12. Hidden Acres Family Campground – Preston, CT
Hidden Acres Family Campground is one more park that welcomes RVs in the southeastern part of the state. The park has plenty of amenities like a swimming pool, a playground, fishing, an animal farm, bingo, field sports, volleyball, basketball, and horseshoes.
Daily rates at the park range from $65 to $90 depending on which RV hookups you want. They also have reasonable weekly and monthly RV rates as well.
Location: 47 River Rd, Preston, CT, United States
Other Campsites for RVs in CT
Aside from the RV parks already mentioned, there are other great places to take your RV in Connecticut. Here are a few other notable places where you can bring your RV:
Charlie Brown Campground in Eastford
Countryside RV Park in Jewett City
The Quarry Campground & RV Park in Tolland
Connecticut RV Parks – Final Thoughts
These are the best parks to bring your RV in CT. Whether you're looking for a weekend getaway or longer-term accommodation, I'm confident at least one of these parks will meet your needs.