Rooftop Restaurants in CT – Best Rooftop Dining in Connecticut
Why not enjoy a nice skyline view while eating your food? Well, if you make a reservation at one of these rooftop restaurants in Connecticut, you can.
We rounded up a list of all the most popular rooftop eateries from across the state. Here are our picks for top rooftop restaurants in CT.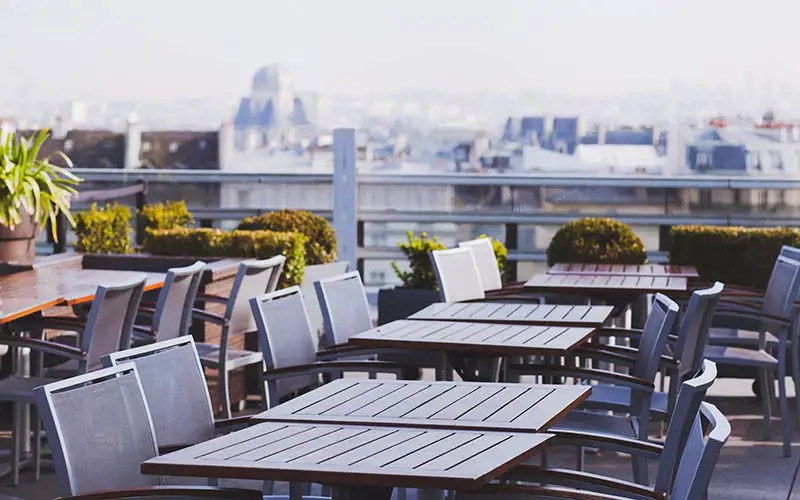 Top Rooftop Restaurants in Connecticut
1. Rooftop 120 – Glastonbury, CT
Rooftop 120 is a great rooftop restaurant in Connecticut. Located in Glastonbury, this spot has a cool rooftop lounge with fire pits, so they're able to offer outdoor dining year-round.
The menu at Rooftop 120 features dishes like steak & fries, burgers, buffalo chicken wraps, wings, and kale salad. It's mostly just small plates and appetizers, but the food is delicious here.
Aside from the restaurant, this place is also known for its bar, which features a variety of seasonal cocktails, live entertainment, and happy hour specials.
Location: 120 Hebron Ave, Glastonbury, CT 
2. Sign of the Whale – Stamford, Connecticut
Sign of the Whale is a fantastic place to eat in Stamford. They serve a wide range of comfort foods and cocktails on their rooftop patio.
This is one of my favorite places to order brunch in Stamford, but Sign of the Whale also has a dinner menu with items like calamari, burgers, tacos, and pizza.
The outdoor seating is great, but there's an indoor dining room as well for the colder months.
Location: 6 Hbr Pt Rd, Stamford, CT
3. Cava – Southington, CT
Cava is another outstanding rooftop restaurant in Connecticut. This Italian eatery is one of the more popular fine dining restaurants in CT.
The menu features dishes like filet mignon, king crab legs, chicken parmigiana, and Maine lobster ravioli. Plus, the restaurant's wine cellar carries more than 200 different selections of high-quality wines from around the world.
If you're able to grab a table on the rooftop patio, I highly recommend you do.
Location: 1615 West St, Southington, CT
4. Elm City Social – New Haven, Connecticut
Elm City Social is a highly-rated cocktail bar in New Haven, but they also have superb brunch and dinner menus.
You're able to order plates like sliders, tacos, steak & eggs, lobster benedict, and a variety of different sandwiches. The happy hour specials a worth a visit too (offered Sunday – Thursday from 3 pm – 6 pm).
Of course, Elm City Social has a rooftop patio as well.
Location: 266 College St, New Haven, CT
5. Evarito's Mexican Kitchen & Bar – Norwalk, CT
Evarito's Mexican Kitchen & Bar is another place where you can enjoy rooftop drinks with your food. Located in Norwalk, this trendy Mexican restaurant serves classic cuisines like tacos and burritos.
The menu also features delicious fajitas, tostadas, and churros. For drinks, I highly recommend one of their tequilas or Mexican sodas.
The restaurant part of Evarito's is usually opens in the afternoon and closes around 9, but the rooftop bar is open late.
Location: 16 N Main St, Norwalk, CT
6. Vesta Rooftop Kitchen at La Zingara – Bethel, CT
Vesta Rooftop Kitchen at La Zingara is a great place to grab some food in the Danbury area. Found in Bethel, this restaurant offers the perfect, casual rooftop experience.
It has a retractable glass roof, which allows you to dine outdoors during warm weather. During colder months, Vesta Rooftop has heaters as well.
Some of my favorite dishes at this rooftop include the burgers, wood-fired pizzas, and mimosas.
Location: 8 P T Barnum Square, Bethel, CT 
7. High George at the Blake Hotel – New Haven, CT
High George is a great place for rooftop dining in Connecticut if you live in the New Haven area. You can find it at the Blake Hotel near Yale University.
This highly-rated rooftop restaurant offers dishes like house-made duck pastrami, Ahi tuna tarte, and Thai coconut curry mussels.
The views here are amazing and the ambiance is super relaxed. Plus, the restaurant's staff is always very friendly.
Location: 9 High St, New Haven, CT
8. East Side Restaurant – New Britain, Connecticut
East Side Restaurant is one of the top German restaurants in Connecticut. It's a high-energy eatery with a large rooftop patio.
The menu features traditional German dishes like Bavarian cheese balls, giant pretzels, German potato pancakes, wurst samplers, jager schnitzel, and roast turkey.
If you've never eaten German food, East Side Restaurant is a must-try. You can visit them in New Britain, CT.
Location: 131 Dwight St, New Britain, CT
9. Encore by Goodfellas – New Haven, CT
Goodfellas Restaurant is an old-school Italian restaurant decorated with mob-themed decor, brick walls, and white tablecloths.
The menu here features a wide selection of Italian dishes like Sicilian pork chops, jumbo shrimp, New York strip steak, and lasagna & meatballs, along with an expansive wine list.
The restaurant is a popular spot for fine dining since the food is great and they have plenty of seating on the roof during the summer.
Location: 702 State St, New Haven, CT 
10. The Elbow Room – West Hartford, Connecticut
The Elbow Room is a chic American restaurant that focuses on gourmet comfort food. They have both an indoor dining room and a rooftop terrace.
The menu offers foods like burgers, flatbreads, fajita bowls, shrimp, and chicken wings. The drink menu in their tap room is pretty extensive as well, featuring a selection of 50 draft beers.
Aside from the food, The Elbow Rooms also occasionally offers live entertainment in the form of open comedy nights.
Location: 986 Farmington Ave, West Hartford, CT
11. John Davenport's Restaurant – New Haven, Connecticut
John Davenport's Restaurant is another one of Connecticut's rooftop restaurants found in New Haven. Located on the 19th floor of the Omni Hotel, the rooftop restaurant has an amazing view overlooking Yale University and the New Haven Green.
The menu features dishes like braised short ribs, lobster, shrimp, and crab chowder. There's also a solid brunch menu that offers dishes like buttermilk pancakes, smoked salmon, omelets, and corned beef hash.
In fact, this is one of the best brunch restaurants in the New Haven area.
Location: 155 Temple St, New Haven, CT
Other Connecticut Restaurants with a View
Aside from the rooftop restaurants in CT, there are plenty of other restaurants in the state with a view. For example, there are tons of waterfront restaurants in Connecticut as well.
Here are a few honorable mentions for restaurants in CT with excellent views:
Sift Bake Shop in Mystic
Prime Stamford in Stamford
The Mill on the River in South Windsor
Guilford Mooring in Guilford
S&P Oyster Restaurant and Bar in Mystic
Plenty of other restaurants offer outdoor dining in CT too.
Rooftop Restaurants CT – Final Thoughts
Those are CT's top rooftop restaurants to eat a meal at. If you want to enjoy a nice rooftop dining experience for brunch, lunch, or dinner, all of these restaurants are great options.
If you want to have some drinks at one of Connecticut's rooftop bars, I recently reviewed those as well.