15 Essential Restaurants in Middletown, CT
Are you spending a day or two in Middletown, CT? Well, you're in luck! Middletown has some of the best dining opportunities around.
Whether you're after some classic American cuisine or craving Italian or Thai food, Middletown has it all. In this post, we'll give you a closer look at the best restaurants in Middletown, CT. Let's get dive in!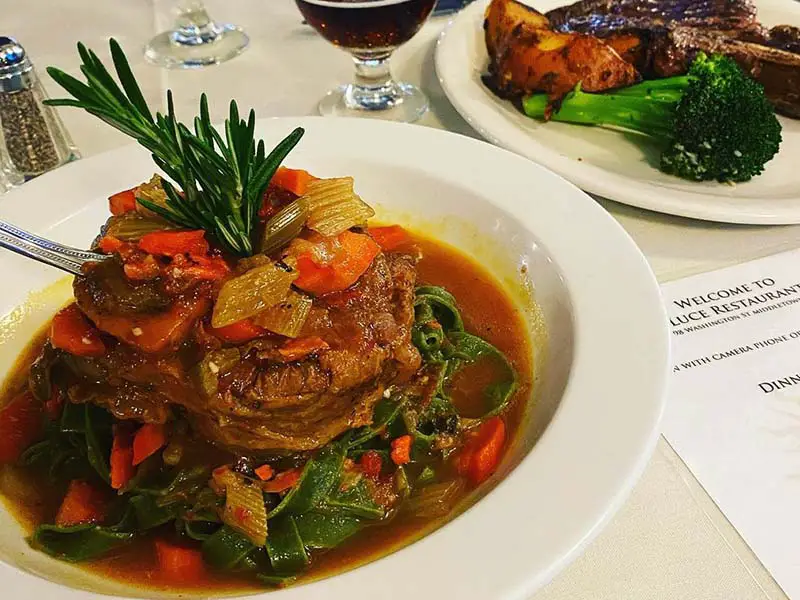 Restaurants in Middletown, Connecticut
1. Luce Restaurant
Luce Restaurant is a must-visit if you're in Middletown, CT. The restaurant specializes in Tuscan-inspired recipes with an American twist. The chefs have a talent for reinventing traditional dishes in a lighter and more modern way.
The menu features a ton of Italian dishes such as chicken medallions, sweet Italian sausage, and porcini mushroom ravioli, along with a few daily specials.
The restaurant's design is classy and stylish, and ambient music is always there to provide a relaxing atmosphere. They also offer custom creations for parties, rehearsal dinners, and business events.
Address: 98 Washington St, Middletown, CT
2. Mondo
Craving pizza in Middletown? Look no further than Mondo! The family-owned restaurant specializes in New York-style pizza with thin crust freshly baked in a brick oven.
Even though pizzas are its main specialty, Mondo offers a lot more. From homemade salads to pastas and paninis, you're sure to find something for every family member.
Plus, the food is always made with fresh ingredients. What's more, they have a wide selection of beer and wine on their menu to complement your meal.
Address: 10 Main St, Middletown, CT
3. Athenian Diner II
If you're craving some Greek food, Athenian Diner II is the perfect option. The restaurant offers a variety of delicious foods including Greek salads, cheeseburgers, grilled chicken, tortilla wraps, and more.
Their pancakes, French toast, and waffles are a must-try. Plus, the customer service at Athenian Diner II is top-notch, and the staff is super friendly.
The homey atmosphere and elegant decor also make it a great diner for after-service gatherings, business meetings, and social functioning. The restaurant offers takeout, but not delivery.
Address: 864 Washington St, Middletown, CT
4. Red Fox Restaurant
Red Fox Restaurant is one of the best Mediterranean restaurants in Middletown. It offers a variety of cuisines including steaks, seafood, sandwiches, wraps, and stuffed pork, to name a few.
Some of their most popular dishes are chicken piccata, wild pan-seared salmon, Tuscan salad, and fried calamari. 
Red Fox also provides room for catered parties as they have three private banquet halls for birthdays, weddings, showers, and anniversaries. 
So, whether you're looking for a simple family dinner or a party with friends, you'll enjoy the dining experience at Red Fox.
Address: 218 Smith St, Middletown, CT
5. La Boca
In the mood for some Mexican food? La Boca Restaurant and Cantina is a must-visit if you're in Middletown, Connecticut. 
La Boca offers an extensive menu of popular Mexican dishes such as carnitas, burritos, and chicken enchiladas. Not only that, but also they offer non-traditional dishes such as burgers, and chicken wings. 
The atmosphere at La Boca is unmatched. The festive wall tappings, wood chairs, multicolored hues, and Latin music will take your dining experience to a whole new level.
Address: 337 Main St, Middletown, CT
6. Taino Smokehouse
If you're a meat lover, you know that nothing compares to smoked BBQ or brisket. That's why you need to visit Taino Smokehouse in Middletown. 
Specializing in burgers, BBQs, dry-aged steak, and craft cocktails, Taino Smokehouse is the perfect barbeque joint.
The menu features pretty much every type of meat you can think of. This includes pork ribs, brisket, pulled pork, and smokehouse burgers. 
Taino Smokehouse also offers a variety of other dishes including smoked chicken wings, mac and cheese, mashed potatoes, and collard greens with bacon.
Address: 482 S Main St, Middletown, CT
7. Fiore II Restaurant
Fiore II serves some of the best Italian food in the city. This European-style diner uses high-quality ingredients to make their delectable Italian dishes.
The restaurant offers a wide selection of both unique signature dishes and classics. From linguini with clam sauce to Veal Fiore, you can rest assured you'll get a tasty meal at Fiore II.
On top of its extensive menus, Fiore II also has private rooms for parties, catering, and private events. The party menu includes a variety of drinks and appetizers such as coffee, tea, soda, garlic rolls, salads, Tiramisu, and Cannoli.
Address: 332 Main St, Middletown, CT
8. Amici Italian Grill
Amici Italian Grill is a well-established restaurant chain that has several locations in the state. They serve Northern Italian fare in a chic modern setting.
The restaurant has a classic dining room in addition to outdoor seating that provides a classic European feel.
You can order a variety of classic Italian cuisines such as chicken marsala, fettuccine alfredo, risotto, and ravioli. The food served here is always delicious.
Address: Riverview Center, 280 Main St, Middletown, CT
9. Hachi
If your sushi cravings are taking over, then Hachi Japanese Restaurant is the way to go if you're in Middletown, CT. 
The restaurant has an impressive menu of delicious Japanese and Asian cuisines such as sashimi, sushi rolls, tempura, and udon. Plus, they have an excellent dessert menu with their signature green tea ice cream and creme brulee. 
Don't forget to treat yourself to some bubble tea or Thai iced tea from their excellent drinks menu. This is certainly one of Middletown's best sushi spots.
Address: 320 Main St, Middletown, CT
10. Esca Restaurant & Wine Bar
Esca Restaurant and Wine Bar is another great dinner spot in Middletown if you're craving Italian food. 
The menu is full of every Italian classic including pizza, antipasto, and pasta. To spice up your meal, make sure to try some of their side dishes such as parmesan truffle fries, thyme roasted mushrooms, and haricot verts.
Not only that, the restaurant has a great wine menu that contains a wide selection of beers, cocktails, and cordials.
Address: 437 Main St, Middletown, CT
11. Sicily Coal Fired Pizza
If you want mouth-watering pizza, Sicily Coal-Fired Pizza is worth a visit. The restaurant is known for its delicious Italian cuisine such as coal-fired oven pizza, pasta, and baked bread.
The food is made with locally sourced ingredients, so you know the quality is very good.
Aside from the extensive food menu, they have a bar that features more than 50 beers on taps, wines, and craft cocktails. Happy hour specials are offered Monday through Friday as well.
Address: 412 Main St, Middletown, CT
12. Illiano's Ristorante and Pizzeria
Illiano's Ristorante and Pizzeria is another diner that serves a wide range of Italian dishes with a New York flair. 
You can order anything from classic gourmet pizza and pasta to specialty dishes like buffalo chicken pizza and lobster ravioli. At Illiano's, you're guaranteed to find something for everyone.
The family-run restaurant was remodeled in 2009 and is famous for its generous portions, fresh ingredients, and top-notch customer service.
Address: 534 Washington St, Middletown, CT
13. O'Rourke's Diner
Whether you're looking for a place to have a family dinner or a small meal on the road, O'Rourke's Diner has it all. Specializing in Irish cuisine as well as American classics, O'Rourke's diner has been serving the town since 1914. 
The restaurant offers daily breakfast and lunch specials. Some of their most popular dishes include banana bread french toast, traditional eggs benedict, and steamed cheeseburgers.
Just be aware that they close at 1 pm, so you can order breakfast and lunch here, but they are not open for dinner.
Address: 728 N Main St, Middletown, CT
14. Celtic Cavern
Celtic Cavern is the first gastropub in Middletown. Despite its name, the restaurant doesn't specialize in Irish dishes. The menu features seasonal American fare like bacon burgers, fries, cobb salad, pork chop, and deviled eggs. 
The restaurant has done an awesome job diversifying its menu options, offering a wide range of dishes. They also offer weekly specials such as lobster sliders and meatloaf grilled cheese.
In addition to their food menu, they have a wide range of wine, beer, house cocktails, and soft drinks. You can order your meal for takeout, but they don't have delivery.
Address: 45 Melilli Plaza, Middletown, CT
15. Fujiya Ramen
Fujiya Ramen offers some of the best Japanese dishes in the region. The chef has over 40 years of experience in the industry, and you can taste it.
Fujiya Ramen specializes in authentic ramen, Donburi, and Yakitori. Each dish has a ton of flavor, and they're very affordable.
To complement your meal, they also have more than 70 types of liquor, beer, and Japanese sake in their bar. You can order online for delivery or make a reservation in-house.
Location: 425 Main St, Middletown, CT
Some Additional Middletown Restaurants
Some of Connecticut's best eateries are located in Middletown. But, as you can see, there are a ton of Middletown restaurants that serve Italian food. If you're looking for something different, here are a few other local CT restaurants that are open nearby:
Lan Chi's Vietnamese Restaurant and Bar
B&B Wings and Things
Pokemoto Middletown
Juicy Cajun Seafood Restaurant
One other place that deserves a mention is Krust Pizza Bar. It's rated as one of the best pizzerias in Connecticut.
Restaurants Middletown CT – Final Thoughts
Those are some of the top restaurants in Middletown, Connecticut. Whichever place you choose to eat at, I'm certain that you'll have an amazing dining experience. Just make sure you book a reservation in advance.