Best Restaurants in Hamden, CT [2023 Update]
There are so many great restaurants in Hamden, that it's difficult to try them all. Fortunately, you don't have to. I recently ate at all the top restaurants in town to see which ones are the best.
After about a month of eating out every night, I've developed a pretty good idea of which places serve the best food. So without further ado, these are the best restaurants in Hamden, CT.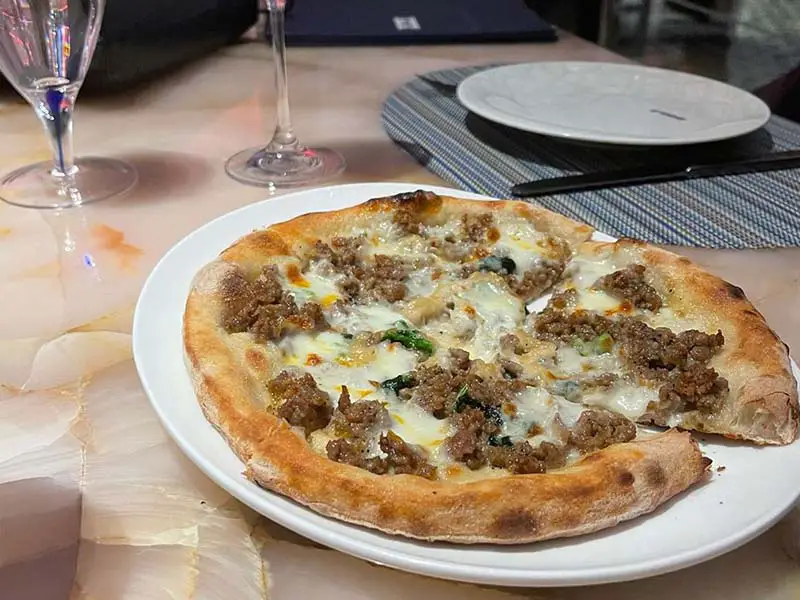 Top Hamden Restaurants
1. Ristorante Luce
Ristorante Luce is a fantastic Italian restaurant in Hamden. This family-owned restaurant offers big portion sizes and excellent service. The menu features Italian dishes like parmigiana, pork chops, Atlantic salmon filet, veal, and seafood risotto.
If you're dining here for lunch, you can also get their three-course Prix Fixe menu for only $22. That gets you a salad, appetizer, and an entree, which is a really good deal. Just know that Ristorante Luce is closed on Sundays and Mondays.
Location: 2987 Whitney Ave, Hamden, CT
2. Wood-n-Tap
Wood-n-Tap is one of the top Hamden restaurants. This bar & grill serves delicious American classics like burgers, pastas, pizzas, and steaks, but you can order soups and salads as well.
The restaurant also offers a very good happy hour special where you can order a number of cocktails, wines, and beers. Plus, you can grab a table on the outdoor patio when it's warm outside. Overall, this is a great family-friendly restaurant with a lively atmosphere.
Location: 2100 Dixwell Ave, Hamden, CT
3. Three Brothers Diner
Three Brothers Diner is a popular restaurant in Hamden that serves breakfast, lunch, and dinner. You can find the diner on Dixwell Avenue, near the New Haven-Hamden border.
The food here always tastes fresh, which makes sense considering the chefs use high-quality ingredients. If you're eating here for breakfast, I highly recommend the omelets or pancakes. And for dinner, the chicken parm is amazing. You can always dine in, but they offer takeout and delivery as well, along with catering.
Location: 1038 Dixwell Ave, Hamden, CT
4. Freskos
Freskos is another excellent Hamden restaurant. This authentic Greek eatery serves affordable and healthy greek dishes, like Greek yogurt, pita pizzas, and gyros in a variety of flavors.
Some of the more popular options on the menu include the ground lamb & beef gyro, the marinated boneless chicken breast gyro, and the pork loin gyro. They also have an imported Greek veggie burger if you're looking for a vegan option. Everything at Freskos is made fresh to order.
Location: 2323 Whitney Ave, Hamden, CT
5. Sergio's Pizza Restaurant
Sergio's Pizza Restaurant is one of the best places to get pizza in Hamden, Connecticut. They offer a range of dishes, like pizza, pasta, calzones, grinders, chicken, and fish. Plus, Sergio's has gluten-free options available if you have dietary restrictions.
Just know that in-house dining is only offered in a counter-service format, so you have to go up and order. But they allow you to BYOB. Also, note that Sergio's is one of the restaurants in Hamden that is closed on Monday.
Location: 3860 Whitney Ave, Hamden, CT
6. Eli's On Whitney
Eli's On Whitney is a very popular American restaurant in Hamden. The menu here features fresh seafood, burgers, and steaks, along with a number of shareable dishes like fried calamari, tacos, and wings.
The restaurant has a large eighty-foot horseshoe bar with over 20 TVs and 25 different beers on tap. Eli's is open until at least midnight on most days, so it's a great spot to have some drinks and watch the game while you enjoy your meal.
Location: 2392 Whitney Ave, Hamden, CT 
7. Ixtapa Grille Family Mexican Restaurant
Ixtapa Grille Family Mexican Restaurant is a great place to grab authentic Mexican food in Hamden. This place offers an extensive menu of Mexican dishes, ranging from burritos, chimichangas, and enchiladas to quesadillas and huevos.
The fajita wrap burrito is delicious here, and so is the pork carnitas. They have huge portion sizes too, making this one of my favorite Mexican restaurants in Connecticut. If you eat here, make sure to try their desserts too.
Location: 2547 Whitney Ave, Hamden, CT
8. Sonobana
Sonobana is another one of Hamden Connecticut's restaurants found on Dixwell Avenue. This Japanese spot serves a variety of seafood, sushi, and noodle dishes.
Some of the sushi options available on the menu include tuna, yellowtail, squid, eel, octopus, shrimp, and salmon. The sushi here is always fresh, plus Sonobana offers fast 30-minute pickup service at no extra cost.
Location: 1206 Dixwell Ave, Hamden, CT
9. Hamden Town House
Hamden Town House is another family-run restaurant that's been in business for over 30 years. You can this local diner near Quinnipiac University, right off Route 15.
Hamden Town House sources all of its food from local vendors, which contributes to the taste. You can order an array of dishes like steak, baked lasagna, gourmet burgers, paninis, and stuffed peppers. They serve all-day breakfast as well.
Location: 2256 Whitney Ave, Hamden, CT
10. Ali Baba's Kitchen
Ali Baba's Kitchen is one more top restaurant in Hamden, Connecticut. This place started out as a food truck but has developed into a restaurant that serves delicious food that puts a Western twist on South Asian and Middle Eastern cuisines. 
The menu feature dishes like falafel sandwiches, chicken kebabs, beef gyro subs, pita wraps, and chicken wings. The portion sizes are very generous, and they offer takeout and delivery if you don't have time to dine in.
Location: 986 Dixwell Ave, Hamden, CT
11. Jasa Asian Cuisine
Jasa Asian Cuisine is a restaurant that offers both Japanese and Chinese food in Hamden CT. They have an extensive menu, and the prices are very affordable.
You're able to order foods like pork egg rolls, General Tso's chicken, fried rice, lo mein, sushi rolls, and sashimi. The bento boxes are good as well.
Location: 1720 Dixwell Ave, Hamden, CT
12. Kumo
Kumo is a popular hibachi restaurant located just off the Merritt. They serve a wide range of Japanese food, including steaks, pork katsu, sushi, and tempura udon.
The hibachi dinner is my favorite thing to order on the menu, and it's super affordable considering the amount of food you get. The sashimi here is super high quality too. Kumo offers pickup and delivery, but dining in is always the best experience.
Location: 218 Skiff St, Hamden, CT
13. Ibiza Restaurant Hamden
Ibiza Restaurant is one of the lesser-known restaurants in Hamden, Connecticut. This Spanish bar & grill serves tasty Spanish cuisine, alongside an extensive wine menu.
I highly recommend that you come here for brunch and try their classic eggs benedict. The whole place has a very friendly atmosphere and great food, making for a top-notch dining experience. There's a reason this tavern gets such great reviews online.
Location: 1832 Dixwell Ave #3105, Hamden, CT
Top Places to Order Food in Hamden CT
Sometimes you don't have time to make a reservation and have a sit-down meal. Fortunately, most of the CT restaurants on this list offer both delivery and takeout options.
You'll be able to place an order using a food delivery app, like Grubhub or Uber Eats. However, some places have their own delivery service that's a bit cheaper.
Restaurants in Hamden, Connecticut – Final Thoughts
I hope you enjoyed this guide to the best restaurants Hamden CT. When it comes to food, there's a lot of variety in this town and a lot to try. The same goes for restaurants in North Haven, CT.