10 Excellent Restaurants in Guilford, CT
Are you looking to grab a bite in Guilford, Connecticut? Although the town isn't large, it flaunts a wide range of top-notch restaurants that you must check out.
Whether you're looking for a fancy dinner with a view or a cozy homemade meal, we've got you covered! In this article, we've prepared a list of the 10 best restaurants in Guilford, CT. Let's get right into it!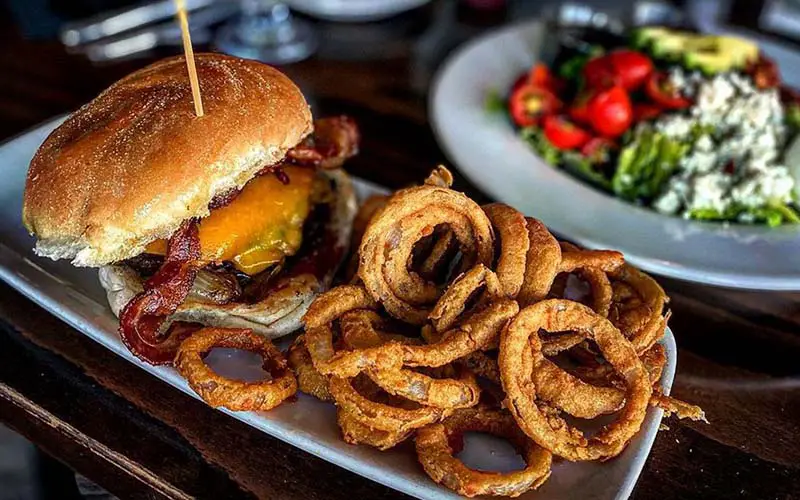 Restaurants in Guilford, Connecticut
1. Guilford Mooring
If you want to enjoy mouthwatering seafood with a gorgeous view, head to Guilford Mooring! This is one of the highest-rated restaurants in Guilford for a good reason.
Guilford Mooring is right on the water, offering airy patio seating. If you prefer dining indoors, you'll still see the lovely marina due to the skylight and windows. The bar's signature drinks and the stunning views alone are worth the visit.
At Guilford Mooring, you can dine on a selection of divine seafood platters. However, the menu is extensive, so there's something for everyone.
Address: 505 Whitfield St, Guilford, CT
2. The Brownstone House Family Restaurant
If you're in Guilford, the Brownstone House Family Restaurant is a must-visit. The service is unparalleled, as the wait staff is warm and attentive.
The Brownstone House serves comforting homemade plates. The diner-style restaurant has a tasty menu that'll appeal to most palates, including kids! There is a wide range of American dishes on the menu like pasta, seafood, and chicken.
As if this wasn't enough, the food is affordable while still being fresh. You'll also get large portions that are ready in only minutes.
Address: 961 Boston Post Rd, Guilford, CT
3. Shoreline Diner and Vegetarian Enclave
Shoreline Diner and Vegetarian Enclave is the staple spot for vegans and vegetarians in Guilford. The casual diner has an extensive menu of cuisines that cater to all tastes and dietary restrictions.
Moreover, the restaurant carefully labels the entire menu for allergens. This includes dairy, gluten, soy, and shellfish. Every item on the menu tastes spectacular, especially since all the ingredients are fresh and organic.
The delicious menu hasn't changed in ages, so you know the kitchen staff has experience. Lastly, the family restaurant has a cozy atmosphere. The seating ranges from classic booths to bar stools. You can also order for takeout or delivery.
Address: 345 Boston Post Rd, Guilford, CT
4. Guilford Lobster Pound
Guilford Lobster Pound is a waterfront family-owned restaurant specializing in lobster. The restaurant prides itself on fresh lobster that the owner, captain Bart Mansi, catches daily.
There, you can relish the delicious lobster, fresh lobster rolls, and clam chowder. If you're not in the mood for lobsters, don't worry! Guilford Lobster Pound also serves hot dogs and ice cream.
The ambiance is perfect and the service is friendly. You'll also enjoy a mesmerizing view of Faulkner Island and Grass Island. If you want to save a couple of bucks, Guilford Lobster Pound welcomes you to BYOB.
Address: 505A Whitfield St, Guilford, CT
5. Amarone Italian Restaurant
Whether you've got a date to impress or want a divine dining experience, you should consider stopping by Amarone Italian Restaurant. The premiere restaurant will transport you straight to Italy.
Amarone has a distinct, high-end atmosphere. The charming bistro-style feeling is great, while the food and service are tremendous.
Additionally, they offer an excellent wine selection that pairs perfectly with any dish you order. If you visit Amarone, make sure to save some room for dessert. Their house-made desserts are the best way to end your evening.
Address: 2 Water St, Guilford, CT
6. Three Girls Vegan Creamery
If you're on the hunt for organic, plant-based, and vegan dishes, there are few options better than Three Girls Vegan Creamery.
Who said vegan food has to taste bland? Three Girls makes their own creamy, vegan cheese from nuts! Additionally, their vegan BBQ and buffalo wings taste like the real thing.
While the restaurant has splendid service and seating, you can order their delicious dishes from home. Three Girls has an extensive online menu of frozen food, so you can store their tasty meals and heat them anytime.
If you're looking for some of Connecticut's other local restaurants with vegan and vegetarian options, check out this article.
Address: 645 Boston Post Rd, Guilford, CT
7. Quattro's Italian Restaurant
Another excellent Italian eatery in Guilford is Quattro's. This bistro serves some of the best authentic Italian food. The ambiance is unique and cozy, making Quattro's an ideal restaurant for special occasions and date nights.
Quattro's Italian Restaurant has a tasty menu and exceptional bar service. On Sundays, the restaurant even offers spectacular live jazz music!
The only downside is that Quattro's might be a little too crowded, especially on the weekends. However, the staff makes up for it by offering friendly smiles and fast service.
Address: 14 Water St, Guilford, CT
8. Kamana
Located in the heart of Guilford, Kamana offers superior exotic Indian cuisine. The menu is extensive, with light appetizers and spicy mains. Your taste buds will definitely thank you for the hearty, aromatic food.
Kamana also serves vegetarian specials, which means it's suitable for most diets. Moreover, the staff is helpful and friendly, and the service is quick.
You can dine indoors, where the authentic Indian decor provides a unique experience. Alternatively, you might sit in the outdoor garden equipped with heat lamps. This way, you can stay warm during the winter!
Address: 1004 Boston Post Rd, Guilford, CT
9. Grand Apizza of Guilford
Grand Apizza has been making delicious pies for over 60 years. So, it's no surprise that this restaurant earned the title of the best pizza on the Guilford shoreline.
This family-owned restaurant specializes in crusty pizza, the recipe of which has been passed down for generations. They make superb gourmet pizza, calzones, overstuffed bread, and pasta dinners.
The Guilford eatery is one of three locations across Connecticut. It has been a part of the community for years. The warm and pleasant service will make you feel right at home.
Address: 381 Boston Post Rd, Guilford, CT
10. Maritime Grille
Maritime Grille is a hidden gem in Guilford, Connecticut. The constantly-improving restaurant offers fresh, made-to-order dishes paired with gracious service.
The grill-house has a rustic feel, unlike any other spot on the list. It has a variety of finger-licking dishes, including prime steak and fresh seafood.
What's unique about the restaurant is that it recently merged with the Ayuthai, a neighboring Thai eatery. 
This means you'll get two distinct menus to browse. One is the classic American-style menu, and the other has different alluring Thai dishes.
Address: 2548 Boston Post Rd, Guilford, CT
Other Great Dining Spots in Guilford
If you're looking to try out a new Guilford restaurant, there are plenty of other options as well. Here are some other places you may want to try dining at:
Maritime Grille
Ballou's Restaurant & Wine Bar
Anthony's of Guilford
Pasta Avest & Pizzeria
Restaurants Guilford CT – Final Thoughts
People are raving about the food in Guilford and for good reason. Most of these restaurants have a diverse lunch and dinner menu with plenty of options. I recommend trying all of these restaurants in Guilford, Connecticut at least once.