10 Amazing Restaurants in Chester, CT
Chester is a small town in Connecticut that's home to theaters, galleries, and museums. While you'll want to take your time visiting these places, diving into the local cuisine is another wonderful experience to which you should dedicate some time. 
We've rounded up some of the best restaurants in Chester, CT to help you decide where to go first. Here are the top 10 options to choose from.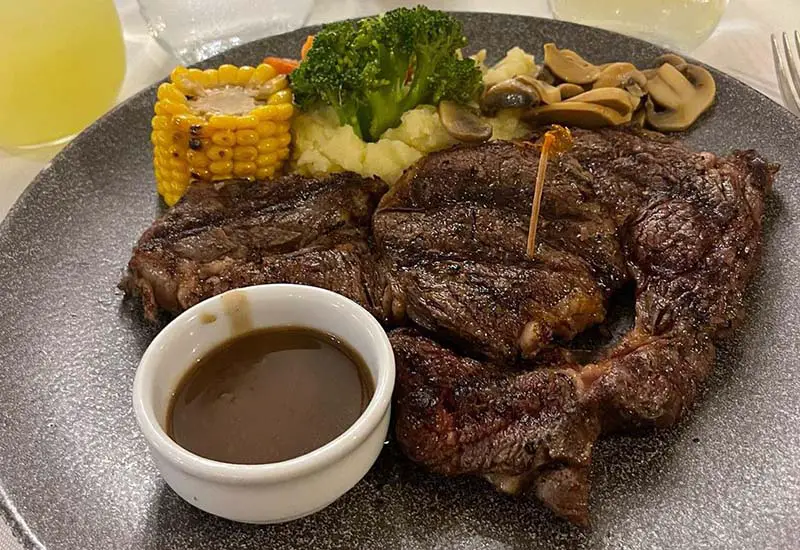 Best Restaurants in Chester, Connecticut
1. River Tavern
River Tavern is a friendly neighborhood restaurant with 20 years of culinary experience. Its extensive farm-to-table menu changes daily.
River Tavern has an inviting ambiance with an ocean view. It showcases 19th-century art, giving the place a touch of modernism.
Chinese-style pork buns, farm beef burgers, homemade pasta, seafood crepes, and grilled octopus are only some of the restaurant's most popular dishes. On top of that, you can choose from a hand-picked selection of wines and cocktails originating around the world.
Address: 23 Main Street, Chester, CT
2. Otto Pizza
Otto Pizza is known for its pleasurable outdoor dining experience and top-notch pizza. If you choose to dine indoors, you can cozy up by the fire as the pizza cooks right before your eyes in a wood-fired oven.
The pies come in a range of flavors and toppings, which you can pair with their local craft beer. If you're more into wine or cocktails, they have a fine selection for that too.
There are also a few vegan and gluten-free options you can check out on the menu as well if you have dietary restrictions. If you're looking for a great New England pizza in Connecticut, you'll want to stop by this pizzeria.
Address: 69 Main Street, Chester, CT
3. Grano Arso
Grano Arso is a popular Italian eatery in Chester, CT. The chef takes on the traditional approach of Italian cooking infused with modern techniques and focuses on locally-sourced ingredients.
Rigatoni bolognese, spaghetti, gnocchi, eggplant al forno, and short rib are some of this eatery's most-talked-about dishes.
This Chester restaurant is among the top Italian restaurants in CT.
Address: 6 Main Street, Chester, CT
4. Rustica Ristorante
Tagged as a neighborhood gem, Rustica Ristorante is a perfect choice for special occasions or if you simply want to enjoy exceptional food.
This Italian restaurant presents a robust menu of appetizers and main courses. Fresh pasta, such as Gnocchi alla bolognese, linguine di mare, and ravioli, are some of the top choices on the list. The brussels sprouts salad and the grilled octopus are must-try recipes as well.
What makes this place even more attractive is the great customer service that warms the atmosphere.
Address: 189 Middlesex Avenue, Chester, CT
5. Thai Riverside
Thai Riverside allows you to experience fun and delicious Thai food at the heart of Chester. This little place gives you big flavors, so it's not something you want to miss when in the area.
Made with fresh and healthy ingredients, you can feast on Pad Thai and curry dishes. Tom yum soup, drunken noodles, and dumplings are also easy favorites.
We give this restaurant additional points as they prepare dishes with attention to spice levels. So, whether you like mild hotness or extra spicy, there's always an option for you. There are vegan-friendly options you can try out as well.
Address: 4 Water Street, Chester, CT
6. Simon's Marketplace
A restaurant that doubles as a store, Simon's Marketplace is quite a place to relax and chill. You can look at trinkets and gift items while enjoying a good meal.
The food is nothing fancy but tasty, fit for casual dining. You can munch on popular choices like the meatloaf special, or any of the various sandwiches.
This cute spot offers plenty of options for vegetarians as well. All of that, along with the outside seating option for a nice sunny view, makes Simon's Marketplace an absolute gem. 
Address: 17 Main Street, Chester, CT
7. Moravela's Pizzeria
Moravela's Pizzeria hands-down serves up one of the best New York-style pizzas in town. On top of that, they serve excellent Philly steaks.
If you're craving some of this delicious goodness, head on out to this pizza eatery. While at it, you can try out other quick bites like burgers and wraps. Baked Italian dishes are also on the menu, which includes lasagna, veal parmesan, and ravioli.
It's no surprise that customers keep coming back to this restaurant. After all, they offer splendid food at a reasonable price.
Address: 139 Middlesex Avenue, Chester, CT
8. The Brushmill by the Waterfall
Recent renovations gave The Brushmill by the Waterfall a more modern ambiance, yet the place managed to retain its warmth and rich history quite nicely. 
This American steakhouse provides a lovely fine dining experience through its mouth-watering dishes. Prime rib, duck breast, and cod cheek are three of its prized meals.
You can enjoy a varied menu, including burgers and chicken tenders for kids. A wine list is also part of the offering, along with several cocktails.
Address: 129 West Main Street, Chester, CT
9. Pattaconk 1850 Bar & Grille
Pattaconk 1850 Bar and Grille looks much like an old tavern that sits along the stream. Perhaps, that's what makes it charming to people of all sorts. Locals and travelers alike can enjoy bees and cocktail specials that change daily. 
The menu options are very basic and familiar, giving the place an even more homey feel. You can order salads, burgers, sandwiches, wraps, salmon entrees, and pasta.
This restaurant's unassuming vibe and long history are why it's on our list of best restaurants in Chester, Connecticut.
Address: 33 Main Street, Chester, CT
10. Marker 37
Sitting alongside a marina, Marker 37 is one of the restaurants that provide a clear view of the Connecticut River. Besides that, it also boasts superb food and impeccable service.
The menu is very expansive, from salads to appetizers, sandwiches, bread, tacos, entrees, and desserts. 
Some of the fresh, seafood-based dishes include coconut shrimp, fish tacos, scallops casino, and salmon piccata. Gluten-free items are available as well to meet customer needs.
Whatever your preference is, you'll likely find something in Marker 37's menu that suits your palate. Plus, the view at this spot has earned it a reputation as one of the top waterfront restaurants in Connecticut.
Location: 72 Railroad Avenue, Chester, CT
Restaurants Chester CT – Final Thoughts
Those are the top Chester CT restaurants. Regardless of which one you decide to eat you're meal at, I certain you'll enjoy the food. Plus, many of these options allow you to order online for pickup or delivery.